Disclosure: Man Makes Fire is reader-supported. When you buy gear using retail links on our site, we may earn an affiliate commission that helps pay for our work. Learn more.
The best first aid kit for backpacking is lightweight but packed full with a variety of first aid gear — after all, backpackers can easily find themselves 30 miles from the nearest road. Any time you get off the beaten path or do something even remotely dangerous, there is always the chance that you're going to get injured. Or someone else might. Or will.
At the very least, as my brother says, "If you don't need ibuprofen the next day, you probably weren't having enough fun."
Of course, even the best first aid kit for backpacking can usually use some customization, so as you decide which backpacking first aid kit is best for you, plan on adding a few items.
Add Critical Components to Your First Aid Kits
If you're really smart, you'll augment these lightweight first aid kits with some extra medical gear. I always add:
ibuprofen
extra Band-Aids
moleskin (for blister prevention/treatment)
Benadryl fastmelt or meltaway tablets
caffeinated drink mix or caffeine pill
tiny AAA flashlight
So why the Benadryl?
It's an antihistamine that can help with allergic reactions to insect bites and bee stings. One guy I knew was stung in his mouth after he drank a bee that flew into his drink. And on one fishing trip way up the St. Joe River, my three-year-old son was stung on his neck under his mouth. The stings in both of these incidents caused swelling — not enough to dangerously restrict their airflow, but enough to make them very uncomfortable. After the second time this happened, I finally learned and slipped some meltaway antihistamine tablets into my first aid kits.
One more thing: Some people who previously have had only mild allergic reactions to bee stings in the past have had severe allergic reactions later in life. I've seen it happen, so it's better to be prepared.
And what about the caffeine?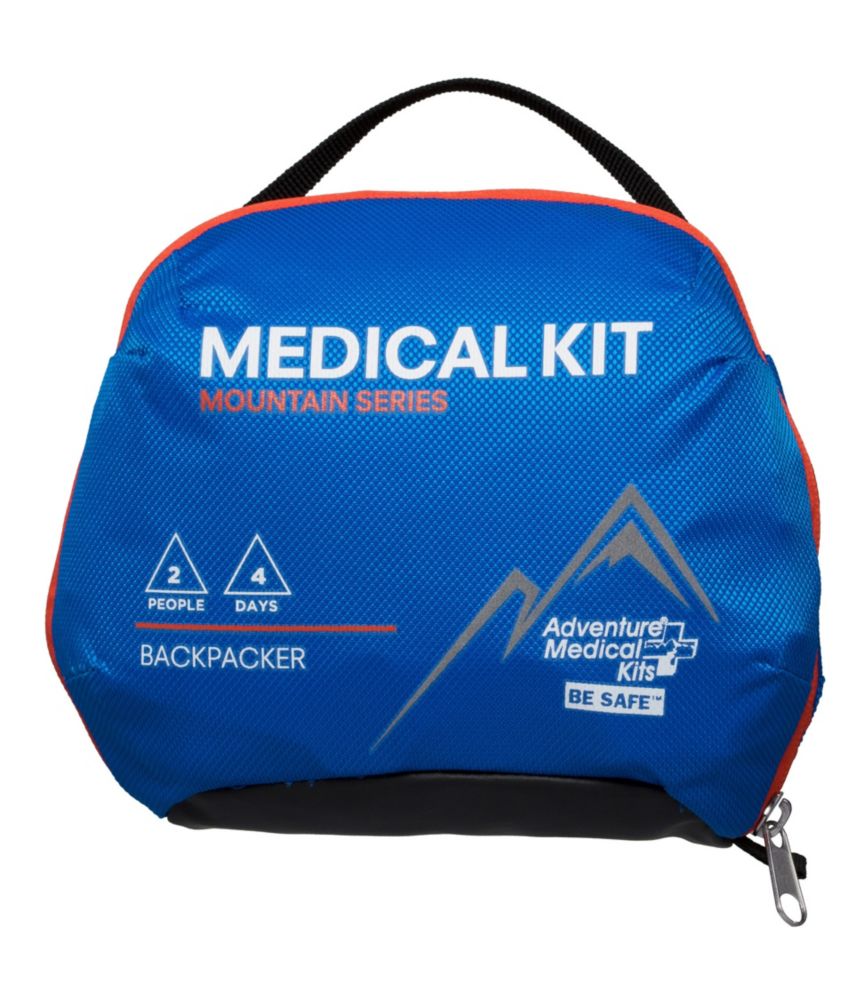 On the first morning on one backpacking trip up to about 7,000 feet of elevation, a friend was hit with a severe headache. At first we thought it might be due to the elevation and dehydration, but she was hydrated and in fantastic shape. After a couple of hours taking it easy in her tent, even ibuprofen wasn't cutting it. Finally it hit me: she was a regular coffee drinker. She was having a caffeine withdrawal headache. I've had them before, even backpacking. I usually pack some instant coffee or a flavored "energy" drink mix that includes caffeine, but she didn't even think about it. I gave her a caffeinated flavored drink mix, and boom, she was up and at it, ready for a day hike — headache gone.
Moving on, what about the best first aid kit for backpacking? Which ones should you consider and choose?
These days I only recommend two main brands for adventure-oriented first-aid kits: REI and Adventure Medical Kits. Why? They are created by people who know outdoor adventure and what it means to get off the beaten path. Plus they include trustworthy wilderness first-aid guides.
Best First Aid Kit for Backpacking 2017
The challenge with backpacking first aid kits is weight. You need a lightweight kit that has everything you might likely need but nothing that you don't. On the other hand, you might be miles away from the nearest road while you're backpacking, so you don't want to skimp over a few extra ounces. Some kits have mini first aid kits inside them that you can take for day hikes or summit trips to help you keep the weight down when you're on smaller treks.
Hiking and Weekend Backpacking First Aid Kits
Adventure Medical Kits Mountain Series Backpacker — Designed for backcountry trips ranging from weekends to four days for two people, this 15.2-ounce first aid kit offers a great balance between affordability and portability. (Ships free from L.L.Bean.)
REI Backpacker Weekend First-Aid Kit — This tidy little 9.5 oz. pack contains all the core bandages, ointments, and painkillers you would expect, along with scissors, tweezers, and a wilderness first-aid manual.
Multi-day Backpacking First Aid Kits
Adventure Medical Kits Professional Ultralight/Watertight Pro — At 1 lb. 12 oz. this first aid kit scales up to about 10 people on trips lasting up to seven days. It comes with a CPR mask, irrigation syringe, hospital-quality tools like EMT shears and precision forceps, splints, wraps, and a comprehensive guide to wilderness and travel medicine.
REI Backpacker Multiday First-Aid Kit — This 13 oz. first aid kit packs a punch for its light weight. You get all the standard bandages, gauze, painkillers, and ointments, but it also includes a pair of latex-free medical gloves, a pill vial for extra or specialized pills, pencil, and just a bit more of everything than the REI Backpacker Weekend version.
Adventure Medical Kits Sportsman Bighorn — This kit comes in at 1 lb. 7 oz. and is big enough for up to seven people over seven days — but it also has a removable Field Trauma Pak, which means you can leave the larger kit at base camp. It includes a CPR mask, irrigation syringe, wound closure strips, QuickClot self-adhering elastic bandage, trauma pads, hospital-quality tools, include EMT shears, precision forceps, and a guide to wilderness and travel medicine. It's originally aimed at hunters, but the overall value, weight, and versatility of this kit makes it a great choice for backpacking, too.
REI Backpacker Extended First-Aid Kit — This 1 lb. 5 oz. first aid kit offers the best blend for backpacking. It's packed with enough standard bandages, painkillers, medication, and ointments to handle up to six people on up to 8-day trips, and better yet, it's packaged in an easy-to-use system of pouches and elastic bands. Also comes with scissors, tweezers, gloves, a wire splint, aloe vera gel, anti-diarrheal tablets, electrolyte packets, and safety pins.
Shop First Aid Kits from REI and get free shipping on most orders over $50!
Backpacking Expedition First Aid Kits
Adventure Medical Kits Comprehensive Medical Kit — Coming in at nearly 3.5 lbs, this bag is designed for groups up to 14 for up to 28 days. It includes a CPR mask, irrigation syringe, hospital-quality tools, including EMT shears, precision forceps, a SAM splint, a digital thermometer, surgical scrub brush, temporary dental fillings, aloe vera gel, antihistamines, and a hypoglycemia/insulin shock paste. Of course, there is a wide variety of wraps and bandages, including a comprehensive guide to wilderness and travel medicine. The overall weight is a bit much for backpacking on your own . . . it's best for when you're going on trips with big groups.
Need a Final Recommendation for the Best Backpacking First Aid Kit in 2017?
If all this seems a little overwhelming and you still need help choosing the best first aid kit for backpacking, just get the REI Backpacker Extended First-Aid Kit or the Adventure Medical Kits Sportsman Bighorn. Both offer the best content-to-weight ratio and are suitable for trips that run a little long, end up with some extra buddies, or when you need to help some other injured hiker you meet on the trail.
Seriously, you can't go wrong with either one.
Looking for great backpacking gift ideas? Check out our 35 Best Gifts for Backpackers guide.