Disclosure: Man Makes Fire is reader-supported. When you buy gear using retail links on our site, we may earn an affiliate commission that helps pay for our work. Learn more.
The Big Agnes Fly Creek HV2 Platinum is a super ultralight 2-person backpacking tent with a mind-blowing trail weight of just 1lb 10oz. The "HV" stands for "High Volume," which gives the Big Agnes Fly Creek HV2 Platinum more interior height for improved livability. Does this newly updated version of the Fly Creek deliver?
To get us a closer look at the astoundingly light Fly Creek HV2 Platinum, Big Agnes sent Man Makes Fire a review unit, so one gear tester took it on a bikepacking trip followed by another tester who took it backpacking. This is what we learned:
Big Agnes Fly Creek HV2 Platinum Review: Materials & Design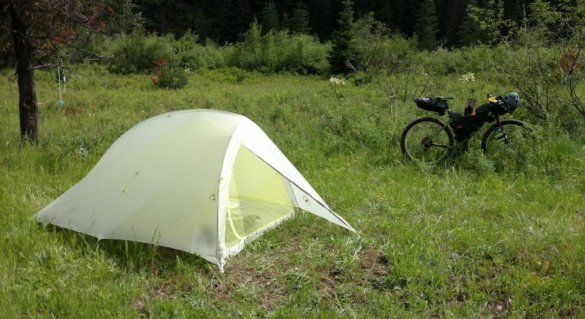 The Big Agnes Fly Creek HV2 Platinum is one of the lightest free-standing double-walled tents available. The trail weight is well under two pounds! However, it's not exactly freestanding — it's mostly freestanding. You need to stake the two corners at the foot of the tent to get it to stand on its own to give you the proper volume at your feet. (There are some lighter tarp-tent types of shelters, especially if you use trekking poles that you already take for support, but they're usually better investments for thru-hikers and hard-core ounce counters who know how to pitch them securely over varied terrain.)
The Big Agnes Fly Creek HV2 Platinum has a bathtub floor, so if rain water runs under your tent, it won't get inside. The raised sides of the floor can also block some wind-driven rain, but you'll want the rain fly snugged down and staked well if it's windy.
The main body of the interior of the tent is all mesh, which is awesome — a full mesh body in a 3-season tent usually means you get better breathability and is nice when you want to pull the fly half-way off to view the stars or just take in a view while mosquitoes buzz around outside.
The pole structure is a large "Y" shape with the single end of the Y arching over at your feet. The full-coverage rain fly creates a single vestibule at the head of the tent.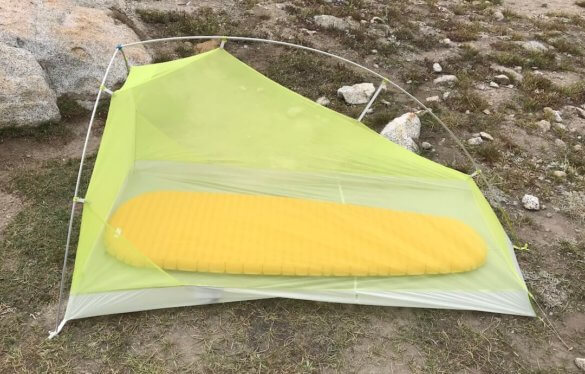 As for materials, everything is high-quality and ultralight in weight. The aluminum DAC Featherlite NFL pole system is all shock-corded together. In use, the poles are lighter than most (already lightweight) DAC aluminum poles for backpacking tents — but they still seem to be pretty tough.
The tent fly is astoundingly thin. It's so thin, it's translucent. In fact, if you're used to heavier tents, you're going to be startled at how thin the nylon rip-stop material is. On the other hand, the fly and floor have a 1200mm waterproof polyurethane coating, and our review unit successfully fended off multiple rain showers.
Big Agnes Fly Creek HV2 Platinum Review: Durability
Our first Big Agnes Fly Creek HV2 Platinum gear tester, Vance Orr, took the tent bikepacking on the first leg of the Wild West Route, which is a 3,000-mile bikepacking route from Canada to Mexico. Orr was one of 40 or so bikepackers that have tackled parts of the route to help finalize it and provide in-the-field reconnaissance and advice for future riders.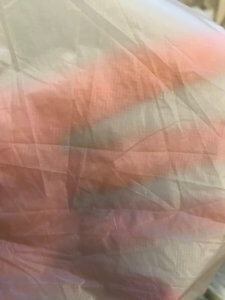 The Fly Creek HV2 Platinum held up to multiple cold and wet nights, along with a lot of wind. As you might expect from the relatively tall design, the tent didn't handle sideways wind very well, but if you pitch it tail-first into heavier winds, it does much better.
When I took the Fly Creek HV2 Platinum backpacking in the Eagle Cap Wilderness in Oregon this summer, I took care to stake the tent and fly down well. I noticed that after 3-4 hours of rain, I could tighten some of the guy lines and tighten the fly down at the 3 pole ends. I'm guessing the material stretched a bit or the fly settled into position better over the poles.
On my last night with the tent, I crawled in as a rain storm approached and went to sleep. I woke up around 5 a.m. in the dark to realize the rain had stopped and the wind was gone. "Sweet," I thought. "Maybe we're going to get a blue sky day."
Nope. At 5:30 one of my backpacking buddies hollered, "It's snowing!"
I tapped the rain fly by pushing my hand up into the mesh ceiling and snow about 1.5 inches thick slid off the fly. I looked around the interior, expecting to see some sagging, but the well-staked tent was holding up. I shook the tent and more snow slid off.
The aluminum poles seem surprisingly tough. As for the fly and floor, they seem seriously thin, but we did not test this tent with a ground sheet — just the floor on top of dirt, small rocks, small sticks and grassy weeds. If there is a tiny poke through, I can't see it with my eyes (but I haven't tested it with water). As for the fly, it's similarly durable — no tears. We didn't baby the tent, just tried to use it appropriately.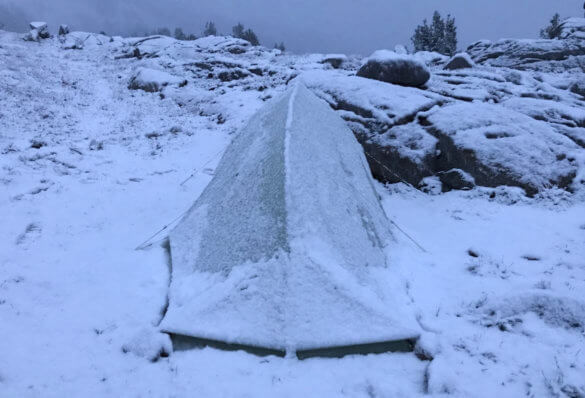 As for long-term durability, it's hard to imagine it holding up as well as a tent that has heavier-duty material that weighs twice as much, but our consensus is this: It's quite a bit stronger than it seems at first glance.
That said, if you're hard or clumsy with your gear, you might want to error toward a heavier tent.
Big Agnes Fly Creek HV2 Platinum Review: Packability vs Livability
For Orr, the 4.5″ x 15.5″ packed size makes the Fly Creek HV2 Platinum great for bikepacking.
"The length allows it to easily fit in a handlebar roll with room to spare, even with drop bars," he reports. "It could also fit in a frame bag depending on the frame size. The diameter allowed me to roll my sleeping pad around the tent and slide the whole thing into my handlebar roll easily. Low weight is always a bonus, but the small pack size is probably more important on a bike."
In the backpack, the 1lb 10oz weight is downright fabulous. When you drop the Big Agnes Fly Creek HV2 Platinum tent into the bottom of your backpack, you will likely smile.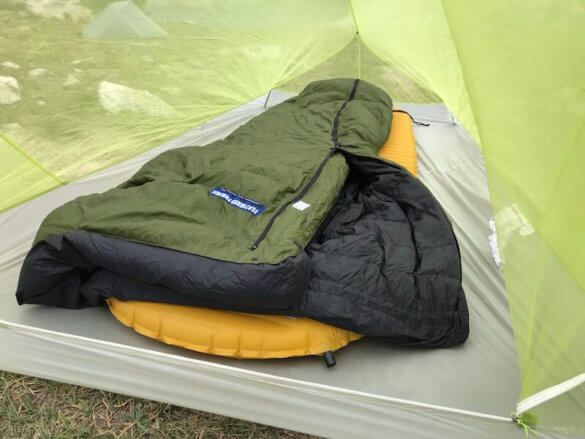 On the other hand, the Fly Creek HV2 Platinum is a damn small two-person tent. Technically, you could get two guys into this tent and those two guys could manage to sleep, but they better be small guys and they better have very tolerant personalities. While we did not try to pair up in this tent, we imagine it would be impossible to enter or exit this tent without waking up a partner. A smaller man and a smaller woman would be more doable overall, but seriously, none of the Man Makes Fire crew know anyone who is small enough and tolerant enough to enjoy using this tent together in anything but an emergency.
And that said, when the guys do buddy up into a single tent, they all very much prefer to go with a 3-person tent for the extra space anyway . . . even when that results in a high pack weight for the two of them. There is no one right way to go backpacking and no one best way to sleep in a tent — all we're saying here is that while the dimensions technically fit an industry-standard two-person size, we tend to error to larger tents for recreational backpacking.
As a one-person tent, though, the Fly Creek HV2 Platinum borders on awesomeness.
Big Agnes Fly Creek HV2 Platinum Review: Any Cons?
Depending on your body size, personality, and backpacking needs, there are two minor cons to the Big Agnes Fly Creek HV2 Platinum tent: The vestibule and the interior length.
Both of our gear testers are over six feet tall, so the 86 inches of length could be a bit longer for more comfort. The mesh door is vertical, so your head can be right up against it no problem. Our 6'3″ tester had plenty of room for his feet, but he was worried that the material of his down sleeping bag would push the mesh interior against the foot of the fly . . . and might lead to a moisture transfer to this sleeping bag. That didn't happen, but with a sloppy and loose pitch at the foot of the tent, we're pretty sure it would allow some contact moisture to get through.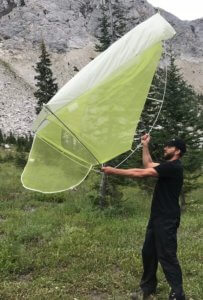 If you're shorter, of course, this probably won't cross your mind.
What about the vestibule?
We're not fans. First, the orientation of the door doesn't make it easy to unzip the mesh, then unzip the door to look out at the sky and weather. You can, but you have to move and scoot far more than you might imagine. A side-oriented door usually results in vestibules that are easier to open — and even leave open while it's raining — so you can look out and enjoy the outdoors.
In addition, the vestibule is small. There is not a lot of room for gear storage. What's worse is that getting into and out of the tent is a pain. The best way is to crawl in head first and then turn over on your butt while leaving your boots outside under the vestibule. Then you remove your boots. To exit, you have to reverse this procedure because you don't want to bring your muddy boots inside the tent. This means you're crawling ass-backwards out of the tent. No one likes that.
As for Orr, if it wasn't raining, he would unhook the vestibule from one of the stakes, giving him a much wider opening for entry and exit. But when it is raining, what you end up with is quite a bit of effort for a larger guy to get into the tent without brushing against the fly and getting wet.
Of course, if you're an average or smaller-sized person, all of this might be a whole lot easier.
Meanwhile, if the type of single fly design is turning you off, Big Agnes has created new solution — the Big Agnes Tiger Wall UL2. The tent shares a similar overall size to the Fly Creek HV2 Platinum, but it has two side doors and two side vestibules. This design dramatically increases the livability and accessibility of the tent. You do end up needing an additional section of pole, more zipper material and more fly material, so the Tiger Wall UL2 ends up weighing a bit more — but the trail weight is just 2lb 3oz, which is still fantastic.
If you're a big guy or are truly looking for an ultralight two-person double-walled tent, we'd point you toward the new Tiger Wall UL2 over the Fly Creek HV2 Platinum. (Or, if you're like us — bigger backpackers who like their space — the Big Agnes Copper Spur 3 Platinum is the 2lb 15oz ticket for sprawling sleepers.)
Big Agnes Fly Creek HV2 Platinum Review: The Verdict
The newly updated Big Agnes Fly Creek HV2 Platinum is a damn fine tent. Sure, the vestibule just isn't great for larger backpackers, but it is doable . . . and if you remind yourself that it weighs just 1lb 10oz as you enter and exit, you might even tame the annoyance. For us, it's a two-person tent only in a pinch and, because it's so light and roomy, a fantastic solo tent. For the person who understands its limitations and appreciates its strengths, the Big Agnes Fly Creek HV2 Platinum is an impressive feat of engineering. Highly recommended.
Get the Gear:
Check Shipping/Pricing: Amazon | CampSaver | REI
Looking for a car camping or basecamp tent, too?
Check out our guide to the best camping tents for 2020 and beyond!