Disclosure: Man Makes Fire is reader-supported. When you buy gear using retail links on our site, we may earn an affiliate commission that helps pay for our work. Learn more.
The Helinox Chair Zero is an ultralight backpacking, camping and beach chair. Weighing in at just 1.1 lbs, it can hold a whopping 265-pound person.
To get us a closer look, Helinox sent Man Makes Fire a review unit. This is what we learned:
Helinox Chair Zero Review
Helinox has been making lightweight and ultra packable camping and picnicking chairs, tables and cots for years, but the company's Chair Zero is truly light enough to take backpacking.
Weighing in at just 17 ounces, the Helinox Chair Zero packs down into a 4″ x 4″ x 14″ lightweight stuff sack.
The frame is made from super-tough DAC aluminum poles, which are the same kinds of poles used in most high-end backpacking tents.
The seat material is made from a ripstop polyester.
Basically, the chair is very light but built tough. I'm about 6'3″ and 220 pounds, and the first time I sat in the Helinox Chair Zero, I was a bit worried. But the chair held strong. After using it, I've come to trust it.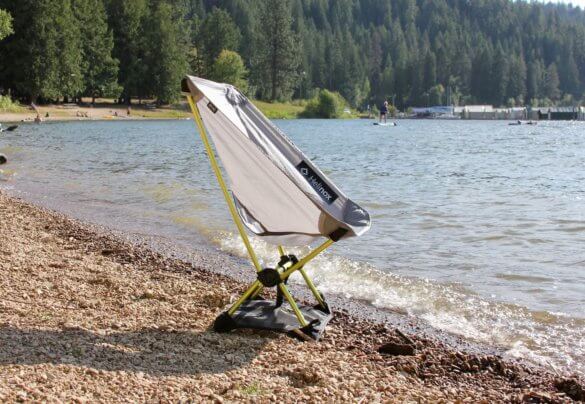 Don't Fear the Flex
Of course, if you look at the basic construction of the Helinox Chair Zero, there is going to be some flex in the aluminum poles. Obviously the chair flexes more when big guys sit in it.
The important thing to remember when putting it together is to fully seat the poles into the black plastic hubs. If you stick them half-way in and then get the fabric seat connected, you'll put pressure on the poles and hubs in a way that could lead to bending or breaking.
I haven't seen a failure like this, but it's possible. If your fabric seat won't fit over the pole ends relatively easily with a bit of tension, check your hubs to make sure the poles are fully inserted.
Helinox Chair Zero Review: Comfort
The Helinox Chair Zero is surprisingly comfortable. It's smaller and lower than most camp chairs, which is a sacrifice worth having to get to the 1 lb. 1 oz weight. The seat height is about 11 inches.
If you're under my height and you weigh less than I do (6'3″, 220), I expect you'll have a great experience. As for myself, it's very good. The pitch has a bit of lean in the back, but you can scoot your butt rearward and sit upright like you might on a stool.
If you're looking for an all-around camp chair for car camping more than ultimate portability for backpacking, error toward a larger chair like the Helinox Chair One, which has a 14-inch seat height. Also check out the Helinox Sunset Chair, which as a higher back and a 17.5-inch seat height. Both are still lightweight and packable (just not for backpacking).
Best Ultralight Chair?
The Helinox Chair Zero is light enough to go backpacking, but the title for the best backpacking chair is a flat-out tie with the REI Flexlite Air Chair (full REI Flexlite Air Chair review here).
The REI option weighs 1 ounce less and usually comes in at a slightly lower price point. The packed dimensions of the REI Air Chair are slightly larger: 5″ x 16″ vs the Helinox Chair Zero's tidy 4″ x 14″.
The Chair Zero is about one inch wider, so I find it slightly more comfortable. But, really, for backpacking the core differences are very minor.
Shop the Helinox Chair Zero at Moosejaw and get free 2-day shipping!
Sand, Gravel and Soft Soil
For the beach, however, the Helinox Chair Zero has a distinct advantage: The add-on accessory Ground Sheet for the Chair Zero.
The Ground Sheet is a square of mesh fabric that fits to the four legs of the Chair Zero. What does it do? It prevents the relatively small ends of each leg from sinking into sand or into soft soil. REI does not make a ground sheet-type of accessory for the Flexlite Air Chair.
This means you can take a Helinox Chair Zero, with the add-on Ground Sheet for Chair Zero, to the beach . . . and you won't have to fight sinking into sand.
The Ground Sheet fits tightly, but it does fit, and most importantly, it works well. Big fans here.
We can take the Helinox Chair Zero with the Ground Sheet on our rafting, kayaking, SUP, and fishing trips.
As for added weight, the Chair Zero with Ground Sheet fits into the included carry bag. All together, the weight comes to 24.3 oz. The Ground Sheet itself weighs 5.85 oz, so most people will leave it behind for backpacking into rocky areas.
Helinox Chair Zero Review: The Verdict
The Helinox Chair Zero is an outstanding ultralight backpacking chair. The add-on Ground Sheet accessory makes the Helinox Chair Zero even better — more versatile for soft ground. The only downside is the extra cost, but that's a minor quibble if your primary interest is in an ultralight go-anywhere chair, which is what Helinox delivers. Highly recommended.
Get the Gear:
Also at these stores we trust: Amazon | Aventuron | CampSaver | EMS | Moosejaw | REI
Pros
Weighs just 1 lbs 1 oz.
Surprisingly comfortable
Ground Sheet accessory extends usability
Pros
Without the Ground Sheet accessory, legs can sink into soft sand