Disclosure: Man Makes Fire is reader-supported. When you buy gear using retail links on our site, we may earn an affiliate commission that helps pay for our work. Learn more.
The Last Chance Archery Pack-N-GO Bow Press is a full-size, hard-core portable bow press. In my view, it's the best portable bow press for this simple reason: The Pack-N-GO is capable of pressing most any compound bow, even bows with past-parallel limbs.
Of course, to be able to safely press most any compound bow, the Last Chance Archery Pack-N-GO isn't an ultra-portable bow press. It's basically a full-size bow press that has been modified to let you take it with you to hunting camp or to various archery events.
For my purposes, having a bow press is primarily about hunting first, followed by working on bows for family and friends second.
If you're the kind of bowhunter or archer who likes to understand how your bow works — as well as work on it yourself — you need a bow press. With a bow press, you can replace or adjust a peep sight, replace your strings, and perhaps most importantly, tune your own bow. Some bows — but not all — need a press to let you adjust the draw length.
So how does this play out at bowhunting camp? If you or a buddy is having a peep sight rotation issue, you can press your bow and add or remove a half-twist in your string to fix it. If you had to re-serve the peep, you could. If you accidentally let a broadhead nick a string, you could change out the strings or cables with a backup set. Obviously this could result in some tuning time spent at camp, but if you're six hours away from the nearest archery shop, you could be back to hunting safely on your own without losing a full day or more. If that kind of peace of mind is worth something to you, you might want to consider the Pack-N-GO.
LCA Pack-N-GO Portable Bow Press Review
The Last Chance Archery (LCA) Pack-N-GO Portable Bow Press is based off the very popular EZ Green Press. As it turns out, there are three versions of the Pack-N-GO: Standard, Ultimate and Xbow. They are all essentially the same with the exception of the size of bow — and crossbows — they can press:
The Standard is the press in this review and it can press the vast majority of compound bows.
The Pack-N-GO is built with stout rectangular, powder-coated steel tubing — the entire kit weighs in at almost 29 pounds. The base portion includes two feet with holes that will let you screw it down to a workbench or bolt it to a workbench — or bolt it to a more portable solution (more on this later). The Pack-N-GO Standard is not freestanding on its own, which makes sense: Because you'll need room for the bow to hang down along side the press, it needs to be raised and secured to work properly.
LCA's Patented Bow Press Finger System
To press a bow, the Pack-N-GO uses Last Chance Archery's awesome patented finger system. These aluminum fingers are vinyl or rubber coated at the ends so they'll fit against the ends of a compound bow's limbs with a non-slip, non-damaging contact point. These fingers also slide back and forth in width so they can fit a wide variety of limb widths. Plus, they are individually adjustable so that each finger can apply the same amount of pressure — at the same angle — to all four limbs.
It's pretty intuitive, really, and downright easy to set up for your bow.
The hand crank lets you move the arms and fingers of the press in and out. It's smooth and works well, letting you dial in pressure that simply stays put where you leave it.
Obviously, with any bow press, you need to pay attention to what you're doing. You need to make sure the limbs and fingers have the proper contact and that you're pressing the bow with enough pressure to get the job done but not so much that you'll cause damage. Because the bow is held in place by friction, you can't simply unwind the press or your bow will fall to the ground. Let's be clear: These are not cons. As simple as the Pack-N-GO press is, compound bows are under a lot of pressure and you have to pay attention to what you're doing. It's easy to get into a groove or get distracted and make an error. If you can't focus for 10 minutes, a bow press probably isn't for you.
That said, the Pack-N-GO Standard Portable Bow Press is awesome. But how should you mount it for portability? For hunting camp?
Shop the Last Chance Archery Pack-N-GO at BlackOvis and get free shipping!
Pack-N-GO Portable Bow Press Mounting Options
You can mount the Pack-N-GO to any stout workbench capable of accepting the included lag screws. You can also bolt it to a workbench, but you'll need to supply your own bolts.
LCA makes a Hitch Mount that mounts to the hitch on your pickup. This is a pretty handy solution if you're shooting at tournaments or at hunting camp, but it only works with a hitch.
The LCA EZ Green Floor Stand is another option, but it's not inherently portable.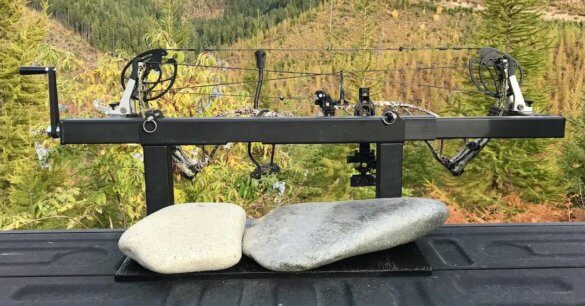 For me, I considered creating some mounting points on the tailgate of my pickup, but realized that I'd be hunting with other hunters in their pickups sometimes, too. Plus, I wanted a solution that was truly portable and would fit in the included carry bag.
Simple physics led me to the answer. I found an old sheet of plywood in the garage and cut it down to 12″ x 22″ so that it would fit the mounting brackets and fit inside the carrying case. Next, I drilled holes in one side of the board to fit the mounting holes on the Pack-N-GO press. I picked up four bolts, washers and wing nuts at the hardware store so I could bolt the Pack-N-GO to the board without tools.
This board could then be clamped to any work bench, but with the simple physics idea, all you really need is a pickup tailgate and a few big rocks. I don't know where you hunt, but where I hunt you can always find rocks.
All you have to do is put the board on the edge of your tailgate and pile up enough rocks to hold the press steady. Alternately, you could place a full cooler on the board for weight — or even use a big cooler as your workbench.
Does it work? Yes, yes it does. At home in the driveway, I use a couple weight plates. In the field, I use rocks or a cooler. What was the total cost to build the mounting system? Under $10 for the bolts, and the board was scrap from some previous project.
Disclaimer: Only build your own mounting system at your own risk — this do-it-yourself kind of mounting system is only for people who understand the physics of mounting and using a bow press, as well as have the skill and experience to fashion their own stable base for their Pack-N-GO. The safest, best methods are to stick with the manufacturer's mounting instructions, which is what Man Makes Fire recommends. Seriously, build your own mounting system at your own risk.
LCA Pack-N-GO Portable Bow Press Review: The Verdict
There are some cable or strap-based portable bow presses available, and I've used one that works well for most Bear bows. The downside is that most of these cable or strap-based portable bow presses can't safely press all compound bow designs, especially those with past-parallel limbs. In addition, even if you could technically press a bow with some of the cable/strap methods, many bow manufacturers won't say they are compatible with their bows, and using such a press could void the warranty or outright damage limbs. Enter the Pack-N-GO. The Last Chance Archery Pack-N-GO Standard Portable Bow Press is robust, packable, and is capable of safely pressing most any compound bow within the bow press specs designated by most compound bow manufacturers. It is simply fantastic.
What all this really means is that any time you get a new bow, the LCA Pack-N-GO should be able to press that bow, too. And your buddy's bow? Same answer. By having the Pack-N-GO press, you can set up and fit other bows for your family and friends. Over time, you won't have to drive to a shop for everything — and you'll have a key tool that will let you learn how bows work. Will it pay for itself? If you're a do-it-yourselfer, definitely. If you get stuck with a problem at hunting camp? Probably. If your local shop is 10 minutes away? Maybe not. Either way, we're fans of the Pack-N-GO, so much so that we included it in our guide to the 25 Best Gifts for Bowhunters this year. Very highly recommended.
Get the Gear:
Shop the Last Chance Archery Pack-N-GO at BlackOvis and get free shipping!
Last Chance Archery Pack-N-GO Bow Press
Pros
Can safely press most any compound bow
Built tough, excellent quality
Easy to use