Disclosure: Man Makes Fire is reader-supported. When you buy gear using retail links on our site, we may earn an affiliate commission that helps pay for our work. Learn more.
The Mystery Ranch Mule backpack is a hunting day pack that doubles as a load hauler. The frame system lets you pack your core gear but it expands to let you carry heavy loads, too.
To get Man Makes Fire a closer look, Mystery Ranch sent us a review unit. This is what we learned:
Mystery Ranch Mule Pack Review: Best Load-Hauling Day Pack Ever
Editor's Note: Mystery Ranch has discontinued the Mule as a full backpack but still sells the Mule bag option, which you can add to any Mystery Ranch Guide Light MT Frame. For a similar hunting pack, read our review of the new Mystery Ranch Sawtooth 45!
I'm a fan of load-hauling hunting packs, and more specifically, lightweight hunting packs that can scale up to carry out heavy loads. When I started archery hunting for elk several years ago, I wanted to use nimble, more narrow packs. I wanted packs that I could easily wear while drawing back my bow.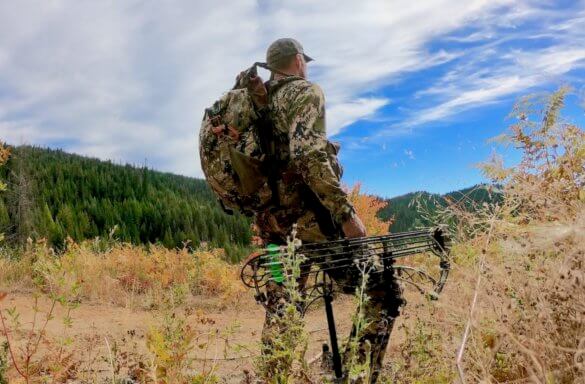 At the same time, I wanted to cut weight . . . but be able to haul a full rear elk quarter up out of a steep hole. I've used several great packs, but the one pack that truly caught my attention last season was the Mystery Ranch Mule. Here's why:
The Mystery Ranch Mule weighs just 4.4 pounds but it includes a serious waist belt and Mystery Ranch's well-engineered Guide Light Frame system. Most other load-hauling hunting packs start out weighing more empty, ultimately resulting in a heavier pack.
Better yet, the Mule is fairly narrow, which gives me full shoulder movement when shooting my bow and scrambling around rugged terrain.
Is the Mystery Ranch Mule the best load-hauling day pack ever? To me it is, but every hunter is a different size, shape and has different needs during their hunting seasons. There are many great hunting packs these days. Most of them are durable and fairly comfortable.
For me, the best hunting backpack is more about what the pack lets you do than anything else. For me, the Mystery Ranch Mule is perfectly versatile. The Mule provides a foundation for packing most everything I need for different hunting situations.
Mystery Ranch Mule Pack Review: Day-Pack Ready
First, the Mule has a 23-liter pack sack built in. This is large enough to let me carry a first-aid kit, rain gear, game bags, food, water, and some survival gear. I can carry everything I need to get through a full day and process an elk.
Because the main day pack is expandable to create a load-carrying pocket, I can carry extra gear. I can simply slide a lightweight gear bag in between the Guide Light Frame and the Mule pack bag. This is almost like having a bigger pack entirely, like the popular Metcalf. The benefit of the Mule is that I never have any extra pack that I don't need at the time. And yes, I know the Metcalf is compressible for light loads.
Here is another situation. If I'm heading far afield, I can use a dry bag in the load-hauling position. Mystery Ranch even offers such a bag, the Roll Top Hauler. I can drop in a sleeping bag, tent, sleeping pad, and food . . . and use it if we need to create an impromptu spike camp. Plus, I can near instantly pull that dry bag and drop it, letting me hunt in a fast-and-light mode.
Load Hauling, Built-In
The Guide Light Frame is stout enough to haul heavy loads in relative comfort — and I mean relative. I don't care what pack you have, once you hit 90-to-100 pounds, the word comfort turns into doable. And much over 100 pounds, doable turns into survivable. The Mystery Ranch Guide Light Frame system is fantastic, but when I'm slogging up a steep mountain, 100 pounds feels like 100 pounds.
What I appreciate about the Mule is that you can easily position the heaviest part of your load, ideally meat, right next to your back. The strap system is not only secure, it lets you carry oddly shaped loads, too.
Sometimes, depending on the size and distance, I'll carry a bone-in front quarter with backstraps. Or two front quarters depending on size and distance. It's never exactly symmetrical, but load-carrying packs like the Mule let you accommodate odd shapes.
All that said, under heavy loads, the Mule is nearly as comfortable as some burly, super-padded, dedicated load-haulers I've used.
Features and Specs
The Mystery Ranch Mule is deceptively simple but surprisingly well engineered.
The Mystery Ranch Guide Light Frame uses lightweight carbon fiber stays that blend rigidity with flex. You might think that a flexible frame is bad, but that's not necessarily the case. Under a heavy load and awkward movement over rugged terrain, some flex can improve the feel of the load as it shifts. In addition, you can flex the frame a bit by pulling on the load lifters — the two straps above your shoulders behind your ears. These straps help adjust the pack against your back in an arc to ride better based on your body and the load. It all results in a superior fit over most competing systems.
The Mystery Ranch OVERLOAD system basically lets you shift the 23-liter Mule pack rearward, opening up a space for meat or other gear. The bottom of the Mule pack remains attached, which creates a fabric shelf that holds the weight. Four side compression straps and two top straps secure the load.
The complete Mystery Ranch Mule weighs 4.4 lbs. The dimensions are 19″ x 11″ x 11″ when full (with nothing on the OVERLOAD shelf).
The pack overall is water resistant and has water-resistant zippers, but it's not technically waterproof. It is hydration reservoir compatible.
Sizing ranges from XS to XL — check the Mystery Ranch fitting and sizing page if you need help finding your perfect size.
The solid color options use a 500D Cordura fabric but the Sitka camo versions use 610 CORDURA HP, which is a fabric version made for printing.
Shop the Mystery Ranch Mule at Black Ovis and get FREE shipping!
Mystery Ranch Heritage and Quality
Mystery Ranch owners Owners Dana Gleason and Renee Sippel-Baker launched the legendary Dana Design backpack company over three decades ago. They sold the company, retired early, then started Mystery Ranch in Montana in 2000. Mystery Ranch now offers many purpose-built packs for the military, law enforcement, wildland firefighters, backpackers, and hunters. The company is known for its commitment to quality and excellent suspension systems.
Mule vs. Cabinet vs. Sawtooth 45
If you're considering the Mystery Ranch Mule, you might also be interested in the Mystery Ranch Cabinet and the new Mystery Ranch Sawtooth 45.
The Cabinet is similar to the Mule but it has two elongated pockets between the main day pack and the frame. These pockets can fold out like wings, letting you carry a load between the frame, the side pockets and the main pack. While I like the idea of the pockets, the Cabinet weighs just over a pound more than the Mule. For something I don't technically need, I like lighter Mule better.
The Mystery Ranch Sawtooth 45, on the other hand, errors on the side of pockets and organization. If you like all of your gear to fit into easily accessible pockets, the new Sawtooth is for you. The main pack is about 45 liters, so it's about twice the size of the trim Mule. The interior boasts multiple pockets, all of which you can access through a massive 270-degree zipper. So cool. In addition, the Sawtooth uses Mystery Ranch's new Guide Light MT Frame, which features an improved waist belt. The only downside of the Sawtooth 45, from my perspective, is the extra 15 ounces and the fact that it doesn't yet come in Sitka's Optifade Subalpine camo pattern. Still, its promise is excellent organization with a dose of versatility.
Shop the new Sawtooth 45 at Black Ovis and get FREE domestic shipping!
The Verdict: Outstanding Versatility
If you're looking for a versatile hunting pack that will let you cover miles and hopefully pack out a heavy load, you can't go wrong with the Mystery Ranch Mule. The Mule's well-engineered simplicity lets you use it in a variety of ways, and the overall quality is fantastic. Very highly recommended.
Get the Gear: 
Pros
Durable materials
Excellent heavy-load capabilities
Outstanding versatility
Cons
Waist-belt pockets are not included (we like waist belt pockets)