Disclosure: Man Makes Fire is reader-supported. When you buy gear using retail links on our site, we may earn an affiliate commission that helps pay for our work. Learn more.
The REI Co-op 650 Down Jacket 2.0 is a lightweight jacket that delivers the warmth of natural down insulation at a super affordable price point.
To get us a closer look, REI sent Man Makes Fire a review unit. This is what we learned:
REI Co-op 650 Down Jacket 2.0 Review
Down jackets use one of nature's lightest and most effective insulators — goose and duck down. Down is basically the super soft and fluffy feathers that are found underneath tougher and stiffer feathers. Down is rated by what's called "fill power," which is a measurement of the loft of down. Basically, the fill power ratings give you an indication of the quality of the down. Higher fill power numbers mean the down is fluffier and of a higher quality.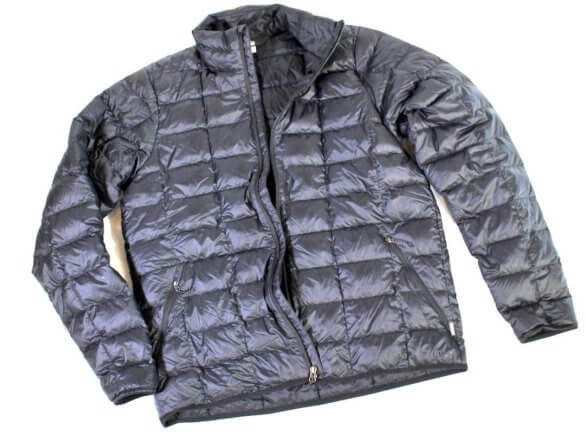 The REI Co-op 650 Down Jacket 2.0 uses 650 fill power down, which is considered entry-level down. Compared to synthetic insulating materials, 650 fill power down is very good and very lightweight — the REI Co-op 650 Down Jacket 2.0 weighs in at just 11 ounces. Compared to 850 fill power down, 650 is less lofty and more likely to have a few regular feathers mixed in with the good down.
What you need to know when it comes to the REI Co-op 650 Down Jacket 2.0 is that it's an entry-level down jacket that's priced accordingly.
Surprisingly, 650 fill power down jackets and sleeping bags might be a better value overall than jackets and sleeping bags that use loftier 850 fill power down. For instance, a jacket with an 850 fill power rating might cost more than twice as much as the REI Co-op 650 Down Jacket 2.0 . . . but it won't be twice as warm. In fact, REI makes an 850 fill power down jacket — the excellent REI Co-op Magma 850 Down Hoodie 2.0 — and while it's one of our favorite down jackets, it's not twice as warm as the 650 Down Jacket.
What this really means is that if you're on a budget, the REI Co-op 650 Down Jacket 2.0 is a very good value.
Fit and Finish
For the price point, the fit and finish in the REI Co-op 650 Down Jacket 2.0 is very good. The stitching isn't as good as more expensive down jackets, and the recycled nylon shell fabric isn't as tightly woven, but overall it's a notch up from most every other down jacket we've seen at the sub-$100 price point. For that reason, the REI Co-op 650 Down Jacket 2.0 makes our best down jacket guide — it's a great value for anyone looking for an inexpensive down jacket.
The nylon shell fabric feels good on bare skin.
The sleeve cuffs are slightly stretchy and sized well. The hem has the same slightly stretchy material along the bottom, but it doesn't have a built-in drawcord for sealing out drafts.
We think the REI Co-op 650 Down Jacket 2.0 fits slightly large. If you don't have a large torso, you probably want to size down. This will also reduce airflow from the hem, making the jacket feel warmer.
Meanwhile, if you are tall and have long arms and are concerned about sizing down to get a trimmer fit, REI has started introducing tall sizes that have longer sleeves and torsos. I normally wear an XL but I was able to size down to a Large Tall version and the fit is perfect. For reference, I'm about 6'3″, 220 lbs with long arms.
The only downside to the tall version is that it's only available in black while you can choose between a whopping eight color options with the regular fit.
Pockets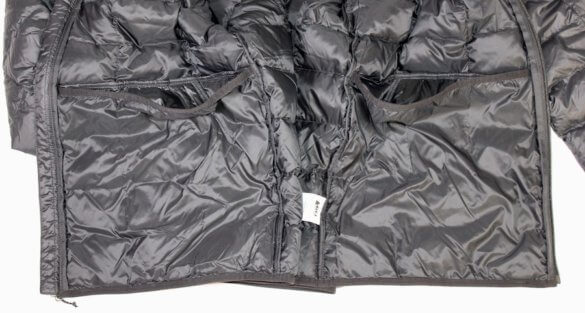 The REI Co-op 650 Down Jacket 2.0 stuffs into its own left side hand pocket, which is a feature we appreciate. You can throw this jacket into a backpack for day hikes or take it backpacking — and it's there when you need it on those chilly mornings and nights.
REI also includes two large interior stuff pockets that are suitable for gloves, snacks, etc.
The Verdict
The REI Co-op 650 Down Jacket 2.0 is an excellent entry-level down jacket. Frankly I was surprised at how much I liked it. The level of down fill — as in, how puffy the baffles are — is not fantastic compared to jackets that cost three times as much. However, the baffles are filled with an acceptable level of down. We've seen other down jackets in this price range that feel mostly empty. While we would like to see a bit more puff, it's really pretty good considering the competition. In fact, this is all key to understanding why an entry-level down jacket can earn a solid 4.4 star rating from us: It does the job you expect very well at its entry-level price point.
In actual use out and about in cold weather, the REI Co-op 650 Down Jacket 2.0 performs well, too. It's not as warm as a high-end down jacket that weighs the same or less, but it's at least as warm as most lightweight synthetic jackets and is nearly as warm as many midrange down jackets. The nylon shell is covered with a DWR coating, so it sheds snow and a bit of light rain. All-in-all, it's our favorite sub-$100 down jacket. It's a good deal at full price, and when it's on sale, it's a steal. Highly recommended.
Get the Gear:
Pros
Excellent value in the sub-$100 price range
Solid fit and finish throughout
Nylon shell has a DWR coating to repel moisture
Cons
Doesn't compete well against high-end down jackets (but again, it's very good at the sub-$100 price point)