Disclosure: Man Makes Fire is reader-supported. When you buy gear using retail links on our site, we may earn an affiliate commission that helps pay for our work. Learn more.
The REI Co-op Magma 850 Down Jacket is a mid-priced down jacket that pairs an adventurous design with lofty 850-fill power goose down insulation.
The 850-fill down has a durable water repellant (DWR) coating, which means the down is a hydrophobic down that repels moisture. This is a great feature because hydrphobic down will resist the water vapor you produce if you're doing some light hiking, snowshoeing or skiing. In addition, if you get hit with a sprinkle of rain, your down jacket will hold up just a bit longer than a non-treated down jacket. When it comes to fill power, 850 is at the top of the quality spectrum.
There is more to a great down jacket than high-end goose down, of course. To give us a closer look at what goes into the REI Co-op Magma 850 Down Jacket, REI sent Man Makes Fire two down jackets — a men's and a women's version.
This is what we learned.
Note: REI has discontinued this version and has updated the jacket into The REI Co-op Magma 850 Down Hoodie.
REI Co-op Magma 850 Down Jacket Review: Design
The REI Co-op Magma 850 down jacket starts with a lightweight 15D Pertex Quantum ripstop nylon shell. This is a great fabric choice that feels good and is lightweight — but it remains reasonably tough. As for weight, REI says the jacket comes in at 10.8 ounces, but it's unclear if this weight is based on a men's small, medium or large. Either way, our XL weighed in at a respectable 11.85 ounces. What's this mean? The Magma 850 down jacket is very light. There are a handful of down jackets that weigh a few ounces less, but they usually start sacrificing durability, zippered pockets and features like drawcords at the waist.
Speaking of drawcords, we're big fans of any jacket with a drawcord because they are simply worth their weight when the temperature dips and the wind kicks up. The drawcord in the REI Magma 850 down jacket is lightweight but works great. It's easy to tighten to seal out drafts and it stays tight.
As for the baffle construction, REI uses a variable baffle design. Most of the baffles are a standard width in this class of down jacket, but REI shrinks the baffles on the underside of the upper arm and down the upper part of the sides. The idea is to thin up the insulation around your arm pits to reduce bulk and improve your range of motion. Does it work? We're not sure. It's hard to notice bulk in most lightweight down jackets because the down will compress under your arms when you're moving them next to your body.
Either way, the Magma 850 down jacket has great range of motion and freedom of movement. I'm about 6'3″ 220 pounds with larger shoulders and I don't feel any binding or points of stress.
The last key design choice is the position of the zippered hand pockets. REI cut these pockets a bit higher than you'll find on most casual down jacket designs. Why? To ensure access if you're wearing a backpack with a hip belt.
Upon first usage, the entry point seems odd, but because the pockets are deep, you're able to drop your hands down to a natural location. You can wear a backpack over the Magma 850 and still warm your hands in the pockets. Without a backpack, you just gain extra pocket space.
The key takeaway in all of these design choices — the hydrophobic down, the baffles, the shell, drawcord and pocket position — is that REI built the Magma 850 down jacket with active, true outdoor use in mind.
REI Co-op Magma 850 Down Jacket Review: Sizing
The REI Co-op Magma 850 down jacket comes in regular sizes for both men and women, with different color options for each gender (aside from the ubiquitous black, of course). The overall fit is standard and the sizing is spot on. If you're an average size and shape adventurer, get your normal size. You'll be able to wear a t-shirt or base layer plus have room for a mid-layer, such as a fleece shirt.
If you plan to wear the jacket primarily over a single t-shirt or thinner shirt, you could likely size down for a trimmer fit (which is true for most down jackets). If you plan to layer appropriately and get out into cold weather activities, the sizing is good.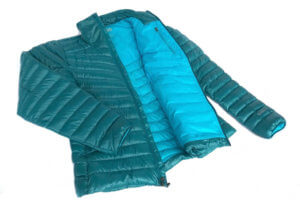 The women's version is tapered in at the waist and then flares slightly outward at the hips: An overall shape is cut into the jacket, definitely, but it is a non-aggressive taper that seems designed to fit — and complement — most women reasonably well.
If you're tall and slim with long arms, man or woman, you'll need to look elsewhere: REI doesn't make a tall version of its Magma 850 down jacket, and because the sleeve length is standard, you won't be able to size down if you have long arms and a smaller torso. (Check out our guide to the best down jackets if you're searching for at tall down jacket or more athletic cut.)
Still, the adjustable elastic drawcord at the waist is what saves the day here and keeps the REI Magma 850 down jacket versatile — you can cinch it down to seal out drafts when you have light layers or loosen it up when you have heavier layers.
REI Co-op Magma 850 Down Jacket Review: Punches Above Its Weight
REI has been creating a whole new set of products with high-end features but offers them at midrange pricing levels — the REI Co-op Magma 10 down sleeping bag and Quarter Dome 2 backpacking tent come mind here, and the Magma 850 down jacket is no exception: The REI Co-op Magma 850 down jacket is a durable, well-built and lightweight down jacket designed to be worn in the great outdoors. The price-to-value ratio uses a midrange price but offers higher-end components — we like that. The quality and style are great for navigating the snowy sidewalks of a mountain town, but when it's time to throw on a backpack, the REI Co-op Magma 850 down jacket is ready to go, too. Highly recommended.
P.S. The men's "Mineral Water" blue looks even better in person, as does the women's "Indian Ocean." Online photos don't seem to do either color justice.
Get the Gear:
* If you become an REI member, REI shares a portion of the company's profits every year through member dividends, which are typically around 10% of your REI purchases during the previous year. FYI is all — learn how here.