Disclosure: Man Makes Fire is reader-supported. When you buy gear using retail links on our site, we may earn an affiliate commission that helps pay for our work. Learn more.
The Rising Brookie Net is a Made-in-America anodized aluminum fishing net. It's rugged and looks fantastic in person.
If you're like me, the first thing you're going to be thinking about is its overall design. Rising makes the Brookie Net from aluminum with a triangular shape — which also means it's not a classic laminated wood net that's been lovingly sanded, glued and coaxed into a pretty teardrop. The Rising Brookie is a thoroughly modern take on the fly fishing net.
So in one sense, what you really might be asking yourself as you consider the Rising Brookie Net is this: Do I want to fly fish with the cool kids?
And maybe even this: Whoa, I like that anodized purple option, but can I rock that color on the river?
The answer? Yes, yes you can.
Of course, I chose red, but that's also because purple was sold out at the time. And you can't go wrong with red.
Meanwhile, let's get back to the construction, features, and how it all comes together on the water.
Rising Brookie Net Specs
The hoop has a 16″ long interior with a 10″ handle, and if you measure from end-to-end you get 28″. (I know, the math doesn't work out on paper, but it's all pretty close in real life because of the end cap and the hoop/handle junction.)
The width of the hoop at the end is 11.5″ and it tapers down in a sort of triangular fashion down to about 5″.
The size of the Brookie Net is about on par with most standard fly fishing landing nets — maybe slightly bigger.
At first glance, I thought, Hmm, maybe I should have gotten the bigger Lunker . . . but I'm glad I didn't because the bag itself is deep and surprisingly roomy. In fact, the Rising website says the bag is 8.5″ deep, but the bag on my net is about 10″ deep. That's measured when the flat bottom of the net bag is flat on a table, not stretched out. So you actually get a bit more net than the published specs might have you believe.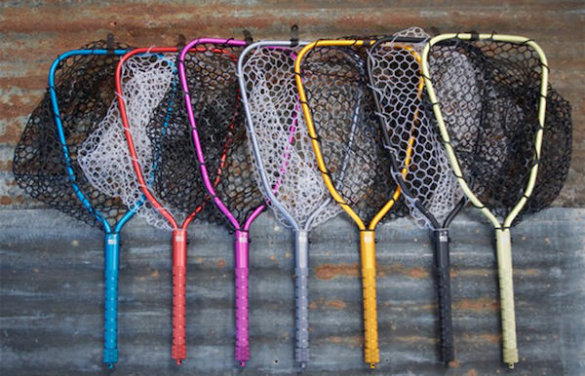 How to Carry the Brookie Net
There are two key ways to carry the Brookie Net. The first is to use a good magnetic net holder, which you would attach to the end cap of the Brookie Net or to the removable rubber tether point on the end of the hoop.
The second is to stash it handle down into a rod holster that's built into your fly fishing pack. Many of the best fly fishing hip packs have built-in net slots these days. Even if your hip pack doesn't have a slot, you can often just slip a net handle down between your hip belt and your back.
Rising also makes a universal net holster called The Answer, which also lets you adjust the angle of your net when holstered.
Out on the River
On its first trip to the river, the Rising Brookie Net easily handled multiple 17+ inch cutthroat trout with a lot of room to spare. I think it'll be capable of handling trout pushing out to about 24 inches. Of course, if you're consistently hooking trout that big, I recommend that you carry a bigger net — if only because it's easier to nab large fish with larger hoops. You just have more room for error with larger nets when the fish are huge.
Brookie Net vs Lunker Net
The main challenge for a fly fisher is figuring out how much net you really need — and how much net you want to carry. Many fly fishing guides prefer long-handled fly fishing nets with big hoops. Why? It's easier to net a fish, particularly big fish, with big nets with long handles. But most fly fishing clients aren't carrying their own nets — the guides are carrying the nets. Or the nets are in a drift boat or fishing raft.
Which brings up the question of a boat. If you're going to spend much time fly fishing from a boat, you'll want to invest in a longer-handled net simply because it's easier and safer to reach over the side of a boat to net a fish.
On the other hand, if you'll mostly wade fish and cover a lot of ground, a large net can get cumbersome. It'll catch on brush, and an overly long handle can get in the way as you walk or scramble. In that case, a more traditionally sized landing net becomes the versatile net most trout fly fishers will use most.
For wade fishing and walking, the Rising Brookie Net is hard to beat.
But there's more to this story.
Enter the Extend Net Handle!
The Rising Brookie Net has an innovative accessory option that completely transforms the functionality of the net — an aluminum extension handle that screws onto the end of the net. Seems simple, right? It is, and it's awesome.
What it does is transform the Brookie Net into a capable boat net. Sure, I'd rather have a dedicated boat net for the boat, but if I'm going to have one net, I really appreciate the option of extending the handle when I need it. And leaving it in the truck when I don't.
Here is another situation where the Rising Extend Net Handle shines — spring fishing during high water. While I was out testing the Rising Brookie Net this spring with the extension handle installed, it seemed a bit too long at times. I was using a fly fishing hip pack to carry my gear, and I stuck the Brookie Net between my back and the pack. The extension handle occasionally smacked into a log or got in the way when I was descending steep banks.
But then I hooked a big cutthroat in a pool that spilled into fast water up against a brushy bank. During the fight, I wasn't able to keep the trout in the pool and as it started heading downstream, I had one chance to net it before it would have broken off. You guessed it — the Rising Brookie Extend Net Handle gave me just the extra reach I needed to land the cutthroat. I would not have been able to get to it with a shorter net.
But wait, there's more. If you start dabbling with Euro nymphing, which is a form of fly fishing that uses extra-long, very lightweight fly rods, you'll appreciate a longer net. Why? You don't have quite as much control over a fish when you're using a 10′ 2-weight fly rod.
The key to the Rising Extend Net Handle option is that you can buy one high-quality, made-in-America net and essentially get one net with two very different attributes. So cool.
Shop the Rising Brookie Net at AvidMax and get FREE shipping!
Stubby Lunker?
The biggest competition to the Rising Brookie Net is the Stubby Lunker Net, which also has a 10″ handle. And it, too, works with the Extend Net Handle. So you can get the best of both worlds if you're catching — or hoping to land — some truly monster trout.
To learn more about fly fishing net options — and why rubber net bags are the way to go — check out our guide to the best fly fishing nets (which, of course, includes the Rising Brookie Net).
Built-in Flask
There is one other feature that no other competing fly fishing net has: A built-in flask. You read that right. The handle is hollow and the screw cap has a waterproof/whiskeyproof seal. If you appreciate a nip of bourbon on cold days and like to joke around with your fishing buddies, you'll appreciate the built-in flask.
The Verdict
All-in-all, the Rising Brookie Net is a rugged made in the USA fly fishing net. You can find it with a black or clear rubber net bag, and it comes in eight color options. The knurled texture on the handle is grippy when wet, and the fit and finish is excellent. Plus, you have the option to extend the length. The great thing about the Rising Extend Net Handle is that it lets you have the best of both worlds — a nimble short-handled landing net as well as a long-handled net for better reach. Very highly recommended.
Get the Gear:
Check shipping/pricing:
AvidMax | Backcountry.com | Fishwest
Related:
Benefits
Rugged anodized aluminum can take abuse
Soft rubber net bag protects fish
Made in America!
Drawbacks
No real drawbacks