Man Makes Fire is reader-supported. When you buy gear using retail links on our site, we may earn an affiliate commission that helps pay for our work. Learn more.
The Ross Eddy reel is an entry-level fly fishing reel with a fantastic price-to-value ratio. It boasts a large arbor design that looks great, plus it has a drag system that gets the job done with ease. In my first outing with this reel, I caught a dozen hard-fighting brown trout on light leaders and had no problems bringing them to the net.
I'm a big fan of the Ross Eddy.
Which version did I use? The 5/6, which is rated for 5-weight and 6-weight fly lines. I paired the Eddy with a fantastic 9-foot 5-weight Mystic Reaper fly rod and Orvis Clearwater fly line.
So, what do you need to know about the Ross Eddy?
Ross Eddy Fly Fishing Reel Review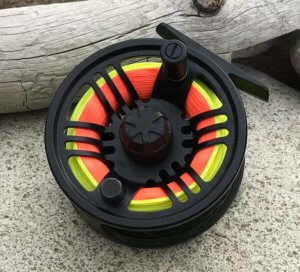 The Ross Eddy reel uses a large arbor design, which I think is a must for an modern fly reel. Why do you want a large arbor reel today? The larger diameter spool lets you reel in line faster, plus reduces line coil memory after your fly fishing reel has been sitting in a bag all winter long.
Next, how about the drag? It's smooth, but not as smooth as you'll find in high-end reels that cost five times as much. Still, it's very good. More to the point, it's effective enough to handle large trout on small tippets. The biggest I caught with the Eddy was a heavy 20-inch brown trout that made several hard runs, which I hooked on a size 18 fly with 6x tippet. The drag did its job.
As for using the drag, the best method is to set your drag fairly lightly and then turn it to add pressure as you fight the fish when you need extra drag and when your tippet will support it.
Here's how that works: When a hooked fish runs and starts taking out fly line, the first pull against the fly reel should be against a light drag setting so that your tippet doesn't just snap. Once you're fighting a big fish off of your reel, you can turn your drag knob to increase your drag. This is an experience and feel sort of thing where you learn how much pressure your tippet can handle while you try to figure out the fish, read the water for submerged logs and sharp rocks, and land the trout. It's a challenge, of course, and part of the fun.
In addition to an easily adjustable drag, the spool on the Eddy has a palming rim, which lets you use your off hand to add a little resistance to the reel when a fish runs, which is handy when you get caught by surprise.
What about the sound? You get a nice and subdued click on the retrieve, along with a similar sound when a fish is tearing line off your reel. Sounds about perfect to me.
Shop Fishwest.com for the Ross Eddy and get free shipping on orders over $50!
Ross Eddy Reel Review: Manufacturing Quality
Overall, the Ross Eddy reel assembly is tight, solid, and smooth. Ross uses a proprietary AGP coating to help fend off the elements, and the coating looks and feels good. I've already put a few scratches on it, so it's not scratch-proof — but that doesn't bother me. I scramble around all sorts of rocks. Scratches add character.
As for the design, I like the simple clean lines and airy construction.
The 5/6 model weighs 5.68 ounces. The weight is about average for an entry-level reel. The 3/4 is 4.76 ounces while the 7/8 is 5.96 ounces. Those are the only three model sizes available, but they do cover the typical need of about 90 percent of fly fishers these days.
What's left to say? Not a heckuva lot. The Ross Eddy is not manufactured in the United States like some other Ross reels, but I haven't found any reel manufactured in the U.S. at this price point. (If you can afford it, check out the fully machined Ross Evolution LT, which is made in America.)
All-in-all, for any fly fisher on a budget, the Ross Eddy fly fishing reel offers a fantastic price-to-value ratio. It's a great hard-working reel, and like I said, I'm a big fan. The Ross Eddy is easy to recommend.
Get the Gear:
Shop Fishwest.com for the Ross Eddy and Orvis Clearwater fly line and get free shipping on orders over $50!