Disclosure: Man Makes Fire is reader-supported. When you buy gear using retail links on our site, we may earn an affiliate commission that helps pay for our work. Learn more.
The Spot-Hogg Wiseguy release has an open hook style head and a super light trigger. It's built for hunters who want an index-finger wrist strap release paired with outstanding precision.
I bought the Spot-Hogg Wiseguy release back in August ahead of September's archery elk season. I was a bit worried about trying a new release so close to go time, but I figured I could always return to my old release if it didn't work out.
Spot-Hogg Wiseguy Review
On my very first shot, I was shocked at how light the trigger was in the factory setting. I definitely had a surprise release. I shot four more arrows, all with good results. Better yet, shooting the Wiseguy felt good. With my previous release, which was crisp, and frankly, already set pretty light, I found myself occasionally punching the shot.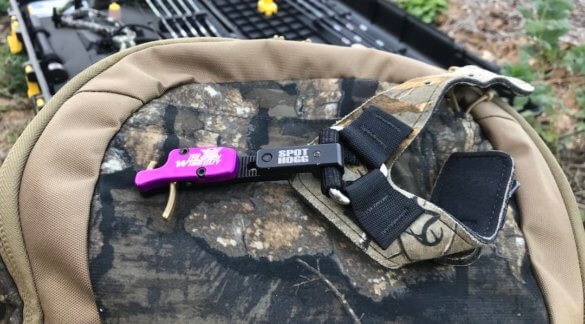 My old release had a trigger that had a texture machined into it that I liked, but maybe that provided too much sensory feedback to my index finger when it was time to shoot. I don't know. It seemed as if I was trying to adapt myself to my old release rather than letting everything do its job. I tried shooting at different positions on my finger, and I was pretty accurate, but it felt as if I could do better.
The Spot-Hogg Wiseguy, on the other hand, was an out-of-the-box fit. The subtle sweep of the trigger, the open hook, and the rigid design was basically perfect. I did adjust the length to fit my hand, but I did not need to adjust the trigger tension. You can increase the tension, but I recommend that you don't until you've shot a couple dozen arrows first. Give it a chance and you might really appreciate it as your shot process resets.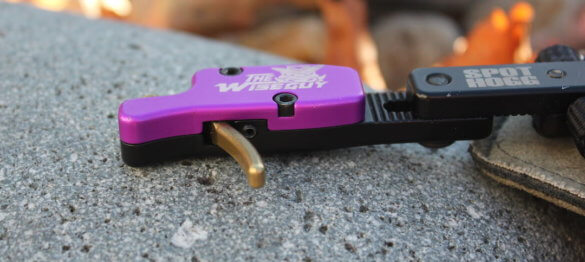 Spot-Hogg makes a few different versions of the Wiseguy — a flexible nylon version, a rigid buckle version, a rigid version with a Velcro strap, and a rigid BOA version.
I choose the camo strap rigid buckle version. Why? I liked the idea of the rigid extension for ease of adjustment as well as manipulation while hunting. I can fold the release trigger back out of the way, and when it's in the shooting position, it sticks out so I can quickly and easily find it and hook it into my D-Loop.
The Shooting Experience: Increased Accuracy
I can say, without a doubt, that I saw an increase in accuracy immediately upon switching to the Spot-Hogg Wiseguy release. And that built confidence, which resulted in a positive feedback loop.
Of course, at the same time I was happily shooting the Wiseguy, I was also breaking down every element of my shooting cycle: nock on, grip correct, arm out, smooth draw, anchor on, breath out, sight leveled, sight centered, solid back tension, let the bow do the work, pin on, shot gone. You know, that sort of thing.
By breaking down each element of my shot and repeating it with intention on each shot, I was teaching muscle memory and improving consistency. So not all of my accuracy gains came from the Wiseguy, but still, the Spot-Hogg Wiseguy gave me a critical boost at a time I needed it most.
Meanwhile, there is something more here to share: Because the trigger on the Wiseguy is so light, you can shoot with some of the same sorts of technique used with back-tension releases. By curling your index finger slightly over the trigger, then squeezing your shoulder blades together when you want to shoot, your wrist and hand will stretch and squeeze into the release, pulling your whole hand backward, and that motion will be enough to trip the trigger. It's not a true back-tension release, but it's a similar principle and it does give you a bit more of a surprise release. If you find yourself punching the trigger, you can maintain the benefits of an index wrist-strap release by training yourself to pull your whole hand back to shoot rather than solely engaging your index finger.
I tried this technique with decent success for a couple of days, but somewhere along the way, I lost it when I was focusing more on my follow through — but I wasn't worrying because I was shooting well as I headed into September. I can confirm, though, that the technique can work.
Results
At one point during my multi-day sight-in process, I was shooting five arrows from 40 yards all at different targets because I didn't want to Robin Hood any and lose a good arrow. While all were pretty accurate, it seemed to me that I was consistently getting two arrows that weren't quite as accurate.
So I marked the two I thought were flyers and stepped back to 60 yards. I figured I could shoot all five at 60 at the same spot and be OK, and maybe I'd see if the flyers were just wind, or more likely, user error.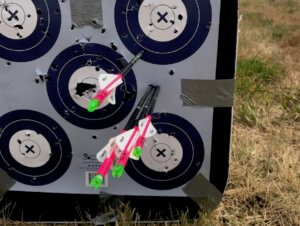 With my eyes at 60 yards, I can't see the exact spot where each arrow hits — I can tell if it's on target or not, but not specifically like I can at 40. I just focused on doing my job and letting the bow do the work. My goal was to let them fly and not pay attention to where they hit where some psychological activity could get in the way on the next shot.
On the fifth shot, I saw a bit of white fly after my arrow struck the target and, damn it, I was sure I clipped a vane. Which meant I'd have to re-fletch one of my best arrows.
When I walked up to assess the damage, I had stacked three arrows horizontally together and I had clipped vanes from two of the three arrows! The other two arrows were a few inches out, but well within the kill zone on an elk. Were they the flyers I had marked before? Yup. The two fliers were close, and the three best arrows were awesome. Re-fletching perfect arrows sucks, of course, but I had validated my suspicions.
At that point, I was able to make a more accurate sight-in adjustment with full confidence.
Long story short, I don't think I would have been shooting quite this well at this point with my old release.
Elk Down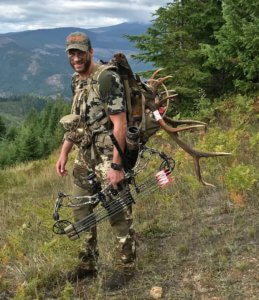 Last of all, I was able to harvest a five-point bull elk with the Spot-Hogg Wiseguy. I was at full draw for quite a while, then when the bull appeared in an unexpected spot, I had to very slowly inch my bow arm, at full draw, a good 45 degrees to the left while in full view of the bull, 22 yards away, quartering to me. Very very slowly, feet planted where I started. I could keep my finger off the trigger during this movement, and once my pin was on target, the arrow flew true.
So yeah, I'm a fan of the Spot-Hogg Wiseguy. If you want a traditional wrist-strap style hunting release and want to try a super light trigger, try the Spot-Hogg Wiseguy. Very highly recommended.
Get the Gear:
Looking for more great bowhunting gear? Check out our guide to the best bowhunting gifts!
Pros
Ultralight, adjustable trigger
Excellent overall build quality
Easy to adjust