Disclosure: Man Makes Fire is reader-supported. When you buy gear using retail links on our site, we may earn an affiliate commission that helps pay for our work. Learn more.
The Adidas Outdoor Hydroterra Shandal Shoe is my all-around favorite lightweight water shoe. As the "Hydroterra" water and land name suggests, this unit is part mesh water shoe, part slip-on sandal, part do-everything shoe. What first attracted me to it was the basically full-coverage upper that is also primarily a strong and airy mesh — mesh for ultimate breathability. After all, what lets moisture escape better than a bunch of gaping holes?
The Adidas Hydroterra Shandal Shoe Review
There's a lot more to this water shoe, though, and Adidas has been improving the materials and design over time. Here's the bullet points:
Slip-on comfort. If I need to put this on, boom, it slips on and I don't have to worry about laces. The Adidas speed lace system does the job, and it's wicked strong.
Slide-in sandal. Adidas calls it a "shandal," which is a new category of shoes for marketing geeks. For the rest of us, the heel folds down and you can slide your foot in on top of it, giving your heel a bit of extra cushion for tooling around camp after a long day on the river or trail.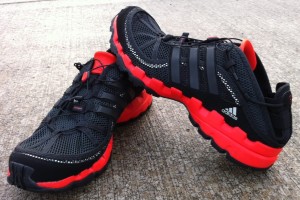 Drains water fast. I said there was mesh, and there's a lot of it.
Solid sole with aggressive traction. Instead of bothering with drain holes in the sole — which in other water shoes also happen to let water in when you step in a puddle in the middle of the night while out peeing in the dark — all the drainage is focused on the mesh, leaving you with a reasonably solid slab of EVA to walk on. Why is this cool? If the sole of your hiking boot peels off or the whole boot gets dragged away in the middle of the night by a salt-hungry goat, you can wear the Hydroterra Shandal Shoe and have half a chance of making it back to the trailhead without breaking anything. For me, I always strap a pair of water shoes on the back of my backpack when I hit the backcountry. They not only let your tired dogs breathe after hiking, they're great for fishing in.
Newly Updated Protected Toe. The photos above show a previous generation, but Adidas has updated the new versions with extra-durable toe protection — much like you see on a great pair of hiking boots.
Excellent overall support. The speed lacing system, when you crank it down, actually does a pretty good job of holding your foot inside the shoe. The floppy heel area is connected by a stout cord, so when you tighten down the forefoot, the heel cup is also sucked up against your heel. If I had to flee from a hungry predator, I'm reasonably confident that these shoes wouldn't be the worst of my problems.
Splash of Big Color. Look, for running and trail-type shoes, I'm a color kind of guy — a small range of color, that is. I like black, grey, charcoal, some occasional browns . . . coupled with loud and bright reds, oranges, yellows, and shocking greens. The Adidas Outdoor Hydroterra Shandal shoe delivers.
Barefoot or with socks. I've avoided a lot of water sandals because they look silly without socks, and worse, with socks they make you look like an idiot. These Hydroterras work well with both. If you've got gnarly feet that scare small children, these will let your feet breathe and if you wear socks, they'll still look so close to a regular trail shoe that most people don't realize they're water shoes. These are the super spy operative of shoes — they can blend in to all sorts of situations, despite having killer blasts of color.
Adidas Hydroterra: Best All-Around Water Shoe Ever
In my book, the Adidas Hydroterra Shandal is the best all-around water and trail shoe ever (*Note: Adidas has discontinued the Hydroterra Shandal — read our 15 Best Water Shoes guide instead.)   Why? Versatility. I like to cover a lot of ground in a variety of places. (If you're primarily boating, check out the the NRS line of water shoes.) What was my previous water shoe? The Salomon Men's TECHAMPHIBIAN 3. In fact, the whole Salomon Tech Amphib line is great. I had one pair that got me through a couple of hard seasons. The Tech Amphibs have much of the same attributes as the Hydroterra, but tend to look more like a water shoe than a trail shoe. I do like being able to adjust the heel of the Tech Amphib line, separately from the forefoot, but it does tend to loosen over time. Still, I actually hiked for 7 hours through bear-infested Kodiak Island up to the top of a mountain through a nasty thicket of never-ending Alder brush, then 2.5 hours back down to camp. There was a bet involved with our camp leader, and they could watch us from the camp with binoculars. After nine-plus hours — the distances are deceptive on Kodiak! — my buddy bent over and threw up in complete exhaustion only a few hundred yards from camp. It was grueling.
The point? When I pick a camp/water shoe, I want a tough one, capable of anything. The Adidas Outdoor Hydroterra gets the job done in style.
And, four years after I found my first pair — I've worked a few hard — this is still my go-to water shoe. I just hope Adidas keeps making them forever.
Get the Gear: