Disclosure: Man Makes Fire is reader-supported. When you buy gear using retail links on our site, we may earn an affiliate commission that helps pay for our work. Learn more.
The Alaska Guide Creations Classic MAX Pack Bino Harness is a full-featured chest-pack binocular harness with room for a rangefinder, wind checker and much more. It's available in multiple colors and camo patterns, and best yet, it's made in the USA.
When it came time to choose a new bino harness for this year's hunting season, the Alaska Guide Creations Classic MAX Pack Bino Harness made it to the top of my list. Here's why:
Alaska Guide Creations Classic MAX Pack Bino Harness Review
When I go hunting, I usually carry 10×42 binoculars because it's hard to go wrong with 10×42 binos. They're powerful enough to scan ridges for elk or pick antlers out of the brush but light enough to pack around. For most hunters, most of the time, a bino harness chest pack that will fit 10×42 binos is the smartest buy.
This year, however, I wanted to test out a set of 12×50 binoculars to see if the extra power is worth the extra weight. Consequently, I needed a bino harness pack that would scale up to 12×50. Enter the Alaska Guide Creations Alaska Classic MAX Pack Bino Harness, which will easily hold 10×50 or 12×50 binos . . . and handle 10×42 binos with plenty of room, too.
At the same time, I wanted a bino harness that had a pouch available for a rangefinder, along with a pocket for a bottle of wind checker and another pocket for diaphragm elk calls.
The Alaska Guide Creations Classic MAX Pack Bino Harness goes even farther than my base specs: It includes a flat pocket on the back, along with a bottom pocket underneath the main pockets. And then there is an elastic sleeve on the top lid.
If there is one thing I appreciate in most gear, it's having more pockets than not enough pockets.
AGC Classic MAX Pack Bino Harness Review: Lots of Pockets
Let's start with the main binocular pocket. The lid is a flap that's held down with a stretchy cord. It works great, plus it's adjustable through the rangefinder pocket. If you're using longer 12×50 binoculars, you can set the cord to give you a bit more top coverage. And if you're using smaller 10X42 binos, you can tighten the cord to hold the lid down tighter. The AGC Classic will hold both sizes just fine.
The lid coverage isn't designed to seal out all the elements, but it's a great overall compromise in that it covers the binos and the opening of the pocket. It'll do a decent job with light rain and keeping some dust out, but it's not a fully-sealed type of lid. More importantly, it's quiet. There is no snap of magnets or zippers or velcro to worry about.
The rangefinder pocket includes a shock cord to secure your rangefinder. It's plenty big enough to hand most any standard rangefinder with ease. The pocket has a zipper, which isn't silent, so in situations where I needed silence I usually unzipped the zipper 2/3 of the way so I could pull out my rangefinder without any noise when I thought I might need that.
The two side pockets also have zippers, and I used one for my bottle of wind checker the same way — leaving it partially unzipped when I was closing in on elk.
The other side pocket I used to keep several diaphragm elk calls.
In the bottom "MAX" pocket, I keep a headlamp (along with a headlamp in my hunting pack). Is having two sources of light overkill? In the backcountry where help is a long ways away, I don't think so.
What about the flat back pocket? I keep a small lighter and a backup lightweight knife. You could keep your tags, license, etc in there, too.
So why the lighter and knife? On occasion I'll drop my pack to go light into an area after an elk. If I somehow broke my leg or got lost, at least I'd have what I needed to start a fire.
Shop Alaska Guide Creations packs and accessories at Black Ovis and get free domestic economy shipping!
AGC Classic MAX Pack Bino Harness Review: The Harness
With all the pockets, it's tempting to overload them with all sorts of extra gear. While you can do that, the weight will probably bring you to your senses. At first glance, the AGC harness seems pretty spartan — it's barely padded. However, the design is intentional: The shoulder straps are wide and flat, which spread the weight. Even while packing relatively heavy 12×50 binos, the straps never dug into my shoulders or caused me to pay much attention to them.
Better yet, the flat strap design fits under a hunting backpack with ease. Your backpack straps won't fight with your bino harness straps, and the portion of the harness that goes between your shoulder blades is pretty much undetectable when you're wearing the AGC Classic MAX Bino Harness.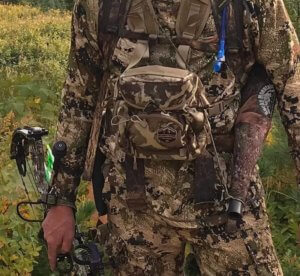 The adjustability is great. Play with the front straps to get the height of the bino case on your chest in the spot you want, then tighten the side straps to the desired overall tightness. Out of the box, the settings were pretty good, but I was able to raise and lower it for the best blend of comfort and accessibility.
Of course, as with most every good bino harness system, you get two safety straps that attach to your binocular (and then stick out from under the lid). This lets you open the pack and use your binocular with the safety straps tethered. You can let them hang or just put the binos back. If you want to hand the binos to a buddy, two clips let you untether them instantly.
Alaska Guide Creations: Several Sizes and Styles
Alaska Guide Creations makes several different versions of its binocular harness systems, which the company most often simply refers to as "packs." If a pack includes the "MAX" or "M.A.X." in it's name, it has the extra bottom pocket. However, if the name has HBS in it, I believe it simply refers to "Harness & Binocular Tether System." To make things a bit more confusing, not all retail outlets have the "HBS" in their product names, and some online stores drop the "pack" from the product name in favor of a more descriptive "Bino Harness." In addition, you might see a product listing with X50 or X56 in the name — that would refer to the pack being able to hold up to a bino with a 50mm or 56mm objective lens, such as 10×50 or 12×56. It's a bit confusing, but they're all the same packs — there isn't a bunch of different versions to worry about. So, what you really need to know is this: If you're looking to buy an AGC bino harness, the HBS is mostly irrelevant but the MAX directly corresponds to the extra bottom pocket. Each AGC binocular pack comes with the exact same bino harness and tether system, which is just the shoulder straps portion of each pack.
The AGC Classic is the foundational bino pack of the AGC line. It scales up to 12×50 binos but still handles 10×42 without feeling way too big. It is also available with the MAX pocket.
AGC makes an even larger pack, though, the Denali. It'll handle binos up to 15×56, which makes it useful for western hunters or guides who are covering super long distances. (AGC does not offer the Denali with a MAX pocket.)
The AGC Kodiak Cub is basically a smaller version of the Classic, and if you've standardized on 10×42 binos or smaller, this is the version you should get. It's big enough to be useful with no wasted space, and it comes in a MAX version, too.
The AGC K.I.S.S. pack is designed for minimalists. It fits most binos up to 10×42, but you don't get a rangefinder pocket and the two side pockets are simply mesh pockets.
Alaska Guide Creations Classic MAX Pack Bino Harness: The Verdict
The Alaska Guide Creations Classic MAX Bino Harness is a durable, well-designed binocular harness and chest pack. It's loaded with pockets, including a rangefinder pocket with a built-in tether. Despite the overall size, the pack itself stays out of the way. It does not affect the drawing and shooting of a compound hunting bow, and it doesn't stop you from shouldering a rifle. That said, if you don't need a bino harness pack to carry 12×50 binoculars, go with the slightly trimmer Kodiak Cub with the MAX pocket. The entire line of AGC bino harness packs are available in multiple camo patterns, as well as Coyote Brown. They all share similar design elements and they're all excellent — and they're Made in the USA. Very highly recommended.
Get the Gear:
Shop Alaska Guide Creations packs and accessories at Black Ovis and get free domestic economy shipping!
Alaska Guide Creations Classic MAX Pack Bino Harness
Pros
Outstanding fit and finish
Has rangefinder pocket, plus extra pockets
Offers good protection for high-end optics
Cons
No real cons -- but size down to the Kodiak Cub with MAX pocket if you only use 10x42 binos