Man Makes Fire is reader-supported. When you buy gear using retail links on our site, we may earn an affiliate commission that helps pay for our work. Learn more.
The best water shoes are robust and versatile enough to wade in a river, trek across a sandy beach, ride in a whitewater raft, grip a slippery boat deck and hit the water park. Plus, the best water shoes tend to provide decent support, traction on slick surfaces and excellent drainage. For our purposes, think outdoor rugged adventure water shoes more than old-school traditional boat shoes.
Note: This guide has been updated: Check out 15 Best Water Shoes 2019 instead.
Of course, the best water shoe for everyone will depend on their own level of activity and what they're really looking for. As it turns out, there are a lot of great rugged and adventure-oriented water shoes in a wide variety of styles that can handle most anything wet. We originally tried to narrow this guide down to the 10 best water shoes but realized there are just too many great options to exclude. For instance, when people think about their own best water shoes, they tend to include river sandals made from solid footbeds that have several straps — so we wanted to make sure that style was included in this guide.
These best water shoes will handle water parks, creek crossings, sail boating, jet skiing, rafting, kayaking, fishing, paddle boarding, and even some light hot-weather hiking. In addition, the best water shoes tend to have lots of breathable mesh and are made with hydrophobic materials that repel water and/or dry fast.
So, start with our top ten best water shoes, and if something doesn't speak to your outdoor soul, check out our runner-up water shoes that might better fit your specific interests and needs — or even to just find a design and color that fits your personal outdoor style.
What are the best water shoes?
Columbia Drainmaker III

Five Ten Eddy Pro

Sperry 7 SEAS Flooded

Salomon Crossamphiban Swift

Astral Loyak

NRS Crush Water Shoe

Merrell Capra Rapid Hiking Water Shoe

Salomon Techamphibian 3

Keen Arroyo II

Speedo The Wake
Oh, one more thing: We're not including any cheap department store water shoes that will start falling apart the moment you hit the beach or scramble over a rocky river shore — but we do include several minimalist water shoes that are inexpensive but also durable beyond their excellent price points. You can call them a water sock or mocassin or whatever, but you'll find them near the end of this post. And river-ready sandals? They're down there, too. Either way, if you're looking for the best water shoe, start here:
10 Best Water Shoes 2017
The Columbia Drainmaker III water shoe does just about everything right. Its upper is nearly all airy, breathable — and drainable — mesh. The insole is full of drain holes, plus the inside base and sides of the Drainmaker III include drain holes, too. As its name suggests, this water shoe drains water fast. The Techlite midsole offers decent cushion, so much so that we actually like wearing the Drainmaker III around the house and in town. The exterior sole is a tough and grippy rubber, capable of scrambling over dry trails and wet rocks alike. As for looks, at a casual glance, the Drainmaker III looks like a lightweight outdoorsy sneaker. The fit is very slightly large — but this is perfect, actually, based on the overall construction: you can wear these with a pair of socks just fine, but when you wear it barefoot, the heel and ankle area snug up surprisingly well, even when the shoe is soaked. We like the durable toe bumper and the straightforward traditional lacing system. Highly recommended. Learn more: Men's | Women's | Kids
Columbia Drainmaker III at Zappos ships with FREE 1-Business Day shipping on most orders.
Five Ten got its start back in the 1980s making super sticky Stealth Rubber climbing shoes designed for big wall rock climbing. The company has since branched out into canyoneering, mountain biking, kayaking and slack lining — and all the cool kids tend to appreciate its high-performance shoes that are really must-have gear for their chosen adventure sports. The Five Ten Eddy Pro boasts a sweet low-profile design with a grippy non-marking Five Ten Phantom rubber outsole. These bad boys are ultralight but feature hydrophobic mesh (so it doesn't soak up water) and drain holes in the soles. They're best for stand-up paddle boarding where you want a mostly flat sole design, as well as for kayaking where the low-profile structure fits into kayak hulls, but they're far too cool to be limited to just two water sports. (If you'd like to save about $20, nab a pair of the similar non-Pro version, the Eddy water shoe.) Learn more: Men's
You might recognize Sperry as the maker of a wildly large lineup of traditional boat shoes, but the Sperry 7 SEAS Flooded Boat Shoe is the water shoe that captures our attention. Originally aimed at the deck of sailboats and such, the Sperry 7 SEAS Flooded can handle far more. It features Sperry's Beastly Traction that stays grippy on flat wet surfaces but can also take on the trail or scramble around island cliffs for a little (super safe) cliff jumping. It boasts a hydrophobic mesh upper that dries fast, plus it has drains in the sole. Learn more: Men's | Women's
Order direct from Sperry for massive color and size selection — and free shipping!
The Salomon Crossamphibian Swift Water Shoe has an interesting hybrid sort of design: It has a pull-on style with a stretchy mesh upper that seals out most sand and debris while the bottom is more like a running shoe sole. It's great for scrambling in and out of the water, protecting your feet while also drying fast. If you've been looking for lightweight slip-on simplicity that also has laces for lock-down control . . . with a full-coverage mesh and a real sole, the Crossamphibian should be on your shortlist. Learn more: Men's | Women's
The Astral Loyak M's (men's) or W's (women's) are a super low-volume water shoe with a hydrophobic canvas upper that screams urban style. They definitely have a casual, low-key look but dig a little deeper and they're surprisingly technical. The flexible rubber outsole has Razor Siping, which creates slits of extra surface area that help provide traction on slick surfaces. It has drain vents, a stretch mesh forefoot and durable canvas uppers. Did we say the Astral Loyak is flexible? The Loyak is super flexible and ultra-packable, which makes it a particularly great water shoe for travel. Learn more: Men's | Women's
Shop water shoes at L.L.Bean and get free shipping.
The NRS Crush is another water shoe that blends an urban style sensibility with serious outdoor cred. It features a sticky rubber sole that's been siped for extra traction on slick rocks, and get this: Its flat but aggressive tred design features the shape of the state of Idaho, which is where NRS is headquartered. The NRS Crush has a quick-drying DWR-coated 1000 denier nylon upper that sheds water. In addition, the canvas-like nylon upper does a good job of keeping out debris and avoiding snags from small twigs. It has sidewall drain ports. It's not the fastest draining water shoe out there, but it's versatile. One nifty feature is the namesake heel, which you can crush down to create a slip-in camp shoe. Pretty handy if you like to run around barefoot but need to step into protection here and there around camp or the banks of rivers that have sandy beaches as well as rocky shores. Learn more: Men's | Women's
The Merrell Capra Rapid Hiking Water Shoe is tuned more toward hiking than water, but that's its charm. If you want a rugged hiking shoe that will let you cross creeks without fear — as well as take boating or fishing and then hit the town for dinner and drinks, the Capra Rapid Hiking Water Shoe should be on your shortlist. The Capra Rapid Hiking Water Shoe has a synthetic and mesh upper for quick-drying breathability, along with a cord and lock lacing system that keeps your laces tidy. The sole features aggressive trail-ready tread, and the inner EVA footbed is perforated for drainage to work with the drainage channels built into the outsole. Learn more: Men's | Women's
Check colors and sizes directly from Merrell.com and get free EXPRESS shipping on most orders over $49!
The Salomon Techamphibian line has been around for years — and for good reason: The overall design works exceedingly well. The Techamphibian 3 is lightweight but solid. It drains well and boasts an adjustable heel that you can lock down when the going gets rough. In fact, on a fishing-with-the-bears trip on Kodiak in Alaska, Chris Maxcer wore a pair of Techamphibians on a trek up a steep and brushy mountainside to reach a summit. It was a 7.5 hour exhausting roundtrip effort, after which his buddy threw up. The point is, the Techamphibian 3 is a tough, versatile water shoe that can handle some impromptu trekking. Very highly recommended. Learn more: Men's | Women's
The Keen Arroyo II is a burly beast of a water shoe. It's a blend of a full-coverage hiker with the airiness of a river sandal. You get the legendary Keen toe protection fused with a heavy-duty rubber traction sole with a stable shank along with a real built-in heel that still manages to include a couple of holes for airflow. The sides are built up for protection and stability, but they also have large cutouts for breathability. The Keen Arroyo II doesn't have any drainage ports in the footbed, but with sandal-like airiness it's hard to argue that you really need them. In addition, they look surprisingly OK if you want to wear them with a darker colored sock. What about with white socks? You might want to avoid that. Just saying. Still, it's one of the best water shoes for rugged scrambling in 2017. Learn more: Men's | Women's
Shop Keen directly to get free shipping and free returns for most orders.
The Speedo The Wake is a new water shoe that's part training shoe, part water shoe, aimed at those who want to exercise around the beach or pool. It has a lot of lightweight mesh, but the mid-foot lacing system lets you snug it down for a tighter fit during high intensity activity. The sole has half a dozen drain holes for fast water drainage. Speedo has two grippy rubber sections built into the heel and toe area, and the drain holes are covered with a fine mesh to keep rocks and debris from getting in. We appreciate the Speedo The Wake most for the lightweight, low-profile athletic style. Plus, it's hard not to like the bold red and black version. Learn more: Men's | Women's
Runners Up: More Best Water Shoes
Like we said, there are a lot of great water shoes out there in 2017, and on anyone else's personal list any of these could make the top ten, too, which is why we're including them. If our top 10 best water shoes aren't your own best water shoe, check out these other great water-ready options:
The Under Armour Drainster is aimed at the fishing crowd, but it's capable of most everything else in and out of the water. It has a breathable, quick-dry textile upper with welded synthetic overlays for abrasion resistance, as well as a traditional lacing system, which we like because it just works. The contoured midsole and footbed have angles designed for rapid water drainage. Usually found at little over $60, the price-to-value ratio is great. Learn more: Men's | Women's
Merrell offers a wide variety of shoes fitting its 'All Out Blaze' line — the Sieve aims to blend the airiness of a sandal with the robust frame of a light hiker. You get a waxy leather upper blended with a Lycra neoprene stretch collar for comfort. The Vibram TC5+ outsole has a 3 mm lug depth for trail traction, and the speed lace system lets you tighten the fit. Learn more: Men's | Women's
Check colors and sizes directly from Merrell.com and get free EXPRESS shipping on most orders over $49!
The Sperry 7 SEAS Camo Boat Shoe is similar to the Flooded version in overall design. It includes Sperry's Beastly Traction and Fierce Fit design to cradle and cushion your feet, along with the same venting and lacing systems. So how does it differ? Mostly via the overall style — just a different mesh weave in the upper. Of course, it comes in a variety of different colors — not just camo — but camo is what we just had to recognize. It's a camo water shoe! Gotta love that. Learn more: Men's | Women's
Order direct from Sperry for massive color and size selection — and free shipping!
The Salomon Evasion Cabrio offers a very similar take on the water shoe as the Techamphibian 3. You get a solid footbed with a sole that has plenty of traction. There is a lot of airy mesh for both breathability and drainage. The Salomon quick lacing system works great. The adjustable heel is particularly great because you can tune the fit both in and out of the water, with or without socks. Just a lot more typical awesomeness from Salomon here. Learn more: Men's
Helly Hansen makes some great sailing and deck shoes, but they're not typically aimed at the river-running or camping crowds. If you want a stylish and functional lightweight, low-profile breathable shoe that's fantastic for boating and capable of getting wet and drying quickly, it's hard to go wrong with the Helly Hansen Aquapace 2 Water Shoe. The Helly Hansen Hydropower 4 is also great, but the price-to-value ratio of the Aquapace 2 is better. Learn more: Men's | Women's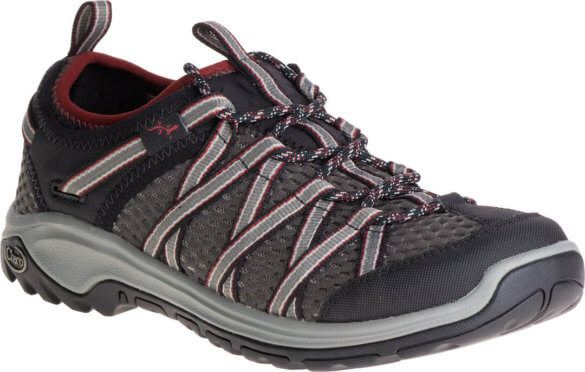 The Chaco Outcross 2 Water Shoe is aimed squarely at those who want more water shoe than river sandal. With the Chaco Outcross 2, you get plenty of toe and heel protection in a traditional trail shoe shape. The mesh sides keep out debris yet breathe and drain well. If you know Chaco sandals, well, let's just say that Chaco fans love the Chaco footbeds. The Outcross 2 boasts a podiatrist-certified LUVSEAT PU footbed for support and on-the-trail comfort over the long haul. The Outcross 2 also has an upper stretch collar for barefoot ankle fit, along with a neoprene lining. The lacing system is stronger and simpler than previous version designs. Learn more: Men's | Women's | Kids
The Keen McKenzie II takes the design sensibilities of the popular Keen sandals and applies it to a full-coverage water shoe that's capable of hiking around. You get a lot of airy mesh to keep out debris as well as the Keen rubber toe bumper. The most interesting element of the McKenzie II are the big drain ports in the toe — they let gravity do its thing with each step. Surprisingly, these full-coverage Keen water shoes tend to be a couple ounces lighter than their burly river sandal cousins (see the river sandal section below for more). Learn more: Men's | Women's
Like the low-profile Loyak, the Hiyak is more like a canvas high-top shoe. It's really a bootie, a water shoe that's designed primarily for kayaking, rafting and canoeing. The Hiyak gives you ankle protection but it also light and flexible. A velcro flap covers and hides the laces so they won't get caught on anything. The hydrophobic canvas upper sheds water and dries quickly and the rand is made from 1060D ballistic nylon for durability. If we had to choose between traditional neoprene booties and the Hiyak, well, you can guess we'd pick the Astral Hiyak. Learn more: Men's
If you don't really want a water shoe with gaping holes — but you still want a shoe that will dry fast and even drain — take a look at the Astral TR1 Mesh Water Shoe. It's amphibious for trails, paddling, camping and beyond, plus it's very lightweight. If your plan is to hike more than swim but you might want to wade through creeks and scamper along the shore, the TR1 acts like a casual trail shoe that's built to last through many wet/dry cycles. Learn more: Men's | Women's
Teva started out making white water river sandals, but over the years the company has branched out into a wide variety of footwear. The Teva Omnium blends anti-microbial materials to create a water shoe that has the open characteristics of sandals. Key features include a cushy heel and footbed with a durable rubber outsole. Comfortable and straightforward here, really. Learn more: Men's | Women's | Kids
The Teva M Dozer 4 is another variation on the sandal-like water shoe — it's similar to the Teva Omnium. The toe is a little more open, the sides a little more closed. Hard to recommend one over the other really — pick the one that speaks to your soul. Learn more: Men's
The Adidas Terrex Climacool Boat Water Shoe is a pretty straightforward sneaker-like boat shoe: The sole is relatively flat to help it grip slippery flat surfaces. Drain holes in the sole let you squish out water fast while the Climacool mesh upper dries fast. They're best used for boating or more casual water play. Learn more: Men's | Women's | Kids
We think the OluKai 'Eleu Trainer water shoes are a bit of an anomaly — on the one hand, they're a cool, meshy, good-looking lightweight training shoe with decent arch support, and on the other hand, they're designed to shed water, dry fast, and fit like a water shoe. If you aren't sold on the rugged water shoe look, the OluKai 'Eleu Trainers strike a fine balance for most everything. Learn more: Men's | Women's
OluKai 'Eleu Trainer at Zappos ships with FREE 1-Business Day shipping on most orders.
Best 'River Sandal' Water Shoes
The trouble with finding the best water shoe is that so many people's expectations focus on the purpose of the water shoe — to find footwear that can get in and out the water. So we feel compelled to cover the best water shoes that could technically also be considered river sandals or even water socks. These are some of the best river sandal 'water shoes' available in 2017:
Is the Chaco Z/Cloud 2 a water shoe or a river sandal? The Chaco Z/Cloud is undeniably a river sandal — or an adventure sandal or a hiking sandal or a beach sandal. But its overall design also lends it to being something that, for some people, can easily fit the role of a water shoe better than anything else. Here's why: The Chaco Z design starts with a very rugged and durable footbed that supports the heel and foot for great hiking performance — at least for a sandal. Some Chaco fans trail hike all over with their Chaco sandals. In addition to the footbed design, the Chaco Z has a secure heel strap along with a strap that goes around your big toe. The whole strap system keeps your foot from sliding off the footbed even when you're walking over uneven terrain. As for the "cloud," the Chaco Z/Cloud 2 includes a comfortable layer of PU cushion that the original Chaco Z/2 does not. What else? Of course, the drainage is second to none. Any downsides? It's not really a shoe, and if you have sensitive feet there isn't any toe protection. The point is, if you're waffling between getting a proper water shoe but think you might appreciate a rugged river sandal instead, it would be hard to go wrong with the Chaco Z/Cloud. Learn more: Men's | Women's
The classic Teva river sandal harks back to 1984 in the Grand Canyon where it was invented with some velcro watch bands and a pair of flip flops. Today there are dozens of Teva sandals in a wide variety of styles and colors. Many Teva sandals use hook-and-loop strap systems (similar to Velcro) which makes adjustments fast and easy. There is, however, a downside to Velcro on the river or beach: sand. Velcro and hook and loop systems can load up with some types of sand, which can reduce the gripping power. For the most part, this is just an annoyance, but we tend to avoid sandals with a lot of velcro if we're going to be in and out of the water in very sandy or muddy areas. Long story, but we're now to the point: We like the Teva Alp Premier because the ankle strap and forefoot straps use buckles. In addition, you get great cushion and stability out of the sole, and the four cross straps over the top of your foot help keep everything where it should be. It all comes together in a package that will stay on your feet in the river and let you pick your way up a rocky shore even if your feet are slippery and wet. Learn more: Men's | Women's
The new Keen Evofit One is another river-ready sandal that also happens to have characteristics that make it suitable for water shoe-like usage. Sure, it's a sandal but it boasts a sock-like fit, blending materials that hug your ankle with durable sidewalls that can snug up tight. The sole has multi-directional lugs with razor siping for traction over a multiple types of terrain. Perhaps most importantly, the Evofit One features the typical Keen toe protection design, which is great for when you're wading among rocks. One last note: The Keen Evofit One uses materials from around the world, but it's assembled in Portland, OR if you have a preference to support American companies that work to keep manufacturing in the U.S. Learn more: Men's | Women's
The popular Keen Newport H2 is a great sandal and could make this list, but Keen has aimed the Rialto 2 more toward the getting wet space. The construction is very similar to the also fantastic Newport H2, but the footbed offers a bit more cushion and Keen has added Cleansport NXT for odor control. Plus, the Rialto 2 has an adjustable rear heel strap. Both sandals are super durable and offer great toe protection. The Rialto 2 has a slightly more sporty look but still boasts the timeless Keen design. Keen sandals tend to fit a bit wider in the forefoot, so if you have narrow feet, the Rialto H2 might not be for you. Oh, one more thing: There are several other very similar Keen sandals and they're pretty much all great. Learn more: Men's
The Merrell All Out Blaze Web gives you a robust trail-ready footbed — the same Vibram TC5+ found in the All Out Blaze Sieve — but the top is all sandal. The forefoot is covered with an adjustable strap that also zags from your outside toe over the top of your arch, giving your decent lockdown power. The heel and ankle straps are anchored by a triangular frame with neoprene lining that helps keep your heel in place even when wet. Learn more: Men's | Women's
If you've tried to use your standard Crocs as a water shoe, you've likely been disappointed by the slip and slop when wet. Still, who doesn't like the feel of the cushy Crocs footbed? If you're a Crocs fan, try the Crocs Swiftwater Sandal. You get a stretchy meshy top to better hold your foot in place, plus you get an adjustable strap for better lockdown. Learn more: Men's | Women's | Kids
The Crocs Swiftwater Wave foregoes the mesh of the Swiftwater in favor of a fully-molded design with plenty of holes for breathability and fast water drainage. The overall look is a bit more athletic, but they still have the heart and soul of the iconic Crocs clogs you know and love. Learn more: Men's | Women's | Kids
Best Water Shoes: Water Socks, Booties & Moccasins
These types of water shoes are more like water socks or water moccasins. They offer minimal footbeds, they're super flexible, and they usually just slip on and stay on because they're stretchy and form fitting like a sock even though they're not exactly a sock. Whatever you want to call them, we appreciate these three the most — they're great for boating and easy-going terrain around the water's edge.
More durable water sock than water shoe, the NRS Kicker Remix pairs a warm 3 mm Terraprene neoprene upper to keep your feet warm in cold water. Better yet, NRS gives you a naturally shaped, roomy toe box. We especially like the 3 mm rubber sole, which gives you great traction and protection from rocks — the protection isn't as good as you'll find in bigger water shoes, but compared to most water socks, it's excellent. Of course, the Kicker Remix is aimed at whitewater kayakers and rafters, but it's great for all sorts of water sports. Oh, one more thing: With this sort of design, the Kicker Remix isn't really about draining water and drying out. Get the Kicker Remix if you plan to get wet and stay wet. Learn more: Men's | Women's
The Speedo Seaside Lace 5.0 is more water shoe than water sock — and technically, we could easily have put it in the water shoe category; however, we tend to appreciate it more when we're looking for a robust water sock. Why? It has a stretchy slip on feel but goes a step farther with a footbed that's great for scrambling around the ocean shore, as well as a simple lacing system for a tighter fit when you need it. It's not the kind of water shoe we'd want to wear on a creek-crossing trail hike, but it offers a great price-to-value ratio for water play that has less walking and more swimming or boating. Learn more: Men's
The Speedo Surf Knit water shoes offer slip-on simplicity with a decent sole that gives the feel of walking barefoot without the poky rocks. Basically, the sole doesn't provide much in the way of support, but it will protect your feet for light scrambling around. The Surf Knit offers better breathability and drainage than other water socks/shoes that primarily use neoprene. Learn more: Men's | Women's | Kids
Shop Water Shoes at our favorite outdoor stores: REI | CampSaver | Cabela's | Moosejaw | Sierra Trading Post | L.L.Bean | Bass Pro Shops