Disclosure: Man Makes Fire is reader-supported. When you buy gear using retail links on our site, we may earn an affiliate commission that helps pay for our work. Learn more.
The Cabela's Hiker Wading Boots are wading boots designed to fit like a hiking boot. Cabela's offers them in a rubber sole or a felt sole option.
To get us a closer look, Cabela's sent Man Makes Fire a review unit. After testing the Cabela's Hiker Felt Sole Wading Boots while fly fishing on the St. Joe River in Idaho, this is what we learned:
Cabela's Hiker — and Hiker 2.0 — Wading Boots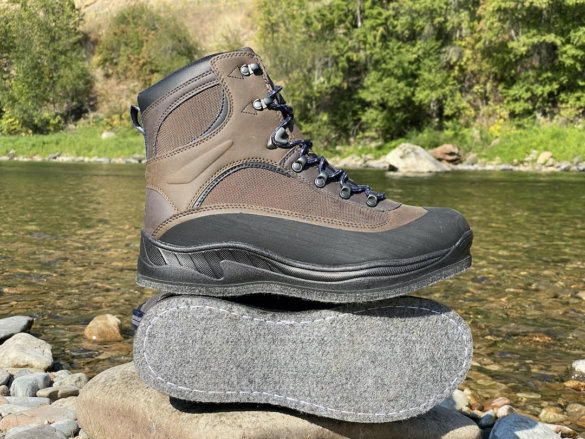 The naming convention for the Cabela's Hiker Wading Boots is a bit different between the two boot models even though they have essentially the same construction. The Cabela's Hiker Felt Sole Wading Boots, as you would expect, have felt soles. The Cabela's Hiker 2.0 Wading Boots are the rubber-soled option. (To be fair, years ago, Cabela's did have a first-generation 'hiker' wading boot with rubber soles, but I don't remember if that older version also came in a felt sole option.)
The overall construction and design of the boots have all the key qualities we expect in the best wading boots for stockingfoot waders, starting with the burly rubber toe rand.
The rubber cap fends off nicks and scratches from sharp rocks and lengthens the lifespan of your boots. These wading boots also have hydrophobic uppers that shed water. On the inside, Cabela's uses a Lycra-spandex interior, which is smooth and comfortable.
You get heel loops to help pull on the boots, and the lacing system lets you snug them to your liking — and then lock the laces in place.
The low-profile EVA midsoles help keep your foot lower to the ground, which helps with stability.
The Fit
Cabela's and Bass Pro Shops don't have a specific sizing chart for these wading boots, so how do they fit?
You should buy your usual shoe size if you want to wear these with stockingfoot waders. In my case, I wear a size 14 shoe and the size 14 wading boots fit with stockingfoot waders. Based on the shape of the toebox when looking from above, I expected the Cabela's Hiker Wading Boots to fit a bit snug, but they don't — the fit is spot-on.
As for hiking boot feel, the Cabela's Hiker Wading Boots start out a bit stiffer than typical hiking boots, but they're comfortable to walk and fish in. Stability is also good. They're not as soft as the Cabela's Ultralight Felt Sole Wading Boots, but they'll likely last longer due to their more rugged build and higher price point.
When it comes to looks, Cabela's and Bass Pro Shops aren't known for producing . . . well, let's just say handsome wading boots, but the Cabela's Hiker series wading boots have a great modern design. The stitching and initial build quality is quite solid, and in person they're good-looking boots that really do have a hiker design sensibility. I was surprised at how much I like these boots.
Traction Options
For wet wading, felt soles offer outstanding grip on slick rocks; however, some states have banned felt soles due to the possibility that invasive species could hitch a ride on the felt and mess up waterways. If felt soles are legal where you live, just make sure that you thoroughly dry and clean your boots in between fishing trips to different lakes and river systems.
For hiking, rubber soled boots offer better traction on dry ground. To help with wet traction, Cabela's uses Vibram IdroGrip soles, which is a high-quality rubber compound that does pretty well on slick rocks — and I was pleased to see it in the Cabela's boots. Many wading boots in this price range and below tend to skimp on the rubber, but the IdroGrip choice is a good indicator of the overall build quality for long-term durability.
For extra traction with the rubber soles, Cabela's includes studs and says that each sole is pre-tapped for up to 24 studs. However, some of the Bass Pro and Cabela's customer reviews say that the included studs are difficult to install because they're not self-tapping studs. I would assume that a small drill bit will open up the rubber to allow the studs to be installed, but I don't know this for sure — just be aware that stud installation with the included studs may require some extra effort if you want to use studs.
Shop all 'Wading Boots' at Bass Pro Shops and get FREE Shipping!
The Verdict
All-in-all, the Cabela's Hiker Wading Boots deliver a surprisingly comfortable fit with a burly but reasonably lightweight build that's good for covering ground both in and out of the water. While Cabela's and Bass Pro Shops offer a wide variety of additional store-branded wading boots — including RedHead and White River Fly Shop — the Cabela's Hiker Wading Boots are the best option and compete well at the entry-plus price point. Highly recommended. 
Get the Gear