The Cabela's Instinct Pursuitz Hunting Boots are an excellent lightweight hunting boot designed to keep you nimble outdoors and going strong mile after mile. They're waterproof with a GORE-TEX Surround lining, and they come in the excellent Cabela's O2 Octane camo pattern.
To get Man Makes Fire a closer look, Cabela's provided a review unit. This is what we learned:
Cabela's Instinct Pursuitz Hunting Boots Review
The Cabela's Instinct Pursuitz Hunting Boots are designed for speed — the idea is that a lighter hunting boot will let you get into position faster than with a heavier boot. Personally, I've never been a fan of ultralight backpacking boots or ultralight hunting boots. Why? It's hard to beat leather with a heavy-duty sole if you're covering a lot of gnarly terrain.
The Cabela's Instinct Pursuitz boots are not made from leather.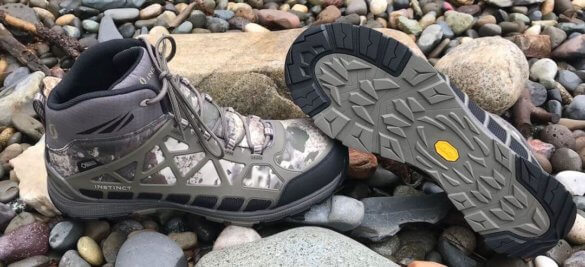 On the other hand, heavy-duty boots are, well, heavy. There is a school of thought that believes you can hike or hunt more effectively if you reduce the weight of your boots. Mile after mile, lifting a heavy boot can slowly burn energy while lifting a lighter boots burns less and might even feel better on your feet (and in your mind).
Maybe.
Either way, the Cabela's Instinct Pursuitz Hunting Boots feel more like a well-cushioned hightop basketball shoe than a traditional hunting boot. In fact, the Cabela's Instinct Pursuitz Hunting Boots are astoundingly comfortable.
I had a chance to put the Cabela's Instinct Pursuitz boots to the test at the Cabela's Spring Turkey Camp media event for outdoor writers, which gave me a chance to wear the boots over varied terrain while hunting spot-and-stalk Nebraska turkeys. Over three full days of hunting, I easily covered more than six miles a day in these boots. The terrain was grassland wet, sandy, farm-field dirt, rocky, and in some places, steep.
The Cabela's Instinct Pursuitz boots performed flawlessly. They were seriously great for this purpose. They were waterproof during puddle crossings I couldn't go around, and they shed early morning dew with ease.
The out-of-the box fit was spot-on and comfortable. The laces let you widely adjust the fit. Before descending a particularly steep hill, I tightened the laces then climbed down with my feet staying firmly connected to the footbed. With a heavy boot, you can slam your heel into loose rock and dirt and create a step on steep ground, but with the Cabela's Instinct Pursuitz boots, I didn't feel the need to. Because they were lighter and more flexible than the hunting boots I usually wear, I was more willing to let the sole ride on the top of the steep ground at different angles. Plus, the ankle provided a bit more flex, which lets your feet and ankles give your brain more feedback, which seemed to help with balance on descents.
Of course, I wasn't wearing a hunting pack full of gear — and I certainly wasn't packing out 80 pounds of elk meat.
Cabela's Instinct Pursuitz Hunting Boots Review: Construction
The aforementioned GORE-TEX Surround lining offers a waterproof but reasonably breathable lining. I wore the Pursuitz with a single Darn Tough Merino Wool Hiker Micro Crew Sock (highly recommended) and my feet didn't overheat.
The EVA Crash Foam midsoles, along with the OrthoLite footbeds matched to Vibram outsoles, provided an excellent mix of comfort and stability. I was impressed.
The exterior of the boot features an injected TPU overlay, which is designed to provide lightweight, breathable support. In terms of support, it does a great job of tightening around your foot and ankle — I was dubious at first, but I'm a fan now.
The only real question left in my mind is long-term durability. Will the TPU overlay handle a full season of sticks and brush? Will the stitching fray or hold up? I will say this, though: Early indications of durability are far better than I expected. There are no signs of failure anywhere after 20+ miles.
Cabela's Instinct Pursuitz Hunting Boots Review: Best Usage
Here is what I don't know: Will the Cabela's Instinct Pursuitz Hunting Boots hold up in very rocky, steep and deadfall-laden Idaho terrain? This sort of terrain is full of sharp rocks that will nick and grab at every seam, along with branches and brush.
Will the lightweight structure hold up under a very heavy load of elk in a hunting backpack? We're not talking about a 35-pound pack worn by a backpacker traversing a well-worn trail. I'm talking about a 70-to-100 pound load over rocky, brushy, and deadfall-laden forest ground. Will I appreciate the lightweight boot in these conditions?
I'm not sure.
What I do know is that the Cabela's Instinct Pursuitz Hunting Boots passed the first test. I'm willing to wear them during scouting season, and I might even try them out backpacking this summer.
All-in-all, if you're looking for a lightweight hunting boot, the Cabela's Instinct Pursuitz Hunting Boots should be on your shortlist. They provide out-of-the-box comfort yet also offer surprisingly good support and stability. I would not hesitate to wear them turkey hunting, antelope hunting, deer hunting, or pheasant hunting. Highly recommended.
One last note: Because the fit is spot on, these boots would make good gifts for hunters — particularly for hunters that cover a lot of ground or have complained about their boots!
Get the Gear: