Disclosure: Man Makes Fire is reader-supported. When you buy gear using retail links on our site, we may earn an affiliate commission that helps pay for our work. Learn more.
The Fireside Outdoor Pop-Up Fire Pit is a lightweight, portable fire pit you can use most anywhere. The key to the Pop-Up Fire Pit is its ability to burn cleanly, leave little ash and protect the ground and vegetation from heat damage.
To get us a closer look, Fireside Outdoor sent Man Makes Fire a review unit. This is what we learned:
Fireside Outdoor Pop-Up Fire Pit Review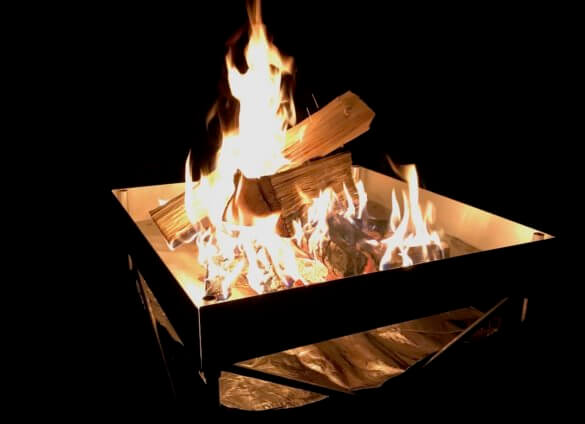 The Fireside Outdoor Pop-Up Fire Pit is surprisingly awesome in action. I must admit, I went into this review process with some skepticism. All it took to win me over was a single fire on a chilly night on a dispersed camping site without a fire ring or a good place to make one.
I assembled the Fireside Outdoor Pop-Up Fire Pit in about two minutes, crumpled some newspaper and stacked some large kindling and had a crackling fire going in under 5 minutes. I was surprised.
A Raised Fire Pan
Some BLM, Forest Service and public lands require fire pans to contain campfires. A fire pan contains the fire and coals and leaves little trace. Better yet, raised fire pans protect the ground from scorching or killing vegetation.
The Fireside Outdoor Pop-Up Fire Pit is similar to a raised fire pan, but it's super lightweight and packable. It's made from aluminum, but the best part is a finely woven stainless steel mesh that forms the bottom of the pit. This mesh is so tight that ash doesn't fall through, but it still lets air enter from the bottom and help feed the fire with oxygen.
The result is a surprisingly clean burn that produces less smoke than what most on-the-ground campfires produce. As for the raised surface and containment that the Pop-Up Fire Pit provides . . . I like it. I originally thought the Pop-Up Fire Pit might lack the aesthetically pleasing nature of a traditional campfire, but I wasn't bothered by the raised square shape. In fact, I appreciated having open-flame campfires in places where I never would have put a campfire before.



How It Works
The frame of the Pop-Up Fire Pit opens like many camp chairs, sun shades, and camping tables. You end up with a square 24″ x 24″ frame.
Next, you place four aluminum right-angled slats over the pole ends. Then you fit the stainless steel mesh over the pole ends, creating a shallow box, of sorts.
The Pop-Up Fire Pit can hold up to 125 lbs of wood, but that seems a bit excessive, even for firebugs.
You can burn regular firewood, use charcoal briquets, or use wax-based fire logs.
You should not use any super-hot fire starters or chemical powders that make colorful "party" flames. These materials can burn too hot and damage the mesh.
Regular wood campfires do discolor the mesh, but they don't seem to do any damage to it.
The Heat Shield
You can get the Fireside Outdoor Pop-Up Fire Pit as a "Base Kit" that does not include a Heat Shield, but I recommend that you get the kit with the Heat Shield. Why? This lightweight reflective fabric works very well. You don't need it if you're building a fire on the beach or on rocks or over packed dirt, but if you want to build a fire over vegetation, the Heat Shield will protect grass from scorching.
This means that if you want to use the Fireside Outdoor Pop-Up Fire Pit on your lawn, you can — and you will not end up with a dead spot in your lawn. That's right, the kids can roast marshmallows with their friends and the biggest issue will be cleaning up gooey marshmallow remains.
In addition, the Heat Shield can protect wood or composite decking or even asphalt. While I trust the Heat Shield to protect my deck, I don't necessarily trust stray embers that might crackle or pop their way out of a good fire. For popping ember protection, you can get a Ground Ember Mat, which does double duty for public lands that also require ground ember mats.
Of course, if an area is under a full fire restriction ban, you may not be able to use the Fireside Outdoor Pop-Up Fire Pit — or have any campfire for that matter. It's your responsibility to know the current fire danger restrictions on any land you're visiting. Most public lands and parks will provide info online or at key points of entry.
Best Uses
I like to build fires on the sides of rivers while fishing or camping, as well as enjoy a good fire on the beach when it's legal to do so. The best way to do this is with a portable fire pit or fire pan. I often hesitate or even opt not to build such fires because I don't want to damage the natural splendor of an area — even when regulations allow standard campfires.
Here's another situation: A lot of campsites, both in campgrounds and in dispersed camping areas, have existing fire pits that are poorly constructed or simply put in a bad spot. At one camping spot last summer an existing fire ring had been built right under a dry tree — we took one look at that and constructed a new one in a safe spot. Had we had the Fireside Outdoor Pop-Up Fire Pit at the time, we would have happily used it instead.
I can also see using the Fireside Outdoor Pop-Up Fire Pit during picnics — you can have a leave-no-trace fire that's easy to light and easy to clean up.
Leftover Ashes?
The Fireside Outdoor Pop-Up Fire Pit burns pretty cleanly, which means it leaves less ash than typical campfires. When I've let it burn down and out on its own, all that was left was a few scoops of ash and a couple bits of charred wood. That's an easy cleanup job.
What about ash dropping through the mesh base? Barely any ash makes it through the mesh. I was surprised. I imagine that some woods might burn differently, but I'm getting less than a teaspoon of ash when I burn typical firewood.



Cleanup After Dousing 
If you don't let the fire burn out on its own and you want to put it out with water, you can end up with a bit of a mess. If you douse the fire and coals with water, ashy water will drip onto the heat shield. But you can let the wet ash and wood dry overnight, which makes cleanup easier.
For the vast majority of locations, you can safely and legally leave some ash on the ground. Just use your head. The whole point of the Fireside Outdoor Pop-Up Fire Pit is to let you build campfires almost anywhere — it's up to you not to abuse that ability.
Having said all that, the Fireside Outdoor Pop-Up Fire Pit cools surprisingly quickly. After dousing the fire, all that airflow helps dissipate heat — and the mesh and aluminum cools within a few minutes.
The Pop-Up Fire Pit Grill Grate Accessory
Along with the "Go Anywhere" version that includes the Heat Shield, Fireside Outdoor sent us a tri-fold Grill Grate accessory. This foldable grill attaches to the four posts and lets you cook on your Pop-Up Fire Pit.
It's pretty cool. You cook over firewood or over standard BBQ briquets. While I'm a big fan of propane camp stoves and grills, there is something to be said about grilling and cooking over coals. If you like to cook over a fire, the stainless steel Grill Grates come in a vinyl carrying case that even fits inside of the Pop-Up Pit carrying bag.
The Verdict
All-in-all, the Fireside Outdoor Pop-Up Fire Pit is a lightweight, ultraportable fire pit that also is compliant with most fire-pan campfire regulations. It's sturdy, well-built, and delivers bright fires. If you're a fan of natural campfires, the Fireside Outdoor Pop-Up Fire Pit will let you enjoy a good campfire most anywhere. Also, because so few camping enthusiasts already have one, we think the Fireside Outdoor Pop-Up Fire Pit makes a great camping gift idea. Very highly recommended.
Get the Gear:
Fireside Outdoor Pop-Up Fire Pit
Pros
Airflow creates great campfires
Super packable
Compliant with fire pan regulations
Cons
Velcro fasteners for Heat Shield don't inspire confidence (but it works!)