Disclosure: Man Makes Fire is reader-supported. When you buy gear using retail links on our site, we may earn an affiliate commission that helps pay for our work. Learn more.
The Goal Zero Torch 250 is a solar-powered emergency LED flashlight and lantern with a built-in charging crank and the ability to power your smartphone.
Because emergency preparedness is so important these days, I bought the Goal Zero Torch 250 Flashlight to see if it would work as an affordable solar-powered light that could also charge critical mobile devices.
The short answer: Yes, yes it does.
But let's take a closer look to see if the Goal Zero Torch 250 is right for you.
Goal Zero Torch 250 Review
There are plenty of cheap international solar flashlights available that are poorly made and will likely to fail when you need them the most. (I try hard not to invest in cheap gear that will end up in a landfill.) The Goal Zero Torch 250 is a quality product from a U.S. company, and that's what caught my attention.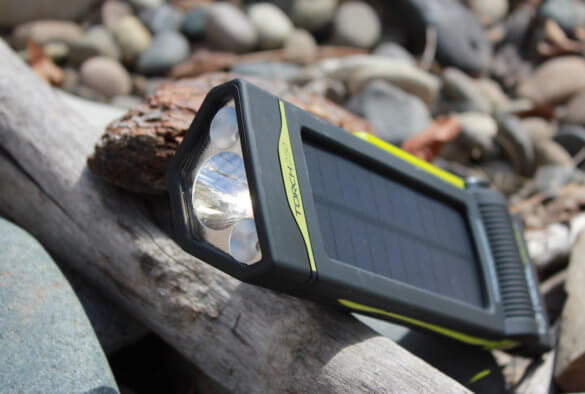 Goal Zero's whole reason for being is to produce high-quality off-grid energy solutions. The Utah-based company invests in its products, its brand, and its reputation, and perhaps even more importantly, Goal Zero works to produce power solutions for people who happen to live in less industrialized nations and places in the world that don't have access to reliable electricity. That's a noble effort, certainly.
Meanwhile, Goal Zero also creates products aimed at off-grid adventurers — for camping, overlanding, and hunting — and for emergency preparedness around the home. Millions of people have lost access to power and charging solutions during hurricanes, floods, and wildfires, sometimes for weeks afterward. Goal Zero has products to help in emergencies, which brings me to the Torch 250.
Shop the Goal Zero Torch 250 at REI and get FREE shipping!
Goal Zero Torch 250: 'All-in-One Awesomeness'
The key to the Goal Zero Torch 250 is first just wanting a solar rechargeable flashlight and/or lantern. If a solar flashlight attracts your attention, so far so good. But what if it's cloudy for days on end? What if you use up the charge? What if you are chased by a zombie horde into an abandoned warehouse without windows and you're not sure if you're alone or how to get out? What then?
Unlikely made-for-TV scenes aside, the Goal Zero features a manual hand crank that will let you charge the built-in battery and to power the flashlight. About 1 minute of cranking will deliver two minutes of light. That's cool.
In an emergency situation, I like having that ability.
Meanwhile, the Goal Zero Torch 250 has a built-in battery that you can use to charge a smartphone. Obviously in an emergency situation that could be important. Basically, you can solar charge the Goal Zero in the sun by day and then use the excess energy to charge your smartphone at night — and still use the light, too.
Shop the Goal Zero Torch 250 from Cabela's and get FREE 2-Day Shipping!
How Well Does the Crank Work?
You should know that it will take many hours of cranking to charge a smartphone. In fact, after cranking for 5 minutes with a completely dead Goal Zero Torch 250 I was able to charge an iPhone 11 Pro Max for about 20 seconds before draining the Torch 250 battery. So that's 15 minutes of cranking for about 1 minute of charge time, at best. If you could crank for an hour, you might be able to deliver several minutes of charging to your phone.
On the other hand, I could run the flood light and the flashlight while cranking, and it's relatively easy to build up several minutes of light just by cranking. The crank is a decent solution for light, but the crank option is for extreme phone charging emergencies only, as in, your last-ditch effort because you have no other choice.
Your Question: Is the Goal Zero Torch 250 Right for Me?
At 10″ x 3.5″ x 1.5″ and 14.4 ounces, the Goal Zero Torch 250 is relatively bulky as a flashlight, but it does have a generous built-in solar panel and a decent lantern-like flood light. It also includes a flip-out hook for hanging it up as a lantern. So I forgive it for its overall size.
It has a single regulated USB out port, 5V, up to 1A (5W max). It doesn't provide modern smartphones with particularly fast charging, but it works. The built-in battery is a 4400 mAh battery. This means that if you have a smartphone with say, a 3200 mAh battery, you should be able to get more than a full charge out of the Goal Zero Torch 250.
So what you get is an all-in-one emergency solar light and device charger with a back-up crank system. Nice. I'm in. It's an emergency solar light with extra benefits, and if that's what you want, it'll work well for you, too.
Any Downsides?
It takes 23-46 hours to fully charge the Torch 250 from the sun alone (5 hours from a USB source) . . . but you're unlikely to burn through a full charge in a single night — you get 7 hours of the spotlight on high or 22 hours of the flood light on high. Why such a long solar charging time? You just can't fight the physics, which is why the solar panel is relatively large on the Torch 250. Can you imagine how many days it would take to solar charge a cheap flashlight with a tiny solar panel built into the handle? This is why the size of the Torch 250 is forgivable.
This brings up another point: The Torch 250 isn't a great solution for fully recharging phones over many days. Why? The solar panel can't collect enough energy per sunny day to continuously replenish a heavily used phone. You're going to need a bigger solar panel if you plan to heavily use devices over many days.
So, if you're willing to separate the all-in-one nature of the Torch 250 and get separate components, you can get a more efficient solar light and charging system. For instance, you could buy a larger portable solar panel and use that to charge a rechargeable flashlight and even a smartphone.
In the Goal Zero world, this means you could save about $10 and buy the Goal Zero Nomad 5 Solar Panel and use that to charge your phone. The trouble is, you have to leave the phone connected to the the solar panel while it's in the sun in order to charge it. To get around this, you could charge a rechargeable battery charger (like the Goal Zero Flip 12 Power Bank) and then use the battery charger to charge your phone when it's cloudy or you're under shelter. In this example, the flip charger clips to the back of the Nomad 5, which is cool, but you could also end up charging other portable chargers on sunny days, too, creating even more battery backup from the separate solar panel. You could even save a few dollars and get the Goal Zero Nomad 5 with Flip 12 Solar Recharging Kit.
But wait, there's another option in the Goal Zero family, and that's to use the Nomad 5 (or larger Nomad 10) solar panels to charge the Goal Zero Lighthouse Micro Charge USB Rechargeable Lantern. This device is basically a rechargeable flashlight that you can also use to recharge your phone, too.
By mixing and matching components — a lightweight solar panel with a small flashlight charger — you can make some gains in efficiency and spend a similar amount of money (assuming you're investing in higher-quality products and not cheap knockoffs, of course).
The Verdict: 'Versatile & Excellent'
The Goal Zero Torch 250 is a versatile all-in-one solar flashlight, lantern and mobile device charger that's perfect for most household emergencies and off-grid camping. If you like that kind of simplicity and versatility, the Goal Zero Torch 250 is for you. Highly recommended.
Get the Gear:
Pros
All-in-one design
Solid build quality overall
Includes back-up crank charging option for more serious emergencies
Cons
USB out port could be exposed to moisture during rain