Disclosure: Man Makes Fire is reader-supported. When you buy gear using retail links on our site, we may earn an affiliate commission that helps pay for our work. Learn more.
The new Korkers WRAPTR Wading Boots are one of the most pre-hyped wading boots I've ever seen: Nearly a year before the WRAPTR Wading Boots were available to buy, Korkers promised to end stitch and seam failure forever by creating a one-piece single-seam wading boot. The result? The new WRAPTR is manufactured from a new super-light, abrasion-resistant shell without seams anywhere near the front of the boot — and it's built on top of the famous Korkers OmniTrax Interchangeable Sole System.
Does it work? Will it make your wading boots last longer than ever? Will the WRAPTR be the last wading boot you ever buy?
To get us a closer look, Korkers sent Man Makes Fire a review unit. This is what we learned:
Korkers WRAPTR Wading Boots Review
Let's get this out of the way: The Korkers WRAPTR Wading Boot is a damn fine looking boot. Before the WRAPTR, I didn't think much about the looks of my wading boots — it's a boot, it's in the water, and when I'm casting to a feeding trout, fashion is pretty low on my priority list. But I must admit, the WRAPTR is a handsome, modern-looking wading boot. Gotta give props where props are due.
And yet, there is far more to the WRAPTR boot than fancy new looks. For instance, while the new seamless shell takes center stage — which we'll get to — the speed-lace eyelets have roller balls that make it easier to pull the laces to tighten down the forefoot of the boot. At the ankle, you get a locking lace cleat that grabs your laces and locks the forefoot section in place, letting you easily adjust the ankle pressure above to be looser or tighter without affecting the forefoot.
The result of the lacing system means you get surprisingly good (and easy) adjustability overall.
Speaking of fit, I have to call out the heel pocket in the WRAPTR — it's fantastic. Korkers includes an Achilles stabilization section that provides cushioning over and around the heel. What it all means is that, even with stocking foot wader booties on your foot, you get very little heel slip. If your wading boots force you to ratchet down the laces to prevent heel slip, you'll like this nearly hidden feature of the WRAPTR Wading Boots. In case you're asking, yes, the WRAPTR Wading Boots are comfortable overall.
Shop Korkers WRAPTR Wading Boots at AvidMax and get free shipping on most orders over $25!
Korkers WRAPTR One-Piece Shell
Most wading boots tend to fail around the seams. And yes, even the best, most expensive, most highly-rated wading boots tend to eventually blow out their stitching. If you're a casual fly fisher, your boots might last years, but if you cover a lot of ground and fish many days each year, those small seams will catch on sharp rocks and sticks. They'll flex against the threads and the material will often swell and shrink as it's saturated and then dries out. Over time, the threads fray and break. The fastest fix is to slather some awesome Gear Aid Aquaseal in there, let it cure overnight, and go fishing again. And then resort to duct tape. And eventually buy a new boot or take them to a boot repair shop.
Here is a case in point: One of our fishing buddies has seen his Patagonia Foot Tractor Wading Boots break a seam after just 9 months of use — maybe just a few dozen total wettings in the river. Granted, these are Idaho rivers, so the rocks and sticks are big and mean. But still, the Foot Tractors are great boots, and he's a big Patagonia fan, but the toe seam did start unraveling — and sooner than any of us would have expected.
Meanwhile, the Korkers WRAPTR is specifically designed to eliminate seam failures.
Korkers doesn't identify the specific kind of synthetic textile the company uses to form the shell of the boot, which is created through a high-heat compression molding process. Whatever they do, in the end you get an armor-like finish that remains flexible and doesn't soak up water.
To be accurate, the WRAPTR isn't completely devoid of seams — the back portion of the boot does join to the front portion through a stitched-but-hidden seam. While this seam may eventually fail, the design protects the threads. As for the exterior rubber heel cup stitching, those stitches are made in the middle of protective channels which reduce wear from rocks or brush passing over the top of the stitches.
WRAPTR TECH: Material Impressions
The Korkers WRAPTR Wading Boots are surprisingly light for the size of the boot, which rises up to about 10″ for plenty of protective ankle coverage. The WRAPTR TECH material is clearly synthetic, but it doesn't feel plasticy or rubbery — I'm struggling to describe it. It's almost as if Korkers fused multiple layers of heavy-duty nylon fabrics to create the pattern and color differences. How many layers? No idea.
The upper is tough yet flexible. After scrambling around boulders, wading, stepping through brush and skidding down steep rocky trails, there are a few very minor "scratches" in the material, but nothing more than I'd expect to see on leather or any other synthetic wading boot material. First impression? If you manage to tear through the WRAPTR TECH fabric, you'll probably need a friend to call you an ambulance.
Of course, the only true way to figure out the long-term durability of the WRAPTR Wading Boots is to wear them over time and see what happens. (We'll try to abuse them a little faster than normal and update this review accordingly.)
Shop Korkers WRAPTR Wading Boots at AvidMax and get free shipping on most orders over $25!
Korkers WRAPTR Wading Boots: Any Cons?
As with most reviews, one person's so-called con might be another person's pro — the only con I have with the WRAPTR boots might be something that you appreciate most:
Because of the 10″ ankle height, these boots aren't as nimble as I personally prefer for the types of fishing I do most often. While wading in a river, the support is excellent and I don't notice the height. I can wade through fast water over slick round bowling ball rocks with confidence.
On dry ground, though, when I started striding among and over boulders and big rip-rap along steep river banks, I did find myself wanting a bit more ankle movement. Granted, some of the long steps I take from rock-to-rock . . . I probably shouldn't be taking, but I'm not the smartest guy when there are fish in front of me. So what did I do? I unlaced the top two spots and snugged up the forefoot area. This gave me more play around my ankles and made the boots feel more nimble.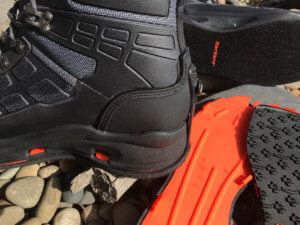 In fact, I think one of the reasons why this tactic actually works with the WRAPTR is due to the excellent heel pocket — you don't get the kind of heel slip you can find in other wading boots that have straighter, more vertical back walls.
Obviously, if you have bad ankles, this trick probably isn't for you — and you'll likely appreciate the WRAPTR height and protection as it is.
Korkers WRAPTR Wading Boots Review: The Verdict
In addition to being a good-looking boot, the Korkers WRAPTR is an excellent all-round wading boot. When you combine the new WRAPTR design with the Korkers OmniTrax Interchangeable Sole System, you have a wading system that is capable of covering multiple types of water and terrain — and let you switch out your felt soles with rubber soles if you're fishing in a state that has regulations against felt soles.
Will the Korkers WRAPTR Wading Boots be the last boot you ever buy? Will they outlast the competition? From what I've seen so far, they certainly seem as if they could outlast most other wading boots. Will the corrosion-resistant eyelets eventually fail? Maybe. Either way, when you're playing in the big wild outdoors . . . things happen. Gear fails. The real question is would I trust these on an epic Alaskan fishing adventure far from the beaten path nowhere near a wading boot store? Without a doubt, yes. So here we are — highly recommended.
Get the Gear:
Korkers WRAPTR Wading Boots – Felt & Kling-On Sticky Rubber Soles
Check shipping/pricing: Amazon | AvidMax | Fishwest
Korkers WRAPTR Wading Boots – Studded Rubber & Kling-On Sticky Rubber Soles