Man Makes Fire is reader-supported. When you buy gear using retail links on our site, we may earn an affiliate commission that helps pay for our work. Learn more.
It's hard to overstate how good the KÜHL FIREFLY Jacket looks in person. The KÜHL FIREFLY is a lightweight jacket that you can wear as a mid or outer layer depending on your activity and weather conditions. The short review is this: The KÜHL FIREFLY Jacket boasts fantastic outdoor style that's ready to handle a variety of backcountry conditions.
To help those of us who don't live near a brick-and-mortar store that stocks KÜHL clothes, KÜHL sent Man Makes Fire a review unit of its men's FIREFLY Jacket. Here is what we learned.
KÜHL FIREFLY Jacket Review: The Materials
Beyond the stretch panels and articulated design for a streamlined and functional fit, the FIREFLY uses a combination of material patterns, stitching, and two types of insulation. Inside the FIREFLY, KÜHL tucks a layer of PRIMALOFT GOLD, which is a great lightweight synthetic insulation that's reasonably breathable and continues to work if it gets a bit wet.
In addition, KÜHL uses PRIMALOFT GOLD ACTIVE, which adds a four-way stretch to the insulation, which KÜHL says won't shift during high aerobic activities. KÜHL then covers these sections with a lightweight soft-shell AIRPERM fabric to provide durability and breathability.
The main body panels are a supple and smooth lightweight 20 denier nylon with a Durable Water Repellant (DWR) coating.
KÜHL FIREFLY Jacket Review: Overall Design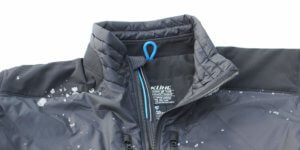 While the KÜHL FIREFLY uses strategically placed panels and materials to enhance fit and performance during activity, KÜHL also manages to ensure that these choices also result in style. In fact, the convergence of outdoor performance with an edgier outdoor style is signature KÜHL.
All of this means that KÜHL adds design elements that provide a nice pop. In the Raven color, the pockets have a strip of blue accent trim, which also appears on the upper collar. The interior mesh chest pocket has the same blue accent color, and while this is totally unnecessary as a color choice, it nonetheless helps pull the entire jacket together and amp up a sense of overall design intent that is hard not to appreciate.
It's these little details that make us KÜHL fans and transform an interesting jacket into something you want to wear.
Oh, one more thing here: The zipper is burly but lightweight, which in our book makes it awesome.
KÜHL FIREFLY Jacket Review: Fit & Finish
The first two inches of the underside of the stretch-woven cuffs don't have any insulation at all, which seemed odd at first, but I didn't notice any issues while out and about in 40-degree weather. On the other hand, after those first two inches, the undersides of the arms have a decent layer of the PRIMALOFT GOLD ACTIVE.
Overall the fit is trim and slim — sized appropriately. The only spot where I can feel any sort of catch in the jacket mobility is when I lift my arms above my head, but I have pretty big shoulders so I can't claim that this is a flaw. In fact, if I wanted a jacket for all-around outdoor use both in-town and outside, I would still choose the XL as tested because the fit looks great and is good for 90% of the motion I might ever put it through. If I wanted to put a couple of layers underneath it and do more serious activity, I might be tempted to size up.
Even so, I would only upsize if you're on the bigger end of your particular size and you plan to be very active in this jacket.
What about weight? KÜHL says the large weighs about 17.6 ounces, approximately, but my XL weighed in at 16.5 ounces. All this means is that the FIREFLY is a little heavier than ultralight down jackets but it's still pretty darn light. What you have here is an overall style vs. performance choice, and KÜHL nails the balance very well.
And that's how KÜHL rolls, it seems to me: I see a company that works hard to build for performance but is not scared of erring on the side of style — and that shows up in the final result. You get stitching, materials, and structure in the FIREFLY that all come together to give it a sweet visual and textured nuance without screaming for attention. What can I say more here? I'm a fan.
Any Cons?
There is only one minor con — but mostly a personal preference. The bottom hem is slightly elastic — I'd rather see a thin and adjustable stretchy draw cord hidden in here instead. Why? Draw cords just give you the ability to fine-tune the hem, letting you ratchet it down to fend off cold drafts . . . or hang straight for the cleanest line. Just a quibble, really, but drawcords are always worth a slight weight penalty to me.
All-in-all, the FIREFLY jacket is perfect for both mountain towns and guys who want an outdoor vibe that doesn't look like you're the kind of guy who would wear wool hiking socks to a wedding. Not that there is anything wrong with wearing wool hiking socks to weddings. Just saying. If you're not that guy, check out the KÜHL FIREFLY. You'll probably appreciate it.
Get the Gear:
Read more: KÜHL Review: 'Once You Go KÜHL You Never Go Back'
Shop KÜHL Direct and get FREE Shipping with this voucher: