Disclosure: Man Makes Fire is reader-supported. When you buy gear using retail links on our site, we may earn an affiliate commission that helps pay for our work. Learn more.
I've been thinking of writing this post for at least a year, wondering if anyone else would find it useful — and then I realized I should write it anyway. Warning: This is a full-on rave about KÜHL. I tend not to write this sort of blanket brand review, but in this case, it's deserving: KÜHL, as a small outdoor clothing manufacturer, has done something amazing, and the company deserves recognition for it. In addition, this is the experience that led Man Makes Fire to join KÜHL's affiliate program (site disclosures here if you don't know how that works).
Over the last couple of years, I've noticed an interesting phenomenon with KÜHL clothing — once you go KÜHL, you never really go back.
This story begins with a buddy who started showing up to pickup basketball games wearing KÜHL clothes — before he changed out of them to play basketball, of course. I noticed the pants first: Interesting stitching, naturally faded wear patterns, and a side thigh pocket for a smartphone. Better yet, the KÜHL pants looked like they actually fit better than most anything else most guys wear. I don't generally pay close attention to how other guys look, but there was something different about the KÜHL pants. They were undeniably outdoor and action-oriented, crafted to be more than a pair of pants. They bordered on being purpose-built gear — and that caught my attention.
"They're KÜHL," he said. "Spelled K – U – H – L. They kind of have an athletic fit."
"How do you like them?"
"Well," he said. "I have four pairs. I don't like to wear anything else anymore. I have a couple of KÜHL tops, too."
You can't beat that kind of endorsement, so I ordered a pair of RYDR pants.
When I first got them, they seemed a bit stiff, and the combed "Cotton Euro Twill" reminded me of canvas — but soft canvas. I was dubious, but then I tried them on. The fit was life-changing. I'm not kidding. The fabric didn't pull or hang on my legs or knees or bind around the crotch in any way. When I walked up stairs, I did not notice the RYDRs pulling on my thighs, and I have big thighs. Still, the full cut of the RYDRs was relatively tapered . . . and even though I was feeling an astounding level of comfort, it wasn't because it was just another baggy-cut pant. They fit better than any other pant I've ever worn.
And So It Begins
I quickly ordered another pair.
And then another.
As well as a pair of REVOLVRs, which featured a slightly different style with lighter material.
It turned out that I liked wearing pants that were not like everyone else's blue jeans.
Then when summer hit, I picked up a pair of AMBUSH CARGO shorts, followed by the RENEGADE CARGO short.
I noticed another buddy wearing a pair of KÜHL shorts, but he hadn't tried any KÜHL pants.
"I gotta warn you," I said. "Once you try KÜHL pants, you're not going to want to wear anything else."
He ended up getting three different pairs of KÜHL pants, including the awesome DESTROYR, which unfortunately, I can't wear because the inseam maxes out at just 34 inches (and I need a 36). I even sent an email to KÜHL customer service begging them to offer a 36-inch inseam version, as well as asked for it via comments on their website. No luck.*
My buddy sent me a picture of the DESTROYRs with a simple text message below them: "They're legit."
Damn it!
Now I'm wondering if I could have a tailor add some material to the DESTROYR pant bottoms for me. . . . Am I addicted? Apparently.
*Update: KÜHL started making the DESTROYR pants with a 36-inch inseam. I promptly bought a pair. And then another. They're my new favorite KÜHL pant (full DESTROYR review here).
Enter the Smartphone Pockets
In addition to the stitching and construction that includes articulated knees and gusseted crotches, the signature design element that quickly becomes indispensable is the smartphone pocket on the side of your thigh. Once you slip your smartphone into this pocket, it's always handy, always easy to take out, and it never binds your movement or falls out. In fact, any time you wear any other jean or pant, you're going to be annoyed that those pants don't also have this kind of pocket.
Hence, you tend to keep wearing your KÜHL pants.
After you go KÜHL, you start noticing the signature KÜHL style and build patterns on others. I swear I saw Harrison Ford wearing a pair of KÜHL pants on an airport tarmac during a TV newscast. Hard to say for sure, but they looked like KÜHL to me. Right on.
I've since noticed that a couple of competitors have created KÜHL knockoff outdoor/adventure/work pants with articulated knees, gusseted crotches, bold stitching, and cell phone pockets. When I looked closely, they seemed OK — better than most other pants but they also didn't seem to have the same level of detail in construction. Sure, I might be able to save $10, but it turns out, why bother?
I now have brand loyalty to KÜHL pants and shorts, plus I appreciate the extra attention to fabric types, construction, and style.
Then there's the durability. I wear my KÜHL pants far more often than other jeans and pants — about 95% of the time during pant-wearing seasons. When finally, after two years of heavy use, with a couple of minor holes worn through one pair of RYDRs, I broke a zipper. I had a choice: Buy a brand new pair for $79 or fix the broken zipper for $24? I fixed the old pair and ordered a new pair, too.
Once you go KÜHL, you never go back.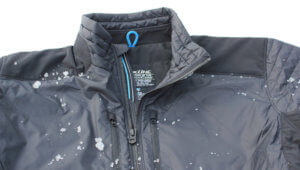 Fast forward to today.
I'm committed to writing some new KÜHL clothing reviews for guys out there who aren't lucky enough to live near brick-and-mortar retail stores that stock KÜHL clothing. Here's a case in point: I just visited the Bozeman REI, and while they stocked some KÜHL clothes, it was just a tiny percentage of what KÜHL offers. If you're like me and need — or prefer — ordering online to find selection or the right size, bookmark this page because I'm going to work up some reviews on KÜHL gear, and I'll link to those reviews at the bottom of this post as they become available.
In the meantime, check out KÜHL and start with the pants. Just remember, fair warning: Once you you go KÜHL, you never go back.
—Chris
P.S. We don't have any reviews of KÜHL clothing specifically for women yet, but wow, when we see it out and about, it sure looks good. Shop KÜHL for women here. (And guys, if you're looking for a great gift for your outdoor adventurous sister, girlfriend, or wife, it's hard to go wrong with KÜHL. Just saying.)
Pros
Excellent style
Great durability
Smartphone pockets are the best
Cons
No 'tall' sizes for shirts and jackets (sleeve length is just average)