Disclosure: Man Makes Fire is reader-supported. When you buy gear using retail links on our site, we may earn an affiliate commission that helps pay for our work. Learn more.
The new L.L.Bean Apex Wading Boots are super comfortable and designed for durability. They come in two rubber-sole options, one with studs and one without.
To get Man Makes Fire a closer look, L.L.Bean sent us a non-studded review unit. After testing the L.L.Bean Apex Wading Boots while fly fishing on a river in Idaho, this is what we learned:
The L.L.Bean Apex Wading Boots
I must admit, what first attracted me to the L.L.Bean Apex Wading Boots was their modernized-yet-rugged design. Previous generations of L.L.Bean wading boots were solid but didn't really jump out. A bit bland. Maybe even intentionally targeted at an older generation.
So when I first saw the L.L.Bean Apex Wading Boots online at L.L.Bean, I sat up in my office chair. I thought, Whoa! Did L.L.Bean just deliver a camo-patterned midsole?
Yup. The L.L.Bean Apex Wading Boots were definitely worth a closer look.
Out of the Box Comfort
Before I get into the design details, you should know the defining characteristic of the L.L.Bean Apex Wading Boots is out-of-the-box comfort. We shouldn't be surprised by this — after all L.L.Bean has been making boots for more than a 100 years. In fact, if you look at an older generation of L.L.Bean Wading Boots like the Kennebec Wading Boots, you can see a similar design build and silhouette.
So why are they so comfortable?
First, the Apex Wading Boots are the easiest wading boots to get on and off that I've tested in years. The generous rear loop, along with the tongue loop, let you easily pull open the boot and slip it on. This is important early in the morning when you haven't had enough coffee and you're hopping around on one foot near the tailgate of your pickup trying not to step in the gravel in your stockingfoot waders.
In addition to the handy loops, L.L.Bean says there is some "innovative collar geometry" going on here, too. I can't see what that is, exactly, but I can't argue with how well it works.
The toe box is also super roomy. In fact, for me — based on wearing and testing many size 14 wading boots over the years — the L.L.Bean Apex Wading Boots fit a half-size big. If you're a half-size regular shoe and boot wearer — for example, a 12 1/2 — you can safely size down to a 12 with the Apex Wading Boot.
Even though the Apex Wading Boots are a bit big, they still snug down effortlessly with the lacing system. While testing the boots up and down steep river banks and in and out of the water, I didn't experience any interior slop. In fact, I found the Apex Wading Boots to be surprisingly nimble given the full-coverage, protective design.
Meanwhile, the rugged heel counter lets you kick the boots off with your other foot at the end of a hard day of fishing.
Interesting Design Elements
The most interesting design element is the use of Aramid fibers in the upper. When I was out on the river doing the initial photo shoot before testing, I was checking out the burly weave and wondering what it was. It has a cool pattern that feels tough — and it is. Aramid fiber, it turns out, has been used in body armor, vehicle armor and in firefighting gear. Brand names for Aramid fiber include Kevlar and Nomex. So yeah, it's quite a bit tougher than most synthetic fabrics.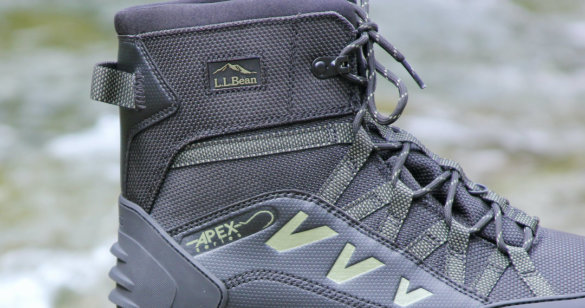 I mentioned the camo EVA midsole above, and it seems to do its job: It delivers a comfortable ride. For traction, the Vibram Idrogrip sticky rubber outsole is legit. I've tested Vibram Idrogrip rubber soles in other footwear, including competing wading boots, and I can attest that it's good stuff.
(Of course, I still think that old-school felt soles offer the best and safest in-stream traction, but some states have banned felt soles due to invasive species concerns.)
Here is one last point about the tread: The outsole tread design is not aggressive. One drawback is that you don't get as much bite into dry ground as you might with more aggressive tread designs. One benefit of the design is that you don't get treads that clog with mud — and you don't track as much mud around with you.
L.L.Bean includes a monster, full-coverage rubbery toe cap. The stitching is recessed inside a groove to protect the stitches. For the less exposed side stitching, you get triple and double stitching.
Shop the Apex Wading Boots at L.L.Bean and get FREE Shipping!
Apex Wading Boots Review: Buying Advice
If you plan to wear these boots with stockingfoot waders with neoprene booties — as most fly fishers do — choose your regular street shoe size. For example, if you wear an 11 shoe, buy the size 11 Apex Wading Boot. However, the L.L.Bean Apex Wading Boots fit a half-size large. So if you're a half-size, you can safely size down 1/2 size.
The biggest question you might have is this: Should you choose the studded or the non-studded version? Choose the non-studded version if you plan to fish from a raft, drive your vehicle while wearing your wading boots between fishing spots, or if you think you might enter any store or fly shop while wearing your waders and boots. . . . You get the point: Studs mess up floors.
However, if your primary concern is indeed traction, choose the studded version. Studded rubber soled wading boots give you better in-the-water traction than non-studded rubber boots.
Long-Term Apex Durability
Because the Apex Wading Boots are so new, I wanted to get a first-look review out the door to help guys who are actively considering these boots. So far, the Aramid uppers seem super durable. The beefy heel and toe caps are stitched in a protective groove, so they will likely last much longer than caps that are stitched over the top without a protective groove.
Long-term durability bodes well so far. I'll update this review down the road, particularly if I notice any trouble spots.
In the meantime, here is a longevity gear tip: Try not to leave your boots and gear in very hot vehicles for long periods of time or repeatedly. The fact is, big temperature changes make materials expand and contract and weaken adhesives. With other boots, I've even experienced some concerning heat-related adhesive and shrinkage issues by leaving wet boots out in the summer sun on a hot driveway. In any event, if you want your wading boots to last, don't cook them.
L.L.Bean Apex Wading Boots: The Verdict
All-in-all, the L.L.Bean Apex Wading Boots are a ruggedized, modernized take on L.L.Bean's wading boot designs. The out-of-the-box comfort is superb, and the Vibram Idrogrip rubber soles deliver proven "sticky" rubber traction. Highly recommended.
Get the Gear:
L.L.Bean Apex Wading Boots
Benefits
Lots of durability features built-in
Comfortable out of the box
Easy to get on and lace up
Drawbacks
You can choose a studded option, but L.L.Bean doesn't offer studs separately that you can add or remove yourself.
Apex Wading Boot Alternatives & Competition
If you're considering the L.L.Bean Apex Wading Boots, you're likely an L.L.Bean fan and/or want to buy from a reputable company with a history of delivering great boots, gear and clothing. In addition, you're probably looking for a rugged-but-comfortable wading boot. Here are three competitive wading boot options that I can also recommend that are similar but have contrasting features:
Simms G4 PRO Wading Boots — The Simms G4 PRO Wading Boots offer great on-the-water stability. They cost a bit more than the L.L.Bean Apex Wading Boots, but you can also choose the Vibram rubber sole option . . . and then add studs for extra traction if you need them (the studs are an add-on cost). As for fit, you can dial in the fit with the 8-point lacing system, but the Apex Wading Boots are easier to get on and off quickly (and still snug up very well). Oh, one more thing on the Simms G4 PRO sizing: Size up. For example, if you're a size 12 regular shoe, buy a size 13 G4 PRO.
Orvis PRO Wading Boots — Like the Apex boots, the Orvis PRO Wading Boots also give you a reasonably lightweight boot with a water-shedding synthetic upper. If you plan to hike and cover a lot of ground, you'll appreciate the rugged tread design on the outsole. Like the Simms G4 sizing, size up with the Orvis PRO wading boots — if your shoe is 11, buy a 12.
Simms Flyweight Wading Boots — For a truly lightweight and nimble wading boot option, the Simms Flyweight Wading Boots offer an agile design. In fact, they are one of my favorite lightweight wading boots and I grab them when I plan on covering a lot of ground. In comparison, a size 14 L.L.Bean Apex wading boot weighs in at 32.9 oz while a size 14 Simms Flyweight Wading Boot weighs in at 23.5 oz. Are there any drawbacks to the Flyweight Wading Boots? They're not as supportive as the Apex boots. While they are reasonably durable, I don't expect the lightweight nylon lacing system to last through many seasons of hard use before I eventually wear through one of the nylon eyelets.
L.L.Bean Emerger Wading Boots — For about $90 less than the Apex boots, L.L.Bean's Emerger Wading Boots should deliver a similar fit as the Apex Wading Boots. You get the same basic toe box and overall shape. What you lose is the burly rubber toe cap and the softer EVA midsole construction. If you only fish a handful of weekends each year, the Emerger boots should work well. The key drawback for long-term durability will be the non-protected toe-cap stitching. In our experience, you'll eventually scuff and break those threads if you wade and hike in rocky streams many days each year.