Disclosure: Man Makes Fire is reader-supported. When you buy gear using retail links on our site, we may earn an affiliate commission that helps pay for our work. Learn more.
The Orvis Ultralight Convertible Waders are part of Orvis' new Ultralight Wading System, which is aimed at travelers and adventurous fly fishers who like to cover ground and go light. The goal was to reduce weight without sacrificing durability or the loss of features.
To get us a closer look, Orvis sent Man Makes Fire a review unit. This is what we learned:
Orvis Ultralight Convertible Waders Review
At first glance, the Orvis Ultralight Convertible Waders resemble the now discontinued Orvis Silver Sonic Convertible Waders. The new Ultralight Convertible Waders differ in several small ways but the sum of the changes come together to create a new excellent lightweight wader — and they're in our guide to the best fishing waders.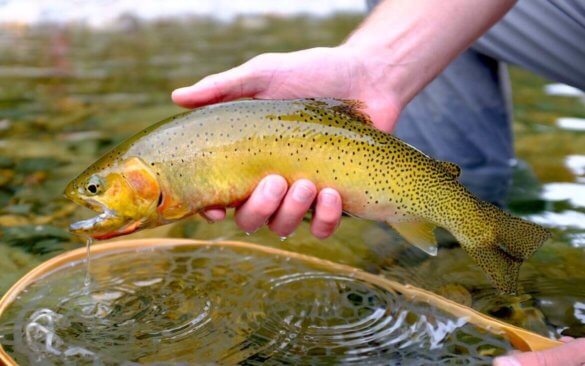 First, let's talk color. The new Ultralight Convertible Waders are a more modern-looking gray instead of the previous Orvis brownish/tan color scheme. When I'm fishing, I'm not thinking much about the color of my waders, but I must admit, I like the gray more than I thought I would, along with the splash of Orvis bright green on the zipper. Turns out I'm a color guy, too.
The exterior chest pocket has a water-resistant zipper, as well as a small built-in fly patch and accessory attachment point. The interior chest pocket is a roomy stretch mesh, suitable for a medium fly box and some tippet material.
The suspenders include two rubber tab accessory attachment points. You can lock your forceps onto the tabs as well as a zinger or two for your nippers and fly floatant. The point? If you really want to travel light, you could use the wader pockets and attachment points to hold most of your core gear for a fast fishing trip.
Most guys, I would imagine, myself included, are far more likely to take along a lanyard, if not a waist pack, sling pack, or backpack. It's hard to leave gear behind. Still, we appreciate go-light options.
Orvis Ultralight Convertible Waders Review: Fit and Finish
The Orvis Ultralight Convertible Waders use a 4-layer breathable fabric system made from nylon, nylon tricot and a bi-component polyurethane. I haven't had a chance to fish these waders in truly hot weather above 80 degrees, but I expect them to be competitive with most other midrange breathable waders.
Orvis says it's using a new low-profile seam construction with improved reinforcement in high-stress areas. As just a guy who fishes — rather than manufactures — it's hard to see much of a difference here, but the knee seams are more sharply angled, which makes me think the stress point could be reduced across the knee. Either way, the articulated knee structure works well: I could drop to one knee in the water for a photo with a fish without feeling any binding across the knees. The same goes for stepping over deadfalls on the way to the river and scrambling over large boulders.
The updated booties are a big improvement over the previous Silver Sonic bootie — they're more streamlined throughout and have a more sock-like fit. I thought they were going to be too small when I first saw them, but the fit was spot on for my size 14 foot, fitting into a size 12-14 bootie.
The new gravel guard is also more streamlined and is supposed to reduce underwater drag, but frankly, I couldn't tell a difference in underwater drag compared to any other wader I've ever worn. I don't doubt that drag is lessened, just that it's likely not something you'll be able to notice as you're wading. The same goes for reduced water collection inside the gravel guards — it probably sheds water faster than other waders with stretchy rubber hems, but I never had much trouble with any other gravel guards in the past. Maybe if you're stepping from the water into a drift boat this could lessen water brought aboard, but I'm the wrong guy to bother testing that when there's fish to be caught.
Orvis Ultralight Convertible Waders Review: Convertible How?
I'm a big fan of the Orvis Ultralight Convertible Waders for warmer-weather wading because you can quickly and easily convert the waders to a waist-high mode. Using the nifty new FIDLOCK SNAP magnetic fasteners, all you have to do is unhook the top of the chest portion from your front suspenders and shove the chest material down around your waist. The suspenders stay put but the chest material drops down.
This simple move can dump a lot of heat. While wading in cold water, it's not usually a big deal but once you step out onto a sunny bank — or get into the pickup to drive to a new location — I'm almost always converting the waders to waist high to help stay cool.
Any downsides? The chest material bunches up and your pockets aren't as easy to access. It's not the trimmest system, but it's fast and effective. On the whole, I'd rather have convertible waders than not.
The Orvis Ultralight Wading System
Right now, the Orvis Ultralight Wading System is made up of three components: Ultralight Waders, Ultralight Wading Boots, and an Ultralight Wading Jacket. Orvis has produced women's versions of the boots and waders but not the jacket — at least not at the time of publication here.
The men's system, according to Orvis, takes up less than 1 cubic foot of luggage space and weighs less than 6 pounds together. I'm not sure which sizes Orvis refers to, but the point remains — it's all pretty light and lighter than most other waders, wading boots and wading jackets.
If you're a hard-hitting fisher who spends long days on the water and frequently pushes your way through heavy brush, I wouldn't recommend any "ultralight" wader — you'd be better off going with the Orvis Silver Sonic Guide Waders, which are up to 300 percent more abrasion resistant and 40 percent more puncture resistant than the now discontinued Orvis Silver Sonic Convertible Top Waders. I believe the durability of the new Ultralight Convertible Waders are on par with the older Silver Sonic Convertible Top Waders.
What about the Orvis Ultralight Wading Boots? They're in our guide to the best wading boots, as you might expect, plus we have a dedicated review here.
Orvis Ultralight Convertible Waders Review: The Verdict
The new Orvis Ultralight Convertible Waders represent a refined overall design that blends on-the-water usability with a lightweight modern fit and finish. We're big fans of the convertible top, and the price-to-value ratio is spot on: The Orvis Ultralight Convertible Waders deliver excellent overall quality at a competitive midrange price point. Very highly recommended.
Get the Gear:
One last note: Orvis offers a truly fantastic range of off-the-shelf sizes: You have 14 size choices, starting with Regular, Short, Long, or Extra Long in sizes that can range from S to XXL. Better yet, Orvis offers two different sizes with booties that fit size 12-14 feet — guys with size 14 feet know how many wader manufacturers stop at size 13 booties. What about women's sizing? Orvis offers 13 different women's sizes so our female fly fishers have some great fit options here, too. Most every fisher should be able to find a size that fits.
Orvis Ultralight Convertible Waders
Pros
Lightweight and comfortable
Drop-down chest for waist-high mode
Great price-to-value ratio
Cons
Lightweight design isn't as durable as heavier, more expensive waders (not exactly a con, just a design point)