Disclosure: Man Makes Fire is reader-supported. When you buy gear using retail links on our site, we may earn an affiliate commission that helps pay for our work. Learn more.
The new Therm-a-Rest Parsec 20 Sleeping Bag is an ultralight down sleeping bag that boasts fluffy 800-fill power Nikwax Hydrophobic Down. It comes in three sizes and competes against high-end down sleeping bags. It's primarily aimed at backpackers and anyone who appreciates ultralight camping and a great down bag experience.
To get us a closer look at the Parsec 20, Therm-a-Rest sent Man Makes Fire a review unit. This is what we learned:
Therm-a-Rest Parsec 20 Down Sleeping Bag Review
The Therm-a-Rest Parsec 20 Down Sleeping Bag is a mummy-style bag that has a lot of ingenuity built throughout its overall design. It's packed with excellent 800-fill Nikwax Hydrophobic Down, which is down that has been treated with a chemical coating to resist moisture. Once down gets wet, it's insulating properties plummet to pretty much zero, so hydrophobic down is a must for adventurers who are willing to backpack or camp during extended rain where the odds of getting wet increase.
Therm-a-Rest says the Nikwax treatment means the down will maintain its loft 60 times longer than untreated down and if it does get wet, it will dry three times faster, too.
The insulation has been zoned to give you more insulation where you need it and less where you don't — namely, the top of the Parsec uses 60% of the down while the bottom uses 40%.
But there is even more to the warmth story here: Therm-a-Rest has integrated its Thermacapture lining into the top of the bag to help trap the radiant heat that leaves your body. In addition, Therm-a-Rest built a foot-warmer pocket into the toe box. It removes excess space around your feet and helps trap heat. Works pretty well.
As for the overall design, you get a generous draft collar around your neck and shoulders, a full-length over-sized zipper draft tube, a snag-free zipper that works great, plus a handy external zip pocket.
A lot of competing mummy-style sleeping bags have zippers that are hard for larger guys to reach and use while inside the bag — the zipper on the Parsec is particularly user-friendly. Our primary gear tester was surprised at how much he appreciated the ergonomics and function of the zipper.
Finally, the last key design element, other than the gorgeous yellow-white fading color scheme, is Therm-a-Rest's SynergyLink Connectors. The connectors are basically two stretchy fabric panels that attach to the bottom of the Parsec via small toggles and then wrap around your sleeping pad. The result is that you get a mummy bag where the bottom of the bag stays planted to the sleeping pad, which lets you roll around inside your bag without spinning the bag, too. If you've ever slept in a mummy-style sleeping bag, you know what I'm talking about here. It's a pretty sweet system, and it helps ensure that your mummy's hood stays oriented upward all night long.
Shop the Therm-a-Rest Parsec 20 at Moosejaw and get FREE 2-Day Shipping on most orders over $49.
Therm-a-Rest Parsec 20 Down Sleeping Bag Review: Ultralight Specs
The Therm-a-Rest Parsec 20 Down Sleeping Bag comes in three sizes: Small, Regular and Long. The Small fits sleepers up to 66 inches tall, has a 57 inch shoulder girth, and weighs in at just 1 lbs 12 oz. The Regular goes out to 72 inches (6′ sleepers), has a 62 inch shoulder girth, and still weighs less than 2 lbs — just 1 lbs 15 oz. The Long, which is the size of our review unit, fits sleepers up to 78 inches tall, has a 65 inch shoulder girth, and weighs in at a respectable 2 lbs 3 oz.
Packed size comes in around 10 x 15 inches — a little bigger than a basketball, depending on how you stuff the bag. We could crush it down quite a bit farther, but more often than not we're starting to leave our down sleeping bags less compressed so that they fit the odd interiors of our backpacks when we load up with all our backpacking gear. (The result is a backpack that's less lumpy and just seems to ride better.)
The European Norm (EN) ratings for the warmth of the Parsec are 30-degrees Fahrenheit at a "comfort" level and 20-degrees at a transitional range that results in less comfort and usually results in a sleeper who is curling up to maintain as much warmth as possible.
In our experience, most three-season backpackers can do well with 20-degree bags that are sized to fit their bodies — and we recommend that most everyone invests in a decent 20-degree bag. If you sleep really cold or are heading toward winter trips, check out the Therm-a-Rest Oberon 0-degree bag or the -20-degree Polar Ranger. For warmer weather, Therm-a-Rest has the 45-degree Space Cowboy, which also, indubitably, has the best name.
Therm-a-Rest Parsec 20 Down Sleeping Bag: Snow?
Our primary gear tester took the Therm-a-Rest Parsec 20 Sleeping Bag backpacking in the Eagle Cap Wilderness Area in August. One night the temperatures fell below freezing and it snowed, dropping two inches on our tents by dawn. Our gear tester reported that he was plenty warm, even on an uninsulated air sleeping pad, without needing to wear long underwear or grab a puffy for extra warmth.
The shell fabric is a 20D Polyester Ripstop with a Durable Water Repellant (DWR) coating. The liner fabric — which feels great against bare skin — is a 20D Polyester Taffeta. While the fabric is only 20D, it feels surprisingly tough. We have zero qualms about the material over the long haul.
The zipper zips along the left side in all of the three bag sizes.
Therm-a-Rest Parsec 20 Down Sleeping Bag Review: The Verdict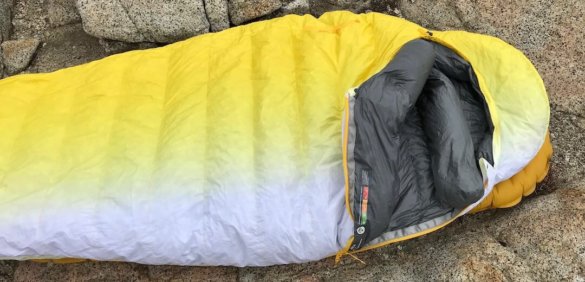 The Therm-a-Rest Parsec 20 Sleeping Bag is a fantastic down backpacking sleeping bag. With its DWR finish and Nikwax Hydrophobic Down, it can handle a bit more moisture than down bags that don't have water repellant treatments. That's particularly nice if you're a true three-season backpacker, backpack in areas that get a lot of rain, or are interested in sleeping in a bivy where moisture from your own body tends to accumulate more overnight than it does in larger backpacking tents.
For most, the Parsec 20 weighs under two pounds, and for taller men and women, 2 lbs 3 oz is still super light. Better yet, the Parsec 20 has a stellar white and yellow color scheme, feels great against your skin, boasts massive heat-trapping draft collars and tubes, and is simply a fantastic ultralight down sleeping bag. We have nothing to complain about and there is plenty to appreciate. Therm-a-Rest has created a truly excellent, competitive down sleeping bag that is just as good as its line of inflatable sleeping pads. Very highly recommended.
Get the Gear:
Therm-a-Rest Parsec 20 Sleeping Bag
Check shipping/pricing: Amazon | Avid Max | Camp Saver | EMS | Moosejaw | Therm-a-Rest
Therm-a-Rest Parsec 20 Sleeping Bag
Pros
Great 800-fill power Nikwax Hydrophobic Down
SynergyLink connectors secure the bag to your pad
Excellent overall quality and design