The best family camping tent in 2018 should give you plenty of room, shed rain, handle some wind, and be reasonably packable for car camping. Better yet, the best tent for you should fit your budget — but also be reasonably durable. We always recommend that you don't skimp out with a truly cheap tent because you don't want it to break when you're finally out camping. The best family camping tents are usually dome tents or cabin-style tents because they're relatively simple to set up and tend to produce usable spaces. In addition, the best all-around camping tents usually have a separate full-coverage rain fly. You want a good rain fly because you don't want wet sleeping bags or crying kids. If you have to hang out in your tent during a long rainstorm, the best tents pretty much always are those that have a separate rain fly cover. (As for single-wall tents, stick with high-end versions or you'll be sorry.)
There are a lot of great tents for family camping in 2018 but when we're forced to recommend just the 10 best camping tents for quick answers, we obviously have some favorites:
Which are the top 10 best camping tents?
If you want to know why these become our top camping tents, we dive into the details below, as well as cover more tents that might better fit your needs or budget. First, here are a few key tent features you should consider before you choose your own best camping tent for family camping or the right car-camping tent for a quick weekend trip with your buddies:
Best Family Camping Tents: Freestanding Tents
The best family camping tents are relatively freestanding, which makes them easier to set up in most locations. If you choose a camping tent that requires a lot of guy lines staked around the tent to hold its shape, you're inevitably going to have kids tripping over those little cords as they run around and play. That usually just results in a crying kid, but sometimes it breaks your tent or the kid. So we like tents that will stand mostly on their own — and then have plenty of tie downs just in case you need them for bad weather.
Best Family Camping Tent: Size
When you're looking for a camping tent for families and the family dog, you should error on the side of caution: Go bigger than you think you'll need. Why? Kids don't seem like they take up much space, but they move around a lot and occasionally throw fits when they're tired. In addition, what if a friend or cousin comes camping, too? Having an extra spot for another sleeping bag gives you more flexibility. In a worse case situation, having a bit more room is just handy when it's time to change clothes. One last point: Some campgrounds limit campers to one tent and only have a single tent pad, so an extra 2-person tent isn't always an answer.
Best Family Camping Tent: Height
The best family camping tents are tall enough for most adults to stand up in. Sure, tall guys expect to have to duck a bit, and that's fine, but look for tents that will make it easier to move around once you're inside. Height isn't always a critical decision factor, but again, when you're stuck in a tent waiting out a rainstorm, a taller tent means you can relax in comfort and possibly even hang some damp clothes to dry. You could set up a camp table and a few chairs, too.
Best Camping Tent: Vestibules & Porches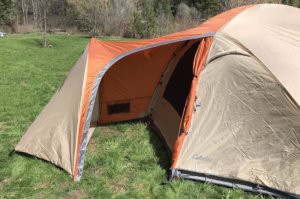 If you're camping with kids and dogs, one of the most annoying issues is the entry and exit point — we recommend that you bring a lightweight mat to stand on as you take off sandy or wet or muddy shoes. Better yet, the best family camping tents have vestibules or porch-like areas that are covered from the elements and let you keep your footwear dry . . . and outside of your tent's sleeping area. In addition, vestibules are a great place to stash gear, toys, or even a wet, muddy and stinky dog. (Yup, we've been there.)
Best Tents: Bathtub Floors & Fully Taped Seams
The best camping tents — or even backpacking tents for that matter — have bathtub type floors. Basically, these floors are turned up 4-to-8 inches all around the bottom edges, which makes the tent more water-resistant, even when it's windy, raining hard, or if you did a poor job during setup. As for fully-taped seams, the "tape" is glued or fused over the holes created by the stitching points, making the seam waterproof. We consider fully-taped seams a must-have requirement for all good camping tents.
21 Best Camping Tents for 2018
If you're looking for a specific size, many of the best tents have designs that translate into 4-person, 6-person, 8-person, 10-person, or even 12-person models. Our picks go to the best overall usability and value, erring toward the highly versatile 6-person tent size.
1. Cabela's West Wind 6-Person Dome Tent
The Cabela's West Wind 6-Person Dome Tent nails all of our primary requirements in a family camping tent. It boasts one of the best and most usable vestibule systems we've seen, is relatively freestanding, is 6'3" tall, and it's affordable. While it's not the most inexpensive family tent on this list, it offers the best overall value. It's well designed with plenty of mesh for airflow in fantastic weather as well as has a full-coverage rain fly. It's 9'6" x 12′, giving it an 83.2 square foot floor while the vestibule adds in 19 more square feet. Better yet, the dome system uses four different pole sections giving it great stability (better than just two poles). And it comes with a gear loft and a hanging entertainment system that will let you slip a tablet into a pocket so that kids can watch a video while laying in their sleeping bags. Highly recommended. (If you want a perfect rectangular interior, try the similar Cabela's Guardian version — it's just as good.)
Learn more: 4-person | 6-person | 8-person
2. Eureka! Copper Canyon 12-Person
If you're looking for maximum living space in a cabin-style tent, it's hard to go wrong with the popular Eureka! Copper Canyon series. While the rain fly isn't full coverage, Eureka! has an excellent track record with overall construction and waterproofing, so for most summer camping trips you're going to be just fine. The Copper Canyon is 12' by 14' and includes a roll up privacy wall that can create two rooms. It boasts 7 feet of vertical space, plus features gear lofts and stash pockets to store flashlights, toys, or smartphones. It even has a power port in case you want to run a power cord into your tent.
Learn more: 4-person | 6-person | 8-person | 12-person
3. REI Kingdom 6 Tent
The REI Kingdom 6 is, we admit, kind of funky looking, but the durable freestanding design grows on you. You get vertical walls with a simple and strong aluminum pole system and two large, easy-access doors, which can be surprisingly handy in a camping tent. You get a center zip-in divider wall. Better yet, you can add more living space with an add-on garage accessory that zips onto the tent — so cool. The Kingdom series is sometimes overlooked because you can only get it at REI, but it's definitely one of the best camping tents. The only downside is the price, but you get excellent quality overall — like those lightweight and strong aluminum poles.
Learn more: 4-person | 6-person | 8-person
4. Cabela's Getaway 6-Person Dome Tent
Cabela's has been investing in new and improved tents lately, so we're not surprised to find Cabela's here again with its Getaway 6-Person Dome Tent: One of the dangers of a two-pole design in a large 6-person dome tent is the amount of pressure placed on the pole system — cheap fiberglass poles will likely break, which means your "great deal" is a failure once you're out camping. Aluminum poles are the best, but Cabela's has tackled this problem by using durawrap fiberglass poles with fibers that crisscross instead of run only vertically, which makes them stronger and far less likely to splinter under pressure. The benefits of a two-pole 6-person tent is the simplicity of setup and lighter weight. If you're leaning toward a 6-person, 2-pole dome tent, the Cabela's Getaway version offers a fantastic price-to-value ratio. Highly recommended.
Learn more: 4-person | 6-person
5. Eureka! Boondocker Hotel 6-Person Tent
The new Eureka! Boondocker 6-Person Tent is one of the most versatile and livable 6-person tents to land in 2018. The aluminum pole system is crazy strong. The poles are lightweight but stout, giving you vertical sidewalls with a sturdy overall design. There is plenty of mesh and when you put on the rain fly with the massive "gear garage" vestibule, you still get good high-low venting when it's hot out. There are six interior mesh pockets, along with an included hanging gear storage shelf. The 10′ x 9′ floor gives you a great rectangle of sleeping space and the gear garage creates an extension that gives you even more room for storing bikes or duffle bags out of the rain. There is even more to this tent, though: The rain fly between the gear garage and the front door unzips and pulls out to let you create a sun shade awning. If you're camping with kids, you might opt to not use the front door and just filter traffic through the gear garage and side door. And get this: The Boondocker is one of the few tents that includes a footprint. The whole package weighs in at just under 20 pounds, making it surprisingly lightweight for car camping. All-in-all, the Boondocker is sturdy, roomy and versatile. Highly recommended.
Learn more: 6-Person
6. The North Face Wawona 6-Person Tent
We're fans of bright orange tents for some reason, and The North Face Wawona 6-Person Tent delivers. Beyond the compelling color, the overall design is roomy, robust, and features an excellent coverage vestibule that's easy to get in and out of. Includes a rear door with an additional small vestibule. Internal dry lines let you hang-dry wet clothing. The only downside is that it's a single-wall tent, but The North Face includes top vents to increase air flow.
Learn more: 4-person | 6-person
7. Columbia Fall River Instant 10-Person Tent
The best thing about the Columbia Fall River Instant 10-Peron Tent is also the worst: the instant 60-second setup time. First, the tent incorporates a super cool connected pole support system that folds up and down. This makes setup, especially for a cabin tent, easier than ever. And the downside? The overall package size. Sure, 10-person tents are large, but this tent has a particularly bulky packed size. So, the pro is super easy setup, the con is extra bulk. If you struggle with pitching tents and have plenty of room in your pickup or SUV, this is the massive tent you've been looking for. One note: We're not fans of the 6-person design — the larger cabin-style versions make better sense.
Learn more: 8-person |10-person
8. Big Agnes Big House Deluxe 6
The Big Agnes Big House Deluxe 6 blends quality with ultralight materials, creating a strong tent with vertical side walls that packs down into a tight package that weighs about 13 pounds — great for small car camping. It doesn't come with a vestibule, but you can buy a large vestibule add-on, which we recommend you consider because it also gives your front door better rain fly coverage if you tend to camp in wet and windy conditions. We like the built-in welcome mat, which is handy when the ground is wet or sandy. It also includes sidewall pockets suitable for tablets. Choose Big Agnes if you place a premium on lightweight quality. (If you're willing to lose some verticality in the sidewalls and save $70 or so, check out the Rabbit Ears 6 for a similar lightweight option.)
Learn more: 4-person | 6-person
9. Kodiak Canvas Flex-Bow Deluxe 8-Person Tent
If you want to kick it old school and go with a super durable waterproof canvas tent, it's hard to go wrong with this Kodiak Canvas Flex-Bow Tent. Its 10×14 vinyl floor is tough and the height is 6'6". Overall you get a four-season capable tent that can handle bad weather and wind. The zippers are stout, which we greatly appreciate, and the poles are galvanized steel to protect them from the elements. Despite how robust this tent is, one person can set it up without much trouble. Pretty cool, actually, and it boasts great owner satisfaction. Any downsides? It weighs about 80 pounds.
Learn more: 4-person | 6-person | 8-person
Note: Where's the #10 pick? You'll have to skip down to the budget tent section to find it . . . meanwhile, we have several more truly great tents to share that are worthy of your consideration — we couldn't bear to leave them out. Good stuff here, too: 
REI Co-op Base Camp 6 Tent
If you want a large freestanding dome tent and plan to camp on the beach or in relatively windy areas, take a look at the REI Co-op Base Camp 6 Tent. It combines a mountaineering inspired dome architecture that gives you an 8'3" x 10' rectangle floor. It comes with a full-coverage rain fly and a large vestibule, in addition to a second door with a smaller vestibule in the back. It all packs down into a sweet backpack duffle bag with an overall trail weight of less than 18 pounds. Highly recommended.
Learn more: 4-person | 6-person
Cabela's Hybrid Cabin Tent
Like we said, Cabela's has doubled-down on making a wide variety of great tents. The Cabela's Hybrid Cabin blends the best features of heavy-duty cabin tent designs with lighter dome tents that have better rain fly coverage. You get a massive tent that can be split into two rooms with plenty of windows and interior mesh pockets. We particularly like the mesh ceiling for those clear summer nights.
Learn more: 8-person
*Runner-up: The Cabela's Getaway Cabin lineup comes in some interesting options. The 6-person is basic at a great price while the 4-person includes a built-in screen house while the 8-person includes two-doors and a big vestibule.
Browning Big Horn 8-Person Tent
The Browning Big Horn 8-Person Tent has a standard cabin design. It's basic but gets the job done well with decent overall construction, including steel poles with well-supported fiberglass poles across the roof, which gives you a whopping 87-inches of interior center height. While we generally steer friends and family toward the Eureka! Copper Canyon for this style of tent, the Browning Big Horn costs a bit less — if you're on a tighter budget but want a decent cabin-style tent, put the Browning Big Horn on your shortlist.
Learn more: 8-person
Big Agnes Flying Diamond 8 Tent
Known for ultralight backpacking tents, the Big Agnes Flying Diamond tent is one of the few 3+ season tents available for families, which means this tent is tough enough to handle rougher spring and fall weather. You get 123 square feet of floor space yet it weighs just 22 pounds. Big Agnes might seem like a funny brand name, but the company makes high quality gear, and this tent should last years. It's arguably the best family camping tent because it's so versatile, tough, and lightweight all at the same time. It has a whopping 16 interior mesh pockets, a room divider, gear loft hooks, and a vestibule. There is a lot of hard-core awesomeness here.
Learn more: 4-person | 6-person | 8-person
L.L.Bean Vector XL 6-Person Tent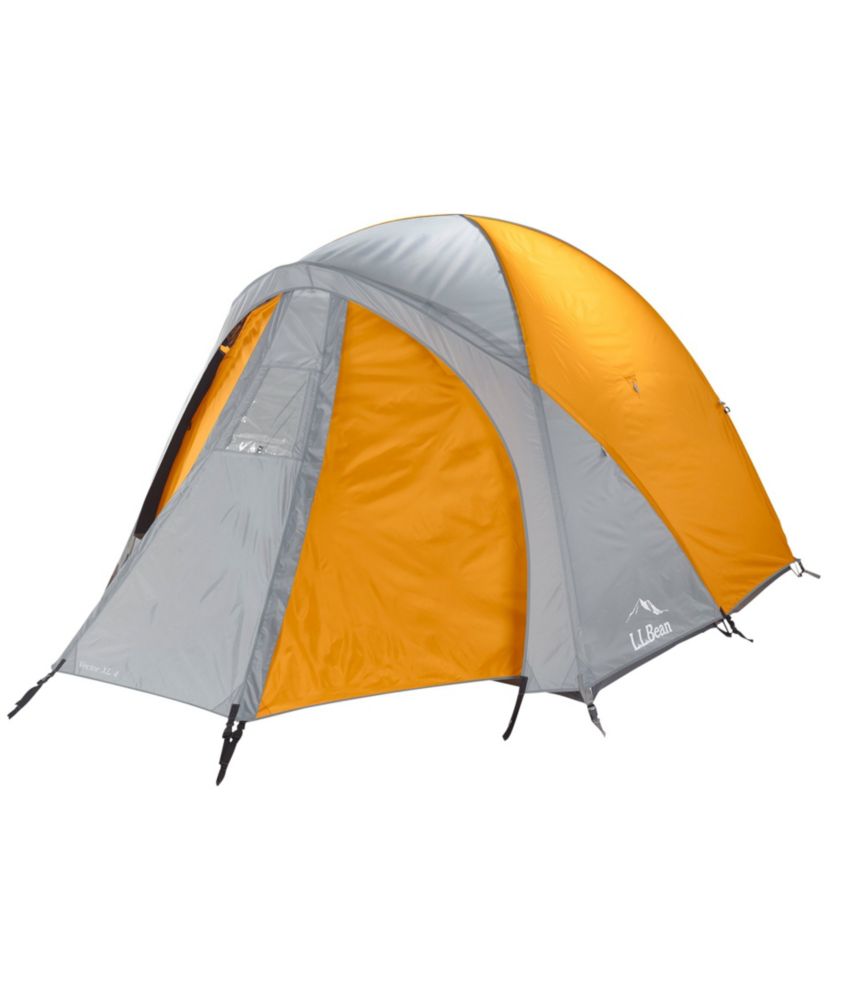 The 3-pole design of the L.L.Bean Vector XL dome tent gives it a bit more stability than most two-pole designs. It has a large vestibule and full-coverage rain fly. We especially like the aluminum poles and upgraded nylon floor. Pretty solid overall — choose the Vector if you appreciate L.L.Bean's legendary customer satisfaction guarantee.
Learn more: 4-person | 6-person
Kelty Trail Ridge 6 Tent
This freestanding Kelty Trail Ridge 6 dome tent features aluminum poles and pretty much does everything right — full-coverage rain fly with two doors and a two vestibules. Plenty of mesh, gear loft loops, and it all weighs a reasonable 16 pounds and comes in at a very competitive price point for a 6-person tent that uses high-quality aluminum poles.
Learn more: 4-person | 6-person | 8-person
*Note: Choose the Kelty Yellowstone 6 only if you're on a really tight budget.
Marmot Limestone 6
The Marmot Limestone 6 is a big and tall tent built with a backpacking sensibility — it's more than 16 pounds, but that's far less than most cabin tents this size, so if you want big space that's relatively lightweight, this is the right tent. It uses strong and lightweight aluminum poles (better than fiberglass). So why would you choose the Marmot over the Big Agnes Big House 6 Deluxe? The Marmot weighs a little more, but the key benefit is that its rain fly includes a decent front door vestibule.
Learn more: 4-person | 6-person | 8-person
Best Budget Family Camping Tents
It's hard to recommend a truly great budget, a.k.a. cheap, family camping tent because big tents and cheap materials just don't go well together. The stress placed on poles and materials in a 4-person tent are way less than they are in a 6-person tent. You risk breaking poles during setup, and if there's a few strong gusts of wind, cheap tents can collapse while you're inside them, which tends to freak out kids and dogs. So pole breakage is your key risk, other than having tie-downs break or seams leak. So proceed with caution and invest in a roll of high-quality duct tape for in-the-field repairs. That said, we usually error toward Coleman or Alps Mountaineering when we're looking for truly inexpensive tent options.
10. Coleman Montana 8-Person Tent
The great thing about the Coleman Montana 8-Person Tent is that it's one of the few inexpensive 8-person "budget" tents that has a surpisingly usable design. It uses multiple poles to create a big rectangular setup, and while you need to stake it down for decent results, it's relatively solid when you do. The rainfly offers good (but not fantastic) coverage. The single door in the middle works out well. Treat this tent gently during setup, and it should get you through at least several good trips.
Learn more: 6-person | 8-person
Coleman Sundome 6 Person Tent
The under $100 price is fantastic and the rainfly offers decent coverage. Be careful when you bend the poles to set it up, and when you tie it down, do a good job. Avoid heavy winds. In fact, let's say all this again: Be careful when you set it up and avoid heavy winds.
Learn more: 4-person | 6-person
ALPS Mountaineering Meramac 6 
The Meramac 6 is a great budget 6-person family camping tent. You can often find it for less than $150, and while there are some cheaper tents out there, ALPS Mountaineering has a level of quality a couple notches higher than most of its entry-level competition. Just make sure you use at least two people to set it up and go slow and easy with the poles. No vestibule, but the rainfly has excellent coverage down the sides.
Learn more: 4-person | 5-person | 6-person
Super Cool and Sort of Wild Family Camping Tents
Heimplanet Nias Cairo Tent — The Heimplanet Nias Cairo Tent looks like a cross between a stealth bomber jet and an alien cargo box. It totally rethinks tent setup and design. Instead of heavy poles, it uses an inflatable support system. All you have to do is pump up the inflatable poles and the tent nearly sets itself up. So cool. On the flip side, it's not much for windows, but if you don't want to look like everyone else's camp, this tent is for you. Oh, and yes, it's a bit spendy. Get the camo version to complete the alien look.
Wenzel Shenanigan Teepee Camping Tent — The Wenzel Shenanigan does not have a design we'd trust for extended rain, but it will deliver a fun and jaunty experience for summer weekend getaways and backyard sleepovers.
Tentstile Connect Tree Tent — This astounding hammock-like "tree house" tent only sleeps two, but it's 100% fun that will delight kids and all but the grouchiest adults. You need three stout trees to set it up. The cool thing about the Connect version of the Tentsile lineup is the you can connect three tents together to setup a sort of super-camp tent system. It's certain to create some awesome memories, because seriously, who doesn't like tree houses? Who doesn't like hammocks? If you're not sure about connecting multiples together, check out the sweet Tentsile Stingray, which can sleep three adults or two adults with two children. The bottom line is, if you're going camping in a spot with plenty of trees, pick up a tentsile tent and don't look back.
Looking for more camping gear?
Check out our guide to the 35 Best Camping Gifts 2018.