Disclosure: Man Makes Fire is reader-supported. When you buy gear using retail links on our site, we may earn an affiliate commission that helps pay for our work. Learn more.
The best family camping tent for 2020 and beyond should give you plenty of room, shed rain, handle wind, and be packable for car camping. Better yet, the best tent for you should fit your budget — but also be reasonably durable. We always recommend that you don't skimp out with a truly cheap tent because you don't want it to break when you're finally out camping.
The best camping tents for families are usually dome tents or cabin-style tents because they're relatively simple to set up and tend to produce usable spaces. In addition, the best all-around camping tents usually have a separate full-coverage rain fly. You want a good rain fly because you don't want wet sleeping bags and crying kids. If you have to hang out in your tent during a long rainstorm, the best tents for rain almost always have a separate rain fly cover.
There are a lot of great tents for family camping in 2020 but when we're forced to recommend just the 10 best camping tents for quick answers, we obviously have some favorites:
Which are the top family camping tents?
If you want to know why these are our top family camping tents, we dive into the details below, as well as cover several more tents that might better fit your needs, budget or even your personality. If you need help understanding the features that go into the best tents for family camping, keep reading — after our list of the best family tents, we cover the most important decision factors for choosing a tent for camping with kids.
Oh, one more thing: We recommend that you avoid the slew of cheap knockoff tents hitting the market these days. Why? Torn zippers, blown seams, wet sleeping bags, broken poles . . . it's hard enough to get the family together for a camping trip, why risk a bad experience on poorly made gear? It's not worth it. Meanwhile, check out these tents for 2020 and beyond:
21 Best Family Camping Tents for 2020
If you're looking for a specific size, many of the best tents have designs that translate into 4-person, 6-person, 8-person, 10-person, or even 12-person models. Our picks go to the best overall usability and value, erring toward the highly versatile 6-person tent size.
Best Overall Value Family Camping Tent
1. Cabela's West Wind 6-Person Dome Tent
The Cabela's West Wind 6-Person Dome Tent nails all of our primary requirements in a family camping tent. It boasts one of the best and most usable vestibule systems we've seen, is relatively freestanding, is 6'3" tall, and it's affordable. While it's not the most inexpensive family tent on this list, it offers the best overall value (see our full West Wind tent review for more detail). It's well designed with plenty of mesh for airflow in fantastic weather as well as has a full-coverage rain fly. The floor measures 9'6" x 12′, giving it an 83.2 square foot floor while the vestibule adds in 19 more square feet. Better yet, the dome system uses four different pole sections giving it great stability (better than just two poles).
The West Wind comes with a gear loft and a hanging entertainment system that will let you slip a tablet into a pocket so that kids can watch a video from their sleeping bags while parents enjoy some adult time around the campfire — or try to get a few more minutes of sleep when the kids wake up too early.
Learn more: 4-person | 6-person | 8-person
Cabela's West Wind 6-Person Dome Tent
Pros
Excellent built-in vestibule
Full-coverage rain fly
Outstanding price-to-value ratio
Cons
Hexagonal shapes aren't as efficient for sleeping arrangements as rectangles (but often do better in wind)
Best Overall Design
2. REI Co-op Kingdom 6 Tent
The REI Co-op Kingdom 6 is, we admit, kind of funky looking, but the durable freestanding design grows on you. In fact, this year's newly updated 2019 design is easier to set up and has increased stability. You get vertical walls with a simple and strong aluminum pole system and two large, easy-access doors, which can be surprisingly handy in a camping tent. You also get a center zip-in divider wall. Better yet, you can add more living space with an add-on Kingdom Mud Room that connects to the tent — so cool. Incidentally, this Mud Room is very similar to the previous generation 'garage' add-on, but the old version doesn't fit the newer 2019 tents.
In addition, REI has added a new Kingdom Porch, which is basically a large sun-shade that attaches to a door. It can also be used separately if you decide to hit the beach or a picnic spot. The Kingdom Porch includes two wind walls that can be attached and removed for extra protection. All-in-all, the Kingdom series is sometimes overlooked because you can only get it at REI, but it's definitely one of the best camping tents. The only downside is the price, but you get excellent quality overall — like those lightweight and strong aluminum poles. For more detail, check out our full Kingdom 8 review. Very highly recommended. 
Learn more: 4-person | 6-person | 8-person
Best 12-Person Family Tent
3. Eureka! Copper Canyon 12-Person Tent
If you're looking for maximum living space in a cabin-style tent, it's hard to go wrong with the popular and affordable Eureka! Copper Canyon series. While the rain fly isn't full coverage, Eureka! has an excellent track record with overall construction and waterproofing, so for most summer camping trips you're going to be just fine. The Copper Canyon is 12' by 14' and includes a roll up privacy wall that can create two rooms. It boasts 7 feet of vertical space, plus features gear lofts and stash pockets to store flashlights, toys, tablets or smartphones. It even has a power port in case you want to run a power cord into your tent.
Learn more: 4-person | 6-person | 8-person | 12-person
Best Tent with a Gear Garage
4. Eureka! Boondocker Hotel 6-Person Tent
The Eureka! Boondocker 6-Person Tent is one of the most versatile and livable 6-person tents for 2020. The aluminum pole system is lightweight but super strong — despite the near vertical sidewalls, the tent is sturdy. We spent some quality time in this tent last summer, and when the sun started baking down, we moved our coolers into the gear garage for the shade — check out our full Boondocker review. Meanwhile,  there is plenty of mesh for air flow in the main tent: When you put on the rain fly with the massive "gear garage" vestibule, you still get good high-low venting when it's hot out. There are six interior mesh pockets, along with an included hanging gear storage shelf. The 10′ x 9′ floor gives you a great rectangle of sleeping space and the gear garage creates an extension that gives you even more room for storing bikes or duffle bags out of the rain.
There is even more to this tent, though: The rain fly between the gear garage and the front door unzips and pulls out to let you create a sun shade awning. If you're camping with kids, you can opt to not use the front door and just filter traffic through the gear garage and side door. And get this: The Boondocker is one of the few tents that includes a footprint. The whole package weighs in at just under 20 pounds, making it surprisingly lightweight for car camping. All-in-all, the Boondocker is sturdy, roomy and versatile. Very highly recommended.
Learn more: 6-Person
Best Lightweight & Roomy Family Tent
5. Big Agnes Big House Deluxe 6
The Big Agnes Big House Deluxe 6 blends quality with ultralight materials, creating a strong tent with vertical side walls that packs down into a tight package that weighs about 13 pounds — great for small car camping. It doesn't come with a vestibule, but you can buy a large vestibule add-on, which we recommend you consider because it also gives your front door better rain fly coverage if you tend to camp in wet and windy conditions. We like the built-in welcome mat, which is handy when the ground is wet or sandy. It also includes sidewall pockets suitable for tablets.
Choose Big Agnes if you place a premium on lightweight quality. (If you're willing to lose some verticality in the sidewalls and save $70 or so, check out the Rabbit Ears 6 for a similar lightweight option.) See our full Big House Deluxe 4 review for more detail.
Learn more: 4-person | 6-person
Most Durable Family Camping Tent
6. Kodiak Canvas Flex-Bow Deluxe 8-Person Tent
If you want to kick it old school and go with a super durable waterproof canvas tent, it's hard to go wrong with this Kodiak Canvas Flex-Bow Tent. Its 10′ x 14′ vinyl floor is tough and the height is 6'6". Overall you get a four-season capable tent that can handle bad weather and wind. The zippers are stout, which we greatly appreciate, and the poles are galvanized steel to protect them from the elements. Despite how robust this tent is, one person can set it up without much trouble. Pretty cool, actually, and it boasts great owner satisfaction.
New for this year, Kodiak Canvas has added a surprisingly affordable canvas Wing Vestibule, giving you extra weather and shade coverage with a more protected entry. Any downsides to the Flex-Bow? Canvas is stout-but-heavy: It weighs about 80 pounds.
Learn more: 4-person | 6-person | 8-person
Best Family Tent for Bad Weather
7. Big Agnes Flying Diamond 8 Tent
The Big Agnes Flying Diamond 8 tent is one of the few 3+ season tents suitable for families, which means this tent is tough enough to handle rougher spring and fall weather — and potential storms at higher elevations. You get 123 square feet of floor space yet it weighs just 22 pounds. Big Agnes makes high quality gear, and this tent should last for years. It's arguably the best family camping tent because it's so versatile and lightweight all at the same time. It has a whopping 16 interior mesh pockets, a room divider, gear loft hooks, plus a vestibule. There is a lot of hard-core awesomeness here.
Learn more: 4-person | 6-person | 8-person
Best Waterproof Camping Tent
8. Cabela's Alaskan Guide Model Geodesic 8-Person Tent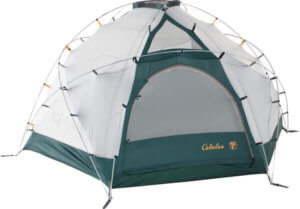 The Cabela's Alaskan Guide Model Geodesic 8-Person Tent is bigger than it first appears — the center height is a whopping 6′ 8″. As for durability, this tent has stood the test of time: Cabela's originally designed it more than two decades ago to handle harsh wind and rain in Alaska, as well as snow. Of course, Cabela's has upgraded the fabrics and components over time, making it better than the original. For instance, the full-coverage rain fly boasts a 2,000mm-rated polyurethane coating while the floor uses a thicker 3,000mm-rated coating to block water from below. The shape and six-pole system offer superb stability.
While Cabela's originally developed this tent for hunting camps, the inside amenities and organization also make this a great for families: You get three mesh panels and a gear loft. Better yet, Cabela's includes four interior cup holders to keep your drinks from spilling. Nice.
Learn more: 4-person | 6-person | 8-person
Best Family Backpacking/Camping Tent
9. REI Co-op Half Dome 4 Plus Tent
The best backpacking tents are usually ruled by 2-person and 3-person designs that are truly ultralight, but what if you are a family of four who wants to share just one tent? With a minimum trail weight of just over 7 pounds, the REI Co-op Half Dome 4 Plus Tent gives you a large 92″ x 92″ square floor. Adults can't stand up in this tent, but the near vertical sidewalls make it seem roomy. Multiple interior pockets and hang loops give you options for organization. Technically, while you could easily pack two 2-person tents with a total weight of less than 5 pounds or so, not all campgrounds have spots that let you put up multiple tents.
So for a family of four looking for both a camping tent and a usable backpacking tent, the REI tent is affordable, durable, and roomy — see our full Half Dome 4 Plus review for more detail. (If you're looking for one of the very lightest 4-person backpacking tents, try the sweet Big Agnes Copper Spur HV UL 4 Tent, but you may be better off spreading your gear budget around on lighter sleeping pads or sleeping bags.)
Learn more: 4-person 
Best Budget Family Camping Tent
10. Coleman Montana 8-Person Tent
The great thing about the Coleman Montana 8-Person Tent is that it's one of the few inexpensive 8-person "budget" tents that still has a surprisingly usable design. It has multiple poles that create a big rectangular setup, which makes sleeping arrangements easy. While you need to stake it down for decent results, it's relatively solid when you do stake it out properly. The rainfly offers good (but not fantastic) coverage. The single door in the middle works out well because family camping usually results in multiple people frequently entering and exiting the tent while trying not to wake up others.
If you treat this tent gently during setup, it should get you through at least several good camping trips — even with a bit of rain and wind.
Learn more: 6-person | 8-person
More Great Tents
There are many truly fantastic tents available in 2020, and while the following tents didn't technically make our top 10 list, there might be a tent here that better fits your particularly needs and interest. Here are 11 more family camping tents worthy of your consideration:
Best Door for Kids
11. L.L.Bean Acadia 8-Person Cabin Tent
The new L.L.Bean Acadia 8-Person Cabin Tent seems as if it were specifically designed for family camping. The 14′ x 9′ floor is roomy and the center height is a whopping 6′ 10″. Better yet, this cabin-style tent has a self-closing door that uses magnets to keep it securely shut. If you've ever gone camping with kids, this feature alone should get your attention. Meanwhile, there's much more: L.L.Bean included a pet vestibule with its own door. Some dogs aren't sure where to go in family tents, and if they're wet, a dedicated nook is a great idea. The room divider can double as a movie screen — assuming you have a portable projector — and there is a port to let you run a power cord inside the tent for lights, fans, or whatever else you might need. Gear loft included, of course. The Acadia has strong steel legs with fiberglass roof poles. It weighs 37.5 pounds but includes a rolling duffle for transport and storage.
Learn more: 8-person
Best Family Camping Tent Under $100
12. Coleman Sundome 6 Person Tent
The under $100 price point for the Coleman Sundome 6 is fantastic and the rainfly offers decent coverage. Be careful when you bend the poles to set it up, and when you stake it down, do a good job. Avoid heavy winds because this tent is only supported by two fiberglass pole sets. In fact, let's say all this again: Be careful when you set it up and avoid heavy winds. If your expectations of long-term durability and rain protection are modest, the Coleman Sundome series is simply the best option we're willing to recommend at the sub-$100 price point. If you can squeeze into the 4-person version, we've even seen the price occasionally dip below $50, which is a fantastic deal for casual camping in generally good weather. Heck, if your campground allows it, nabbing the 4-person version as a "play" tent for the kids could be money well spent.
Learn more: 4-person | 6-person
13. The North Face Homestead Super Dome 4 Tent
The best feature of The North Face Homestead Super Dome 4 Tent is its jaunty design. It's clearly built to look fun, but its rakish pole angles are also designed to handle bad weather. Color options include a vintage white desert floral print, a shady blue with papaya orange, or a geodesic zinnia orange low poly citrine yellow. We kid you not. Stylish names aside, they all look great, and we appreciate the effort.
We wouldn't want to fit four grown adults into this tent, but two adults and two kids is doable if you each have a lightweight sleeping pad or air mattress. You can stand up in the Homestead Super Dome 4. The vestibule is part of the rain fly, and while it's not huge, it's always nice to have a protected spot for shoes and miscellaneous gear.
Learn more: 4-person
14. The North Face Wawona 6-Person Tent
We're fans of bright orange tents — who isn't? — and The North Face Wawona 6-Person Tent delivers. Beyond the compelling color, the overall design is roomy, robust, and features an excellent coverage vestibule that's easy to get in and out of. Includes a rear door with an additional small vestibule. Internal dry lines let you hang-dry wet clothing. The only downside is that it's a single-wall tent, but The North Face includes top vents to increase air flow and the quality is great.
Learn more: 4-person | 6-person
Best Instant-Up Tent
15. Coleman 6-Person Instant Cabin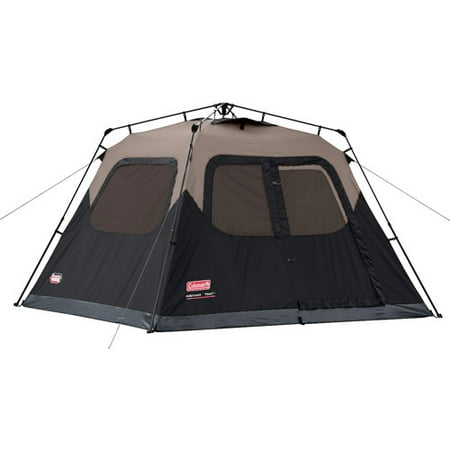 We don't usually recommend instant-up pop-up types of tents because they tend to be cheaply manufactured and are difficult to repair. Still, for camping in generally good weather, the Coleman 6-Person Instant Cabin is pretty good. Two people can get it up in about a minute. It has integrated vents at the top, a 6′ center height and a 10′ x 9′ floor.
While it's mostly rainproof as-is, we wouldn't choose this tent for a bad weather. Coleman does offer a Rainfly Accessory, which greatly improves the rain coverage by covering most of the seams where leaks might develop over time. For best results, make sure you do a good job of staking this tent once you get it up.
Learn more: 4-person | 6-person | 8-person 
16. REI Co-op Base Camp 6 Tent
If you want a large freestanding dome tent and plan to camp on the beach or in relatively windy areas, take a look at the REI Co-op Base Camp 6 Tent. It combines a mountaineering inspired dome architecture that gives you an 8'3" x 10' rectangle floor with a peak height of 6′. It comes with a full-coverage rain fly and a large vestibule, in addition to a second door with a smaller vestibule in the back. It all packs down into a sweet backpack duffle bag with an overall trail weight of less than 18 pounds. Highly recommended.
Learn more: 4-person | 6-person
17. Browning Big Horn 8-Person Tent
The Browning Big Horn 8-Person Tent has a standard cabin design. It's basic but gets the job done well with decent overall construction, including steel poles with well-supported fiberglass poles across the roof, which gives you a whopping 87-inches of interior center height. While we generally steer friends and family toward the Eureka! Copper Canyon for this style of tent mentioned above, the Browning Big Horn costs a bit less.
If you're on a tighter budget but want a thoroughly decent cabin-style tent, put the Browning Big Horn on your shortlist.
Learn more: 8-person
17. L.L.Bean Vector XL 6-Person Tent
The 3-pole design of the L.L.Bean Vector XL dome tent gives it a bit more stability than most two-pole designs. It has two doors, a large vestibule, a window in the vestibule, and a full-coverage rain fly. The front vestibule is built into the tent instead of part of the rain fly — this design makes it easier to orient the rain fly during setup. We especially like the high-quality aluminum poles and upgraded nylon floor. Pretty solid overall — choose the Vector if you appreciate L.L.Bean's legendary customer satisfaction guarantee.
Learn more: 4-person | 6-person
18. Kelty Trail Ridge 6 Tent
The freestanding Kelty Trail Ridge 6 dome tent features aluminum poles and pretty much does everything right: It has a full-coverage rain fly with two doors and a two vestibules. You get plenty of mesh, gear loft loops, and it all weighs a reasonable 16 pounds and comes in at a very competitive price point for a 6-person tent that uses high-quality aluminum poles.
Learn more: 4-person | 6-person 
19. Marmot Limestone 6
The Marmot Limestone 6 is a big and tall tent built with a backpacking sensibility — it's more than 16 pounds, but that's far less than most cabin-style tents of this size, so if you want big space that's relatively lightweight but still durable, this is a great tent. It uses strong and lightweight aluminum poles (which are, again, better than fiberglass). So why would you choose the Marmot over the Big Agnes Big House 6 Deluxe? The Marmot weighs a little more, but the key benefit is that its rain fly includes a decent front door vestibule.
Learn more: 4-person | 6-person | 8-person
20. ALPS Mountaineering Meramac 6 
The ALPS Mouuntaineering Meramac 6-Person Tent is a great budget 6-person family camping tent. You can often find it for less than $150, and while there are some cheaper tents out there, ALPS Mountaineering has a level of quality a couple notches higher than most of its entry-level competition. Just make sure you use at least two people to set it up and go slow and easy with the poles. No vestibule, but the rainfly has excellent coverage down the sides.
Learn more: 4-person | 5-person | 6-person
Best Tree Tent
21. Tentstile Connect Tree Tent
The Tentstile Connect Tree Tent is an astounding hammock-like "tree house" tent that only sleeps two, but it's 100% fun. You need three stout trees to set it up. The cool thing about the Connect version of the Tentsile lineup is the you can connect three tents together to setup a sort of super-camp tent system. It's certain to create some awesome memories, because seriously, who doesn't like tree houses? Who doesn't like hammocks?
If you're not sure about connecting multiples together, check out the sweet Tentsile Stingray, which can sleep three adults or two adults with two children. The bottom line is, if you're going camping in a spot with plenty of trees, pick up a tentsile tent and don't look back.
How to Choose the Best Family Camping Tent
Here are a few key tent features you should consider before you choose your own best camping tent for family camping or the right car-camping tent for a quick weekend trip with your buddies:
Best Family Camping Tents: Freestanding Tents
The best camping tents for families are relatively freestanding, which makes them easier to set up in most locations. If you choose a camping tent that requires a lot of guy lines staked around the tent to hold its shape, you're inevitably going to have kids tripping over those little cords as they run around and play. That usually just results in a crying kid, but sometimes it breaks your tent or the kid. So we like tents that will stand mostly on their own — and then have plenty of tie downs just in case you need them for bad weather.
How big of a tent do you need for family camping?
When you're looking for a camping tent, you should choose a tent slightly larger than the number of people you expect to sleep in the tent. In other words, error on the side of caution and go bigger than you think you'll need. Why? While it's possible to fit four people in a typical 4-person tent, the amount of space for each person will be only about the amount of space a typical sleeping bag takes up. If you want room for larger sleeping pads, cots, or simply room for a family dog or a place to stand and dress, you should consider larger tents.
For instance, a family of four will have a more enjoyable camping experience if you choose a 6-person tent. In addition, what if an extra person comes along on a camping trip? Having an extra spot for another sleeping bag gives you more flexibility. In a worse case situation, having a bit more room is just handy when it's time to change clothes. One last point: Some campgrounds limit campers to one tent and only have a single tent pad, so one large tent is sometimes better than two smaller tents.
Best Family Camping Tent: Height
The best camping tents are tall enough for most adults to stand up in. Sure, tall guys expect to have to duck a bit, and that's fine, but look for tents that will make it easier to move around once you're inside. Height isn't always a critical decision factor, but again, when you're stuck in a tent waiting out a rainstorm, a taller tent means you can relax in comfort and possibly even hang some damp clothes to dry. You could set up a camp table and a few chairs, too.
Best Camping Tent: Vestibules & Porches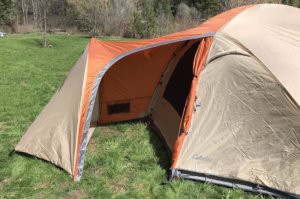 If you're camping with kids and dogs, one of the most annoying issues is the entry and exit point — we recommend that you bring a lightweight mat to stand on as you take off sandy or wet or muddy shoes. Better yet, the best family camping tents have vestibules or porch-like areas that are covered from the elements and let you keep your footwear dry . . . and outside of your tent's sleeping area. In addition, vestibules are a great place to stash gear, toys, or even a wet, muddy and stinky dog. (Yup, we've been there.)
Best Tents: Bathtub Floors & Fully Taped Seams
The best camping tents — or even backpacking tents for that matter — have bathtub type floors. Basically, these floors are turned up 4-to-8 inches all around the bottom edges, which makes the tent more water-resistant, even when it's windy, raining hard, or if you did a poor job during setup. As for fully-taped seams, the "tape" is glued or fused over the holes created by the stitching points, making the seam waterproof. We consider fully-taped seams a must-have requirement for all good camping tents.
A Word of Caution for Budget Tents
It's hard to recommend a truly great budget, a.k.a. cheap, family camping tent because big tents and cheap materials just don't go well together. The stress placed on poles and materials in a 4-person tent are way less than they are in a 6-person tent. You risk breaking poles during setup, and if there are a few strong gusts of wind, cheap tents can collapse while you're inside them, which tends to freak out kids and dogs. So pole breakage is your key risk, other than having tie-downs break or seams leak. So proceed with caution and invest in a roll of high-quality duct tape for in-the-field repairs. That said, we usually error toward Coleman or Alps Mountaineering when we're looking for truly inexpensive tent options.
Don't Forget the Sleeping Pads
If you choose a larger camping tent, you can often fit camping cots with ease. However, most sizes relate to each camper sleeping on a smaller lightweight air mattress. To choose the right air mattresses and sleeping pads for your family, check out our guide to the Best Sleeping Pads for Backpacking & Camping. In addition, if you're looking for great camping gear to round out your experience, check out our guide to the 35 Best Camping Gifts.
Need protection from pesky insects while eating?
Read our 12 Best Screen Houses for Camping guide to learn more!