Disclosure: Man Makes Fire is reader-supported. When you buy gear using retail links on our site, we may earn an affiliate commission that helps pay for our work. Learn more.
The Bow Buddy Bow Sling is a deceptively simple compound bow carrying sling designed for bowhunters.
Basically, the Bow Buddy Bow Sling is an adjustable nylon over-the-shoulder sling. It's surprisingly sturdy but lets you carry your bow hands-free . . . and then ready your bow for a shot in an instant.
Every bowhunter should have a Bow Buddy Bow Sling. Plus, recreational shooters and 3D shoot enthusiasts should have one, too. As far as I'm concerned, this review is like a public service announcement for bowhunters.
How It Works
Bow Buddy Bow Slings are made from nylon straps. Two connected loops slip over each cam on your bow while the connecting straps go over your shoulder and provide a bit of tension that keeps everything in place.
At first I was worried that a loop might slip off, especially while walking, but they never did. The Bow Buddy Bow Sling stays in place nicely. Very secure. Surprisingly secure, actually.
The key is to adjust the strap that runs parallel to your bow strings to the right length for optimum tension. You want each end loop to easily slide over each cam but not have too much slack. Just experiment with your bow — it's harder to describe how to adjust the Bow Buddy than it is to just adjust it yourself with your bow.
The shoulder strap, of course, should be set to match the height that you want your bow to hang off your shoulder.
Bow Buddy Bow Sling Review: In the Field
My elk hunting partner ran into these in Lewiston, Idaho and he bought three — one for me, one for him, and one for his dad. It was a good call.
We took the Bow Buddy Bow Slings elk hunting this September. Because the slings are so lightweight, we didn't hesitate to toss them in our hunting packs.
While you can actively hunt with the Bow Buddy over your shoulder, we usually carried our bows in our hands whenever we thought there might be a possible encounter with an elk. After a hunt is when the Bow Buddy came in most handy — those times when you have a mile or two of walking to get back to the pickup.
Of course, sometimes you can strap your bow to your backpack, but if you do that, you're bow isn't quickly accessible. We like to hunt grouse along the way, and the Bow Buddy excels in situations where you might want to use your bow quickly.
Another way you can use the Bow Buddy Bow Sling is in a vertical position. Obviously you need one free hand to steady your bow, but it takes the weight off. This is handy if you're standing around waiting for your turn to shoot at targets (or just waiting for your hunting buddy to get a move on).
Any Cons?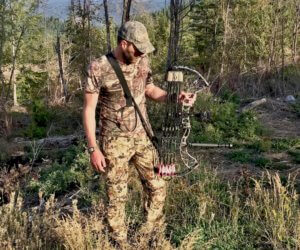 There are no real cons to the Bow Buddy Bow Sling, but I did notice that when you're not wearing a collared shirt . . . while you're also wearing a full-size hunting backpack — like the Mystery Ranch Mule (review here) — along with a bino chest pack, the nylon strap can rub against your neck. The issue arises over rougher terrain and only when you're trying to position the strap around a backpack shoulder strap, too. It's easily fixed with a collared shirt, but I plan to add a soft fabric sleeve to the shoulder strap itself in the off season. No biggie. This is the kind of simple fix guys like me dig anyway.
If you want to get one — and you should, seriously — the Bow Buddy Bow Slings website has a list of brick-and-mortar stores that sell the Bow Buddy Bow Sling, but it's also available online through Bob Ward's.
All-in-all, the Bow Buddy Bow Sling is sturdy, durable, and easy to use. We think most every bowhunter could use and appreciate a Bow Buddy Bow Sling. In fact, we think it's one of the best gifts for bowhunters we've seen in a long time. Get one for you — and another for your hunting buddy. Very highly recommended.
Disclosure: Man Makes Fire is reader-supported. When you buy gear using retail links on our site, we may earn an affiliate commission that helps pay for our work:
Get the Gear:
Pros
Ultralight
Fits most any compound bow
Incredibly handy in the field