Disclosure: Man Makes Fire is reader-supported. When you buy gear using retail links on our site, we may earn an affiliate commission that helps pay for our work. Learn more.
The Feathered Friends Flicker 20 Down Quilt Sleeping Bag is one of the best, most versatile ultralight sleeping bags for backpacking available today. We're big fans.
The Feathered Friends Flicker series starts with excellent materials then excels through its overall design. You can use the Flicker like a traditional mummy-style sleeping bag or unzip it entirely and use it like a quilt. But wait, there's more — you can even attach it underneath a hammock and use it as an underquilt.

To help us get a better feel for these design elements, Feathered Friends sent us with a Flicker 20 Down Quilt Sleeping Bag review unit. Our gear testers promptly took it backpacking into Oregon's Eagle Cap Wilderness area.
Here is what we learned.
Feathered Friends Flicker 20 Down Quilt Sleeping Bag Review
Feathered Friends is a small company based in Seattle, Washington that takes great pride in using high quality materials to produce some of the best down-based sleeping bags, quilts, and jackets. Their down is Responsible Down Standard (RDS) certified, which basically means it comes from ethically treated geese.
The down used by Feathered Friends in the Flicker 20 is very high quality down and rates at 900+ fill power.
Next, the company chooses several different types of fabric, looking for blends of durability, weight and feel they can transform into different versions of their products. The 'Nano' version of the Flicker we tested used Schoeller NanoSphere 20 denier water-resistant, breathable fabric.
Feathered Friends has since upgraded the fabrics it uses in the Flicker series. The Flicker 20 YF version uses a Pertex YFuse Quantum 20 denier mini-ripstop fabric with a DWR coating. This fabric has unique Y-shaped filaments that improve down retention and water resistance. The regular weighs 1 lb. 11 oz while the long comes in at just over 1 lb. 12 oz.
The Flicker 20 UL version uses an ultralight Pertex Endurance 10 denier fabric that shaves another ounce or so off the overall weight.
Either of these fabrics are great, but an extra ounce seems more than a fair compromise to get the slightly more durable YFuse fabric.
As for sizing, if you're above average in size at all, we recommend going with the wide-long versions to give you extra versatility. They only weigh about 2-ounces more but increase your coverage and/or sprawl room if you zip it up. It's worth it to us even when we're looking at cutting weight from our packs. Either way, any down sleeping bag or quilt that weighs less than 2 pounds is generally a great backpacking sleeping bag — and the Flicker is a great bag, no doubt about that.
In case you're wondering, some of the company's materials are sourced from around the world, but Feathered Friends manufactures their products in the United States — and somehow keeps its pricing competitive at the same time. Obviously we appreciate that.
The Feathered Friends Flicker Design: Pure Awesomeness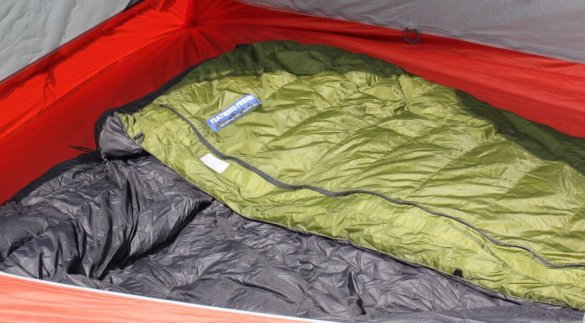 The Feathered Friends Flicker design is pure awesomeness. Its design caught our attention because it is so surprisingly simple yet capable of handling different sleeping styles in different situations. You can use the Flicker zipped up as a regular sleeping bag . . . or unzipped like a quilt. Some of the best high-country backpacking weather is in August, which means that you can have warm nights. When it's hot, having a bag that you can use like a quilt gives you a lot of freedom to regulate heat and move your legs into any sleeping position you want. In fact, generally speaking, the more we use quilt-style sleeping bags the more we like the freedom of movement they accommodate.
Unzipped, the Flicker has a trapezoidal sort of shape that gives you generous quilt-like coverage with plenty of material to cover your shoulders as you roll over on your sleeping pad. When it's zipped, you get standard mummy-style sleeping bag shoulder and hip room.
To turn the quilt into a sleeping bag, you just zip it up and then use a drawcord to cinch the foot box area closed. Feathered Friends has sized the bottom appropriately for this — my size 14 feet, for instance, fit just fine. The end of the foot box closes up nicely and the down is so great it puffs up well enough to keep your feet insulated. One tester woke up with a couple of inches of snow on his tent one morning and reported staying toasty all night.
If you use the Flicker unzipped, Feathered Friends includes several small webbing loops that could let you attach it to a cord to run underneath your sleeping pad if you need or want a little help keeping the quilt tucked around you. At the same time, you can use these loops to attach the quilt to the underside of a hammock (underquilts provide insulation from cold moving air that flows under you when you sleep in a hammock).
Other key design elements include a snag-free zipper that works well even one-handed, a great draft collar to help seal out cold air, as well as a generous draft tube around the full-length zipper.
Feathered Friends Flicker Review: Better Bag or Better Quilt?
You don't have to choose a quilt over a sleeping bag or vice-versa. You can have both — and use both even in the same night. Plus, if you think that you might want to try hammock backpacking sometime, the Flicker is ready for you with its underquilt attachment loops.
There is only one slight con to the Flicker design but it only matters if you're a fan of mummy-style hoods. One of our testers, for example, likes to place a pillow inside the hood area of a traditional bag, which keeps the pillow in place during the night — so she missed having a hood. On the other hand, if you're a stomach sleeper, traditional hoods pretty much just get in the way unless it's so cold that you must use one. My advice? If you expect the chance of truly chilly weather backpacking, you ought to be taking along a stocking cap anyway. A stocking cap will cover you most of the time for plenty of cool conditions — especially if you're a stomach sleeper.
Feathered Friends Flicker Review: Sizing and Material Choices
The Feathered Friends Flicker series lets you choose the width and length. You can get a Regular, a Regular Wide, a Regular Long or a Wide and Long version. If you think you might want to snuggle with a friend using the bag like a full quilt, get the Wide and Long version. In fact, the Wide and Long version easily covers the entire bottom of most 2-person backpacking tents.
The Regular is 6' 6" long while the Long is 7' long. If you turn the quilt into a sleeping bag by cinching up the bottom, you'll lose about six inches of length to make the cinch close.
As for material, Feathered Friends currently offers the two choices noted above: Pertex YFuse or Pertex Endurance UL fabrics. The 'YF' versions use 900+ fill power down while the 'UL' versions have a slightly higher 950+ fill power down. Interestingly, the 'UL' versions only save 1-2 ounces depending on your size choice. Is the UL version worth it? Only if you're truly an ounce-counting backpacker looking to shave ounces wherever possible. For most people, we recommend the YF versions.




There is one more point to make here: Feathered Friends doesn't use hydrophobic treated down, which is down that has been treated with a chemical coating to help it resist moisture. On the one hand, we like hydrophobic down because it resists moisture better and dries faster if it gets wet. Yet on the other hand, we very rarely ever get our sleeping bags wet. First, if it's raining, our bags stay in our packs until the tent is up. Second, we almost always use double-wall tent designs (freestanding mesh-based tents with a separate rain fly) so that interior moisture build up never rolls down onto our floors or sleeping bags.
Feathered Friends errors on the side of high-quality down, which means it lofts better and just works supremely well. So for us, it's barely a decision factor at all. The outside shell fabrics, by the way, do a decent job of shedding water even though they're not technically waterproof. The YFuse option is treated with a DWR water repellant finish.
Flicker Series: 20, 30 or 40?
The Flicker series comes in three different insulating fill choices — bags rated down to 20° Fahrenheit, 30°F or 40°F. If you primarily backpack or camp in warmer weather and lower elevations, you could choose a lighter 30 or 40 version. We usually recommend bags rated at 20°F so you can more safely backpack in the mountains where some nights dip colder. Feathered Friends also makes an adjustable kid-sized Flicker.
As for color choices, Feathered Friends offers a variety of rich colors, but not all colors are offered in every configuration. Because of high demand, Feathered Friends told us they had to streamline its production process to keep up.
All-in-all, the Feathered Friends Flicker 20 Down Quilt Sleeping Bag is one of our all-time favorite down sleeping bags, and because of its versatility, it's also one of the best down quilts available. The materials are top-notch, the design is excellent and the quality is superb, and we would not hesitate to nab a Flicker down quilt in any of the fabric options. The Feathered Friends Flicker 20 is a can't-go-wrong sleeping bag/quilt option for most backpackers for most of their backcountry adventures. Truly fantastic. Very highly recommended.
Get the Gear:
Feathered Friends Flicker 20 Down Quilt
Pros
Ultralight
Fantastic down quality
Versatile