Disclosure: Man Makes Fire is reader-supported. When you buy gear using retail links on our site, we may earn an affiliate commission that helps pay for our work. Learn more.
The Grizzly Kenai 45 is a new high-quality rotomolded hard-sided cooler that's made in America. The 45-quart design is large enough to make it versatile while its more affordable price point softens the investment for more casual outdoor adventurers.
That's not to say the Grizzly Kenai 45 isn't tough — it is — it's just not bear-proof like the rest of the Grizzly hard-sided cooler line. To get Man Makes Fire a closer look at the new Kenai 45, Grizzly Coolers sent us a review unit. This is what we learned:
Grizzly Kenai 45 Review
Hard-sided rotomolded coolers are the best coolers for multi-day ice retention. If you want your ice to last a week or more, you need a rotomolded cooler with thick insulation and an excellent freezer-class seal. If you don't need your ice to last a week, it's still nice to be able to pack less ice into a cooler but still get good chilling results.
Most people who have invested in high-quality coolers from Grizzly and its competitors have been hunters, rafters, camping enthusiasts and fishers who spend long days out on the water. Most of these coolers at the 35-45 quart size used to cost well over $300, but they've since dropped a bit into the $250 range as competition in the space has heated up. And still not all of those coolers are made in the USA.
The Grizzly Kenai 45 is not only made in the USA, it comes in at a compelling price point — a penny under $180. Despite that cost savings, Grizzly offers the Kenai 45 in ten different color options.
Incidentally, only the hard-sided Grizzly coolers are made in America — the also new Grizzly Drifter 20 soft-sided cooler is not, which is typical for soft-sided coolers. Either way, the Drifter 20 is in our guide to the 12 Best Soft-Sided Coolers for 2018.
Grizzly Kenai 45 Review: Overall Design
The Grizzly Kenai 45 has a simplified design, which is most notable in its lid and its latches. Instead of having bore holes formed into the lid at the two front edges, they're gone, giving the lid a sleeker look. The latches are relatively small and use a simple cross bar that tucks under a portion of the molded front sidewall. They're surprisingly easy to use — so easy, in fact, that small kids could open this cooler and nab a soda for themselves. Depending on your perspective, that's good or bad.
So this begs a new question: Is the Grizzly Kenai 45 bear-proof?
Nope, and it has nothing to do with the latches. To make a cooler bear-proof, you need the lid molded with strong holes so that you can use a padlock or bolt system to ensure the tough lid is impossible to pry open. Because the Kenai doesn't have this type of lid/body construction, a bear could force open the lid. The body and lid, as separate units, are still super tough — it's just that you can't lock the lid on the Kenai 45 like you can with the other Grizzly coolers.
Most people don't camp in bear country, so most bear-proof coolers are overbuilt for no good reason. Hard to knock the Kenai 45 for this, but if you do head out into bear country, you'll want one of the bear-proof Grizzly versions.
As for the rest of the cooler, you get tie down slots, no-skid rubber feet, a stout leakproof silicone gasket drain plug, a molded-in hinge with an aluminum pin, a silicone lid gasket, and up to two inches of insulation inside the walls.
You get two choices in the side carry handles — built-in rotomolded handles as well as rope handles. Depending on your personal size and the terrain, we like the option of being able to carry a cooler with both options. The rope handles are particularly handy when you're packing the cooler with another person over uneven ground.
What about durability?
The Grizzly Kenai 45 seems just about as durable as most every other rotomolded cooler even though it has a svelte structure to it. A 220 pound guy (that's me) can stand on it and the lid doesn't sag. We expect that the Kenai 45 could last through years of abuse; however, the latch system errors toward accessibility, so this isn't a cooler to roll down a river bank.
So, if I had dropped this cooler down a steep river bank, would it have stayed shut? Maybe. But it might have yard-saled the contents, too. That said, I've never actually dropped a cooler down a steep bank, so it's very low on my list of worries.
The 3-Day Camping Test
A real-world ice test is a camping trip where someone leaves the cooler lid open for two and half minutes for no good reason before a dad notices and yells, "Hey, shut the cooler!" And then repeat as often as is usual for your family.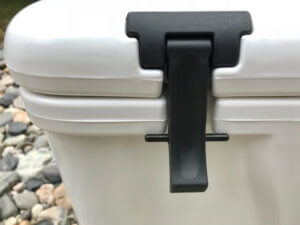 If you want someone to sit in their driveway and record temperatures while sloshing around a cooler full of ice water and a few token drinks, that's not us — we're going to drink the drinks while planning our next trip. (If we end up needing knee surgery or something like that, sure, we'll schedule this test, but until then, minor differences in high-quality cooler performance are usually erased through daily variances in actual use, a.k.a. people who leave the lid open because they're being chased by a hornet. Furthermore, a less reflective cooler, i.e. awesome dark colors, will perform slightly less well than a white cooler unless you keep it shaded. So, many variables. Pick the color you want and get outside!)
All that said, you're going to get a decent sense of a cooler if you take it out and put it to use.
Our primary test was a 3-day camping trip with daytime temperatures in the 80-90s. For ice, we opted away from cubed ice and went with two frozen gallon jugs of water and a half-gallon frozen jug. We filled the Grizzly Kenai 45 with food that we wanted to stay cold but not get wet sloshing around in a pool of icy water.
The cooler rode in the back of the pickup, exposed to the sun for three hours. At camp, it was mostly shaded. After frequent access around mealtimes over the weekend . . . on the morning of day three, our ice jugs were approximately 2/3 melted and the interior items were plenty cool. On the trip home, we left the cooler in the back of a pickup in direct sun (to the lid) in 85-degree ambient temps. We stopped for a 2-hour swim along the way. By the time we returned home late that afternoon, in sweltering 90s, the ice in the jugs was down to about 30% ice.
With a smarter ice-to-content ratio and less frequent access, we could have easily made it another day or two — but that's not really the point. We believe the key reason to choose the Grizzly Kenai 45 is because you're looking for a high-quality rotomolded cooler in a versatile size that's great for group picnics or family camping trips — and you want it made in America but still come in at a very competitive price point. The Grizzly Kenai 45 is that cooler. Highly recommended.
Get the Gear:
Pros
Excellent price-to-value ratio
Great quality and ice retention
Trimmer than most rotomolded competitors
Cons
Not bear-proof (but some other Grizzly coolers are)