Disclosure: Man Makes Fire is reader-supported. When you buy gear using retail links on our site, we may earn an affiliate commission that helps pay for our work. Learn more.
The Outdoor Master Infinite iSUP is an all-around inflatable stand-up paddle board that's designed for fitness, fishing, touring, and family fun.
To get us a closer look, Outdoor Master sent Man Makes Fire a review unit. After getting the Infinite iSUP on the water during our testing and review process, this is what we learned:
Outdoor Master 'Chasing Blue' iSUP Review
After releasing an updated version of its well-regarded high-pressure iSUP "Shark" electric air pump, Outdoor Master entered the iSUP market with its own lineup of affordable 'Chasing Blue' iSUP boards.
In my opinion, the most versatile Outdoor Master iSUP is the Infinite. At 10'6″ long and 34″ wide, the Infinite is an all-around sport-focused board. It's 6″ thick, which is great for larger paddlers. Its high volume also makes it good for paddling with a friend, kids or a dog.
The two sets of bungie straps give you options for gear. The Infinite also boasts 22 total D-rings, which means you can customize your iSUP to meet your needs.
For instance, you could use the D-rings to strap down a small hard cooler (like the YETI Roadie 24) that you could sit on. Better yet, you can easily add a kayak seat accessory to let you use your iSUP like a sit-on-top kayak.
Having such a seat — along with an inexpensive kayak paddle — can really open up your board to beginners and family members who might struggle to stand and get around on an iSUP. This means that more people can enjoy the Infinite iSUP in a variety of water conditions.
Stability & Handling
For me personally, I like thicker iSUPs that offer greater buoyancy over thinner designs. Why? I'm about 6'3″ and 225 pounds, and thicker boards seem to be more stable for me. In addition, I prefer wider boards.
When the wind kicks up or boats create big waves to deal with, I tend to value stability over speed.
At 34″ wide, the Outdoor Master Infinite iSUP is very stable. Multiple testers, including myself, felt that it was a beginner-friendly paddle board.
The Infinite also tracked well in open water. Outdoor Master's fin design gives you three fins: two small, non-removable fins and a single large, removable center fin.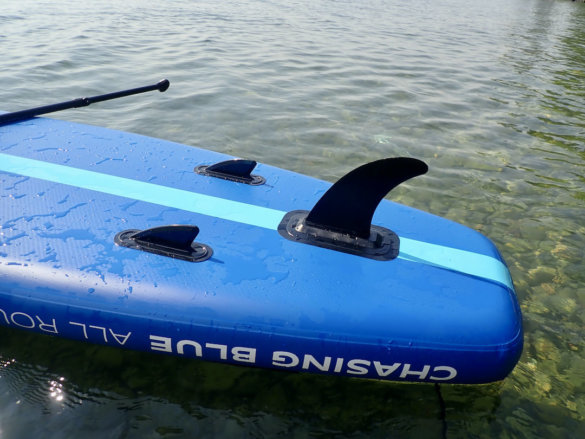 Longer, narrower boards with bigger fins tend to track the best, but the Infinite didn't present any tracking problems. I was pleased.
Similarly, the shape lets you turn in reasonably short arcs simply by paddling a little farther out and forward on one side. If you like to use your paddle at the rear on the inside edge of your turns (to force a faster pivot) the width and thickness of the Infinite helps you maintain stability.
Included Accessories
Outdoor Master includes all the core gear you need to get your iSUP to the water and floating (except for a lifejacket).
The wheeled carry backpack bag is particularly handy. The wheels are great for cruising across parking lots while the backpack straps are good for hauling your iSUP down trails and over sand.
The included manual high-pressure pump works well — pretty straightforward stuff, here. However, you might consider an electric iSUP pump if you get tired of pumping. The Outdoor Master Shark II works well — full Shark II review here — but Outdoor Master has also released a new rechargeable 'Whale' Electric SUP Pump for electric inflation that's portable beyond your vehicle.
The included three-piece packable paddle is of average quality, but it fits into the carry case and works well enough that most people won't feel the need to upgrade it any time soon.
The ankle leash is definitely nice to have. If you paddle in any sort of wind, you'll want to use the ankle leash. Why? If you fall off your board, the falling motion could push the board away from you. When you add in some wind to blow the board away, even healthy swimmers might not be able to catch their boards. This is especially important for open water paddling and cold-water paddling.
Outdoor Master also includes a patch kit and some mounting brackets for action sport cameras like a GoPro.
Shop all Outdoor Master iSUPs and paddle board accessories and get FREE Shipping! Plus, use Code 'BEACH20' to save 20%!
Overall Quality
The overall quality is very good. Outdoor Master doesn't yet have a multi-year history of producing iSUPs, but the drop-stitch materials and technology have come a long way over the last decade. Outdoor Master uses a double-layer of material with its Infinite iSUPs but doesn't go into a lot of detail regarding the exact construction.
In terms of durability, my impression is that the material isn't as thick as what you tend to find in boards that cost twice as much, but it looks and feels competitive with other midrange boards in the $600~ price range.
The lines, seams, spacing and detail are all very good. The traction pad is comfortable and grippy on bare feet and is easy on your knees. It's also sturdy enough to stay responsive if you like to wear water shoes. (I've been testing the UA Kilchis Shoes this summer and like them.)
The overall quality is also competitive in its price range — definitely a step up over the cheap competition you tend to find on Amazon. The Infinite also competes well in the $600~ iSUP range. For most people, the Infinite should provide years of water play.
Inflation
Outdoor Master recommends you inflate your board to 13 psi for the best performance, and I agree. At 10 psi, the board seems stiff on the beach but once you get it on the water, you'll notice the flex. Of course, smaller, lighter paddlers can often do well with under-inflated boards, but bigger guys should pretty much always run at higher psi.
For me, 13 psi worked great. The maximum psi for the Infinite is 15 psi, which is about industry average, but higher-end boards tend to go up to 20 psi. For me, after 15 psi, I tend not to notice any performance improvements anyway.
Competition & Alternative Options
We're living in the golden age of iSUPs because there are many many iSUP packages on the market. The pandemic has created some supply and demand issues, but some of that seems to be settling out. You might be able to have a good summer with a truly cheap iSUP, but we tend to recommend that buyers stick with midrange options that are far less likely to fail. Let's take a closer look at some Outdoor Master Infinite iSUP Board alternative options:
Outdoor Master ACE iSUP — The closest competitor to the Outdoor Master Infinite is the Outdoor Master 11′ ACE. It has a similar overall construction as the Infinite, but it's longer and narrower. You get 6″ of additional length as well as 2″ less width — but you still get 6″ of thickness. The result is a shape that's primed for cruising.
L.L.Bean Bayside Inflatable Stand-Up Paddleboard Package — The new L.L.Bean Bayside iSUP packages come in an 11′ option and a 10′ option in beginner-friendly tapers. The width is 34″ with 6″ of thickness. The 11′ L.L.Bean Bayside is competitively priced at about $649 while the 10′ option comes in at about $599.
NRS Thrive Inflatable SUP Boards — Some of the best, most rugged iSUPs come from NRS. The NRS Thrive ISUP series of paddle boards are an ultra high-quality competitive option. The tapers have a do-it-all shape. You can also inflate your NRS Thrive to a rock-hard 20 psi and you don't have to worry about it separating. What really sets the NRS Thrive apart from most of the ISUP competition, though, is its dedicated built-in pressure relief valve that will protect you from over inflation. This works on the beach, too. If the internal pressure increases in the hot sun, the relief valve will do its job. The main drawback to the NRS Thrive is the higher pricing and the lack of an included SUP paddle.
How to Choose an Outdoor Master iSUP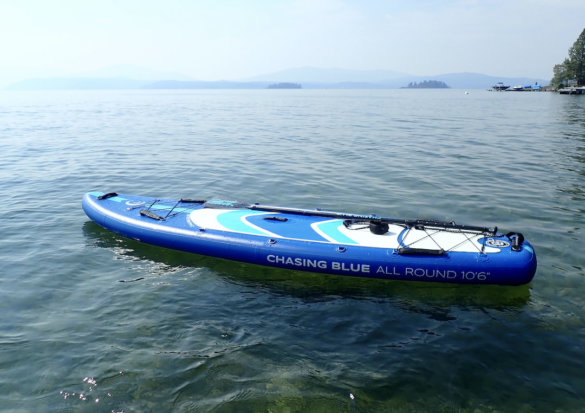 As you consider Outdoor Master's full 'Chasing Blue' iSUP lineup, your key decision factors will be the width and thickness of your board. Choose wider iSUPS for the most stability. Choose narrower iSUP options for improved tracking and straightaway speed.
If you're a bigger paddler like me, error toward iSUPs that are 6″ thick. You'll appreciate the extra volume — and appreciate it even more when you paddle out with a friend.
Most Outdoor Master iSUPs currently have plenty of D-loops for gear attachments or kayak-seat attachments, but the Synergy iSUP has a nearly bare deck. It also has a full-coverage non-slip EVA pad. Why? It's designed for iSUP yoga enthusiasts. The clear deck gives you space for yoga poses and will let you spread out to enjoy some on-board exercise. Alternately, the Synergy is great for kids — the cushy deck will let them them climb and play on the board together without grabbing or tripping over a bunch of bungies and a center handle.
Shop all Outdoor Master iSUPs and paddle board accessories and get FREE Shipping! Plus, use Code 'BEACH20' to save 20%!
The Verdict
The Outdoor Master Infinite is a midrange, do-it-all inflatable standup board with a great price-to-value ratio. It's stable for beginners, and it's rugged dual-layer design makes it suitable for fishing. Better yet, it's sized to handle larger paddlers — yet it's nimble enough to deliver an enjoyable ride for most everyone. Highly recommended.
Get the Gear:
Outdoor Master Infinite iSUP
Benefits
Stable and beginner-friendly
6" thickness great for larger paddlers
Includes everything you need to get started (except for a lifejacket)
Drawbacks
No real drawbacks at this price point