Disclosure: Man Makes Fire is reader-supported. When you buy gear using retail links on our site, we may earn an affiliate commission that helps pay for our work. Learn more.
The Able Carry Max Backpack is a rugged, city-focused EDC and travel backpack. It has a decidedly low-key stylish look, but it's also available in camo and it has a mind-boggling 50 built-in gear loops, as well as a hidden pocket.
So how did a review unit get into my hands and why is it on Man Makes Fire?
Good question. I thought about this one for quite a while before I agreed to take a closer look. Here's the path:
Man Makes Fire is tuned to outdoor gear, first and foremost, so why would Able Carry reach out to me? Another good question. I know high-quality, rugged gear. And I tend to appreciate smart — and sometimes stylish — designs. Able Carry's packs take aim on both of those points, so that's doable.
But what about the decidedly urban element?
Lots of guys have many different hobbies, and sometimes, when they travel on planes, they're not flying into Anchorage and they're not changing into fishing waders so they can exit a float plane deep in the bush without getting their feet wet. Sometimes a guy needs and/or wants a pack that's not a Patagonia duffel bag or a waterproof YETI backpack.
For me, I needed to fly into Tucson, drive two and half hours into the remote desert and help a guy load up a U-Haul trailer . . . then tow it nearly 2,000 miles to Florida. Then fly home. Could I have done this with some other pack, duffel, or carry-on? Definitely. But I have a thing for backpacks, particularly well-designed packs. So that was my test case: 5 different airports and 7 days of total travel.
Here is what I learned along the way:
Able Carry Max Backpack Review: EDC/Travel?
At 30 liters, the Able Carry Max Backpack is small enough for everyday carry (EDC) for urban purposes but is large enough to serve as a carry-on capable pack for travel. It's separated into two main compartments.
The primary compartment seems to be a bit smaller than 30 liters, but it's still sizable. I was able to fit a light pair of pants, four t-shirts, a button-up shirt, several pairs of socks, underwear, a rain jacket, and toiletries without any trouble. (I'm about 6'3″ and 225 pounds, so my clothes tend to be larger than average.)
This main compartment has two slim organizing pockets plus a side vertical pocket suitable for a small water bottle or odds and ends you want handy.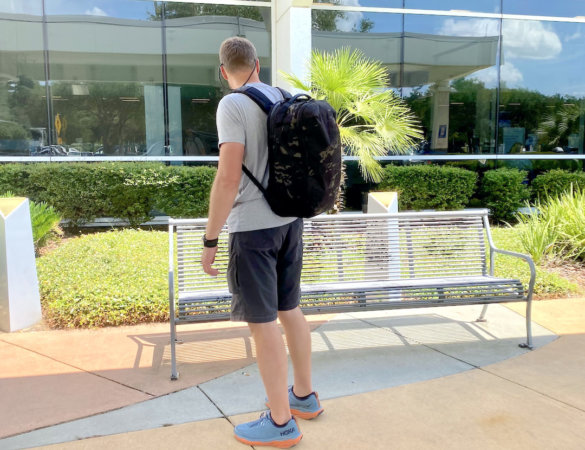 There are a set of daisy chain loops down the interior sides of the main pack, as well as several gear loops. You can use these to help you secure the contents if you're into that — or want to separate content. You could use stretch cord to make your own zig-zag section or carabiners to clip a packing cube into place so it won't shift.
Alternately, you can attach the key clip to any of these internal loops to keep your keys safe but out of the way of the smaller exterior pockets.
Laptops & Electronics
The Able Carry Max Backpack has a laptop sleeve near the back. While the main zipper is a burly YKK zipper, the laptop sleeve zipper has a water-resistant YKK zipper. This is a good idea in case you're caught in a light rain shower. It's not completely waterproof, but it'll give you time to get out of the rain.
The sleeve lets you easily access and remove the laptop so you can go through airport security with ease. Inside the laptop portion of the pack, there is a small-item pocket with organizers near the top. There's also a mid-level sleeve pocket. And the main laptop section has enough room to hold a hefty power brick and cord near the bottom of the pack.
The laptop padding isn't particularly thick, but it's suspended to protect your laptop from drops. The padding has a bit of structure to it, so I'm not concerned at all. It held my 15″ MacBook Pro with space to spare. Able Carry says it's sized to handle up to 17″ laptops.
The only drawback to the laptop pocket is that it doesn't have a top vertical strap to hold the laptop in place. Gravity will do that 99% of the time, but if you tipped the pack upside down, the laptop can slide a few inches toward the top of the pack, which isn't padded. This would only be an issue with a small laptop in a pack that's not particularly loaded with gear. The gear in a loaded pack creates side pressure and friction to keep things in place. This is something to be aware of but is not necessarily a critical issue.
Pockets & a Hidden Pocket?
While the three outside pockets have super slim and trim designs that don't call attention to themselves, Able Carry did slip in a hidden pocket. Inside the laptop compartment, there is a large sleeve-like pocket near your back that holds a thin foam frame sheet. You can remove the frame sheet if you don't want it. If you look closely, though, on the inside of the lining of this frame sheet pocket, there's a slim pocket suitable for cash, tickets, documents or whatever you might want to be a little harder to find.
The outside rear of the pack has a long slanted zipper with access to a large pocket. I stuffed it with snacks, headphones, sunglasses, etc. The vertical orientation of the zipper might seem odd at first, but you can remove one shoulder strap and swing the backpack to your front (like a sling pack) to get access to this pocket. This is cool for those situations where you don't want to set your pack down anywhere.
Likewise, Able Carry includes a smaller side zippered pocket that provides the same sort of standing access.
Near the top, there's also a small zippered pocket that's handy for stashing items you want quick access to.
On one side, you have a large and tall water bottle pocket. It has a zipper that closes it up completely, which hides your water bottle and keeps it entirely secure. I fit a 33 oz GSI Microlite 1000 water bottle in there, and I could also fit a 32 oz Nalgene bottle. The only downside is that water bottle pocket pushes inside the main compartment of the pack.
While losing some interior space to the water bottle can be considered a drawback, it's also a benefit: When you zip the water bottle pocket, the backpack retains its trim shape and style.
Ultimately, I like the water bottle pocket design here, particularly when I stowed the pack in overhead bins on the plane.
Cushy Straps
The backpack straps are super comfortable. They're surprisingly thick and cushy — but not obnoxious. Able Carry did a really nice job with the backpack straps. In fact, I'd be very happy to see these straps on all sorts of outdoor-focused day packs. Nice work.
Magnetic Chest Strap
Chest straps, a.k.a. sternum straps, are must-have design elements as far as I'm concerned. The Able Carry Max Backpack chest strap is magnetic. You can latch it and unlatch it one hand. It is pretty cool, I must admit, but I struggled to unlatch it until I figured out the secret.
Under a bit of pressure across your chest, the latch stays put. If you try to twist it, it resists unlatching. If you press the middle of the latch — which acts like a button — the latch gets the correct leverage and instantly pops open. It's a non-standard latch, but once you get the hang of it, it works well.
Excellent Style
First, the overall fit and finish of the Able Carry Max Backpack is downright excellent. The stitching is seriously great — there are no flaws anywhere, inside or out. I'm very impressed.
When you pair excellent stitching with the rugged fabrics, you get a backpack that should handle years of abuse.
Able Carry's design aesthetic is generally trim and non-flashy. Interestingly, Able Carry also has an overall shape and angles that I find visually pleasing. I'm not sure exactly why, but in person, the style is great. I'm a fan.
Part of the overall style is the lack of obvious zippers and lack of external pockets to mess with the shape. Plus, Able Carry's use of rugged fabrics and a bit of structure to the bottom and back lead to a bag that holds its shape.
The Max Backpack will sometimes sit upright on its own depending on how I have it packed, but it has a slight angle to the bottom, which means it doesn't always stand on its own. I have mixed feelings about this. I like packs that stand, but I tend not to appreciate the looks of blocky bottoms. This is a case where style gets the nod and I can't say that it was the wrong choice.
The Verdict
The Able Carry Max Backpack is an excellent, rugged and stylish urban backpack. It's small enough to use as an everyday carry pack for commuters with electronics but large enough for carry-on travel. If you want to take it out on the trail, it's rugged enough to handle lots of abuse even though it's not an outdoor-focused lightweight day pack. Think of the Max Backpack as a 90% city pack and 10% trail pack when you're on-the-go. If you're looking for a slightly structured, rugged, and surprisingly sleek do-it-all backpack for navigating the concrete world, the Able Carry Max Backpack is an impressive option. Highly recommended.
Get the Gear:
Benefits
Trim, stylish design
Excellent fit and finish throughout
Very comfortable shoulder straps
Drawbacks
The laptop sleeve could use a strap over the top for extra security