Disclosure: Man Makes Fire is reader-supported. When you buy gear using retail links on our site, we may earn an affiliate commission that helps pay for our work. Learn more.
The Cabela's Intensity HD 10×42 Binoculars are entry-level binoculars that are designed to perform far better than their reasonable purchase price. By entry-level, we mean binoculars with a build quality that have fully multicoated glass and are rugged enough to hold up to bad weather hunting situations . . . but are also affordable for most hunters.
I had a chance to put the Cabela's Intensity HD 10×42 Binoculars to use while turkey hunting this spring in Nebraska during a Cabela's media event. This is what I learned:
Cabela's Intensity HD Binoculars Review
There is a lot to like about the Cabela's Intensity 10×42 Binoculars. They feature a rugged magnesium-alloy chassis with a rubberized exterior. They are fogproof and waterproof with an IPX7 rating that can withstand a 30-minute dunking.
The overall ergonomics are good, and the large textured focus wheel is easy to turn and engages internally without a lot of play (cheap binoculars tend to have stiff or sloppy focus wheels).
The Cabela's Intensity HD Binoculars also have a long eye relief feature, which lets you look through them while wearing glasses — you can adjust the eye piece for use with or without glasses, of course.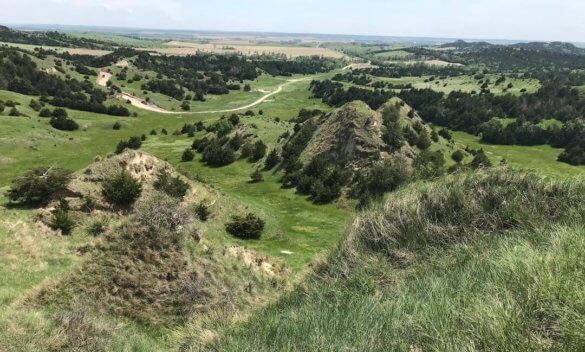 What about the quality of the glass?
The best binoculars start with very high quality glass that's perfectly formed to ensure there is very little distortion throughout the entire field of view. Next, high-end binocular manufacturers use multiple "secret formula" coatings on the glass surfaces to reduce glare and enhance clarity.
All of this results in a binocular that produces superb overall clarity, easy focusing throughout the field of view, and reduces loss of light through refraction. High-end binoculars will seem brighter and clearer (but also come with high-end price tags).
As for the glass in the Cabela's Intensity HD series, Cabela's uses a premium quality HD extra-low-dispersion (ED) glass in the objective lenses. Cabela's also notes that the phase- and silver-coated roof prism is designed to preserve natural image colors while enhancing resolution for true-to-life views at greater distances.
Both sides of all lenses are fully multicoated (this is good — you should be wary of any entry-level binocular that says it's multicoated . . . because fully multicoated means all the surfaces are multicoated, not just one).
So what does all this really mean? Are the Cabela's Intensity HD binoculars any good?
Cabela's Intensity HD Binoculars Review: Best Uses
The Cabela's Intensity HD Binoculars are designed for hunters who want a rugged, decent set of binos at an affordable price. They don't compete with binos that cost five 5-to-8 times as much, but they're surprisingly good.
While using them for spot-and-stalk turkey hunting over three days in the open Nebraska terrain, I was able to not only spot gobblers far away, I had the chance to clearly watch them strut their stuff out in the open with thoroughly decent clarity — so cool. I also was able to check out deer, birds and cattle from all sorts of distances with good results.
Most of the glassing was done under bright skies with plenty of light, and in these conditions the Cabela's Intensity HD Binoculars were very good. During early morning and evening, my impression is that the Cabela's Intensity HD Binoculars performed at least as well as other similarly-priced sets I've used, if not just a bit better than most.
I wasn't able to do a side-by-side test, but I will say this: Most guys will have a hard time telling the difference between decent binoculars and midrange binoculars that cost twice as much.
Which Size Is Best?
If you're unfamiliar with binocular sizes, here are the basics: The first number is the magnification, so 8×42 binoculars magnify things 8 times. The 42 is the size of the big front objective lens as measured in millimeters. The bigger the front lens, the more light will get to your eye, giving you a better overall picture, especially in low light.
For example, 8X25 binos are lightweight and small while 8×42 binos are bigger and heavier.
To understand how much light makes it through to your eye, you need to understand what's called exit pupil. This is a simple measurement where you take the objective lens size (say, 42) and divide it by the magnification power (8). So, 42 divided by 8 is 5.25 while 25 divided by 8 is 3.125.
During the middle of the day when there is a lot of light, the pupils in your eyes contract down to something like, say, 2.5 mm. At dawn or dusk, however, your pupils will open up to, say, 5 mm. So how does this shake out while hunting and what's it mean to hunters? When the exit pupil measurement is bigger, more light makes it to your eye — that's good. And when the exit pupil measurement is bigger than what your pupil is contracted to, the binos are delivering plenty of light for you to perceive a clear image — also good.
However, when your pupils are wide open just before dark, and you're looking through a set of 8×25 binos, the binos will result in a harder-to-see view of the landscape. Everything will seem dark. Basically, when all the glass quality and magnification are equal, the binos with the bigger exit pupil will deliver an easier-to-perceive image in low light situations.
In addition, all other elements being equal, the magnification matters: It's easier to spot a bedded down buck with 10x binos over 8x binos . . . unless you have shaky hands. The higher the magnification, the harder it is for your eyes and brain to deal with shakiness in the image.
For most hunters, 10×42 is the best all-around size of binocular. Why? The magnification is good while the exit pupil is a reasonable 4.2. The size and weight of 10X42 binoculars is perfectly suited to match their overall value in the field. On the other hand, in low-light situations where you're not trying for longer distances, 8×42 offers a better 5.25 exit pupil. Pair that with shakier hands and aging eyes, and an older hunter might do better with 8×42 binoculars.
Of course, Cabela's offers multiple sizes in its Intensity HD lineup.
Cabela's Intensity HD Binoculars Review: The Verdict
The Cabela's Intensity HD 10×42 Binoculars are great all-around hunting binoculars. The entire series is rugged, fogproof, waterproof and easy to use. Plus, these binos are backed by the Cabela's lifetime guarantee, which covers all Cabela's-brand products: If these binoculars break under normal usage, Cabela's will likely find a way to take care of you through a replacement, repair or return.
One last point: While I hesitate to speak for the other hunters, guides and journalists who attended the Cabela's media event Turkey Camp in Nebraska, all the guys I talked to who were also using the Intensity HD binoculars seemed to be similarly impressed with the overall quality related to the price point. Ultimately, the Cabela's Intensity HD 10X42 Binoculars were getting the job done. Highly recommended.
Get the Gear:
Pros
Fully multicoated glass
IPX7 waterproof and fogproof
Great price-to-value ratio
Cons
No real cons -- these binos perform above the price point