Disclosure: Man Makes Fire is reader-supported. When you buy gear using retail links on our site, we may earn an affiliate commission that helps pay for our work. Learn more.
Once we started finding the first 15 best gift ideas for fly fishers, we just couldn't stop adding fly fishing gifts! Are we obsessed? Definitely. Is fly fishing itself an obsession? Always. Are fly fishermen fanatics? Usually. Yes. (They will be once they catch their first monster trout.)
In any event, finding great gifts for fly fishermen — and women! — seems hard, but finding fly fishing gifts is easier than you might think. There are a lot of fly fishing gifts that do not require you to know exactly what kind of fly fishing your fly fisher fanatic is doing. For instance, we're steering you away from finding the perfect sinking fly line. Why? You probably don't know what weight is needed or whether the sinking line should just have a sinking tip or be a full sinking line. The same goes for high-end fly rods and reels — but if you were going to splurge on a rod for a trout fly fisher, the brand new Orvis Helios 3D in a 9'5w is getting all sorts of positive buzz in the industry this year. As for high-end reels, most any fly reel over $200 is pretty sweet these days (and there are a lot of great reels under $100), but it's hard not to love the new Abel Model SDF, ported, with a custom "Brook Trout" paint job — the cost is jaw-dropping, but the finished product is a work of art. After you get done drooling and come back to reality, there are a lot of great fly fishing gifts to consider below.
What we have below, of course, are fly fishing gift ideas that most every fly fisher can use and appreciate — delivered with a reasonable mix of quality for the cost.
Of course, if you missed our first fly fishing gift guide, check out 15 Best Gifts for Fly Fishing Fanatics!
16 More Fly Fishing Gifts for Fly Fisher Fanatics!
1. Practice Casting Rod
Fly fishing is more about timing and rhythm than brute strength — just because you swing your arm harder or faster, it doesn't mean you're going to cast farther. In fact, you might just end up with a tangled mess. Enter a practice casting rod. These mini rods let you practice the basic motions of fly casting just about anywhere. And while you won't be using one to cast to a rising trout, the motion and rhythm has a soothing effect on the angry bear inside of stressed fly fishers everywhere. Oh, and it's a great learning tool for newbies and kids, too, which makes it a particularly good fly fishing gift for anyone starting out.
2. Fishing Jacket
A great fishing jacket will help a fly fisher keep fishing when the weather turns cold, as well as work well for tooling around a camp or hiking back to the truck. More importantly, a fishing jacket is a symbol of sorts — not a status symbol, it's a reminder symbol. It reminds you that this is part of the gear you have that calms your mind and puts you in position to catch some fish. If your fly fisher goes after steelhead or salmon or doesn't let bad weather stop the fishing, a fishing jacket is a great fly fishing gift.
3. Simms Taco Bag
The Simms Taco Bag is the best, simplest fly fishing gift we've seen in a long time. What makes it a great gift? It's almost a necessity — but not quite — which means a lot of fly fishers don't end up buying it themselves . . . even though they most certainly would appreciate a Taco Bag. Why? If your fly fisher uses stockingfoot waders and boots, there is always the issue of getting them on and off. When they're dry, you want a clean spot to stand so that you don't poke any holes in the bottom of your waders or pick up debris before you put on your wading boots. This Simms Taco Bag unzips into a circle, turning it into a mat. So far so good. When you return from the river all wet, you can take your waders and boots off on the unzipped Taco Bag then simply zip it all up and throw it in the back of your pickup — and it won't blow around like loose waders. The vent mesh lets moisture escape. As Simms says, it's large enough for two pairs of dripping waders and their muddy boot companions. All-in-all, the Simms Taco Bag is simple, awesome and affordable — it's a great gift for fly fishers.
4. Smith Creek Rod Rack
The Smith Creek Rod Rack is a simple but ingenious interior rod rack. It uses straps and window suction cups to create an overhead rod rack that's adjustable for most any SUV, wagon, van or hatchback. Here is how it works: You'll use the stout suction cups to attach the rear strap to the top of your rear-most SUV windows, then you'll string the other strap between two door grab handles or accessory hooks near the ceiling in the middle of the vehicle. To stow a rod, simply open the rear door or rear hatchback and slide the rod over the two straps. Adjustable shock cords and eyelets let you lock each rod in place. If your fly rod (or other fishing rod) is too long, simply disconnect the rod into two pieces and lock into place. It's cost effective, easy to set up and it keeps your fly rods locked up and protected inside your vehicle. If your fly fisher is moderately handy, odds are they could create attachment points to use the Smith Creek Rod Rack inside of a pickup canopy, a boat or a garage. It all packs down small into the include drawcord bag.
5. Waterproof Camera
If your fly fisher isn't into creating a bunch of videos, a GoPro action camera is overkill. But a waterproof camera? Spot on for a wider variety of fly fishers. A good waterproof camera will let a fly fisher shoot video of a beautiful fish — including underwater release shots — as well take photos of the brilliant landscapes they visit. What really sets a good waterproof camera apart from an action video camera — or a smartphone camera — is the optical zoom lens. The zoom lens lets you snap photos of deer crossing the stream that you can actually see in the photo later. The Olympus Tough TG-5 (read our review here) is our favorite because it starts up very fast, shoots great video and does everything pretty darn well — including up close macro photographs of cool insects like stoneflies, caddis flies and mayflies. Waterproof cameras make particularly great fly fishing gifts for active fly fishers.
6. Shelta Seahawk Hat
Shelta's first hat was invented for standup paddleboarding but the company quickly gained a following by many water sports enthusiasts, including those who fish. Why? Shelta revolutionized the active sports sun hat by creating a stiff bill that won't flip up in the wind or droop when it gets wet. Better yet, Shelta modernized the design of the standard boonie hat by shaping the hat so it doesn't look like you're wearing a floppy mess. The result is a water-ready, quick-drying, purpose-built sun-shading hat that protects your ears and the back of your neck and looks damn cool doing it. It makes a great fly fishing gift because it's not everyone else's ball cap . . . and you give it because you want your fly fisher to stay safe from the sun. Lots of winning going on here.
7. Wading Staff
If your fly fisher is getting on in the years, a wading staff is a critical tool for helping him or her wade into rivers, as well as get up and down banks without falling. Of course, even adventurous (sometimes dumb) young guys can use a wading staff. On some rivers with poor visibility, a wading staff can find hidden holes and drop offs, and on shore, help fend off rattlesnakes. In addition, one of the most dangerous things a fly fisher can do is fall down in the water while wearing a pair of waders without a wading belt wrapped snugly around their waist — water rushes into the waders, filling them and sinking the fisher. A wading staff helps reduce the chance of falling, and a lot of fly fishers don't invest in one until they've had a spill or missed a fish. Consequently, wading staffs make excellent fly fishing gifts.
8. Ultralight or Heavy Duty Fly Rod Combo
Chances are, your fly fisher primarily uses one favorite rod for most of his or her fishing adventures. That's cool. But there's a decent chance that your fisher would like to try something radically different — like fishing with a super ultralight fly rod for skittish fish or small creeks . . . or going big for coho salmon or steelhead. In this case, the best way to encourage a different kind of fishing is with an inexpensive fly rod and reel combination. Choose a 7.5-foot 3-weight for ultralight action or a 9-foot 8-weight for a rod that's heavy enough to take on salmon or steelhead. (Read our best fly rod and reel combo guide to learn more.)
9. Fly Fishing Books
Here's what's great about fly fishing . . . when a fly fisher is stuck inside and can't be out fly fishing, reading about fly fishing is the next best thing. Newbies can use some how-to books while veterans can dream about new places to throw a line, making these a versatile fly fishing gift option.
10. Inflatable Life Vest
Remember the wading staff? Fly fishermen tend not to wear life jackets. Foolhardy? Maybe. A great compromise is an inflatable life vest. These blow up instantly with a tug on a cord if a fisherman gets into trouble . . . or they can be manually inflated in case the instant CO2 method fails. Either way, fly fishermen often fish in frigid water, and an accidental dunking can get dangerous fast because it's hard to swim in cold water for more than a couple minutes.
Not boat fishing? Wading is sometimes even more dangerous — especially when a monster fish is on the end of your line and your fly fisher is scrambling around making bad decisions in order to catch the fish. For older, younger, or adventurous fly fishers, inflatable life vests make surprisingly good fly fishing gifts.
11. Fly Fishing Pliers
There are two trends going on when it comes to fly fishing pliers — the first is that freshwater fly fishers are starting to invest in higher-end fishing pliers because they work so darn well. In a lot of ways, they're just easier to hold and handle than typical forceps. The second trend is that, as more people get into saltwater fly fishing, more and more kinds of manufacturers are making aluminum, stainless steel and titanium pliers. These metals don't rust or corrode like standard steel, so they are the go-to pliers of choice. Plus, the hooks and fish tend to be larger in saltwater, so you need a burly set of pliers to get the hooks out safely and effectively. You also need stronger nippers and the built-in cutters on these pliers to more easily handle tougher lines. No matter what, most fly fishing fanatics can appreciate a good set of lightweight aluminum pliers — and they probably haven't splurged on a pair yet, which make fishing pliers one the best fly fishing gifts for 2017 and beyond.
12. Fly Fishing Gloves
Fly fishing gloves are used for keeping your hands warm and your fingers nimble, but they're also great fly fishing gifts because they offer protection from the sun. Some of the best all-around pairs come from Buff, including the excellent Buff Angler III Gloves. For the best hot-weather sun-protection version, try the Buff Sport Series Water 2 Gloves — think sunscreen for your hands, which catch harmful UV rays from directly from above as well as reflected from the water. Of course, Orvis fans won't go wrong with Orvis options — what they lack compared to Buff's sweet style, they give back in overall value.
13. ThermaCELL Mosquito Repellent Device
Mosquitos can ruin a good fishing trip, no doubt about it. While traditional mosquito repellant sprays and lotions work pretty well, it's not the only line of defense. The ThermaCELL line of devices heats up a specially scented mat to release a vapor that repels mosquitos to create a 15 foot zone of protection. ThermaCELLs work great for fishing camp, hanging out while having lunch, or for those times where you stay in one spot, patiently working an area of water. If your fisher seems to have everything, ThermaCELLs can be pleasant fly fishing gifts you'll get thanked for after they save the day.
14. L.L.Bean Rapid River Vest Pack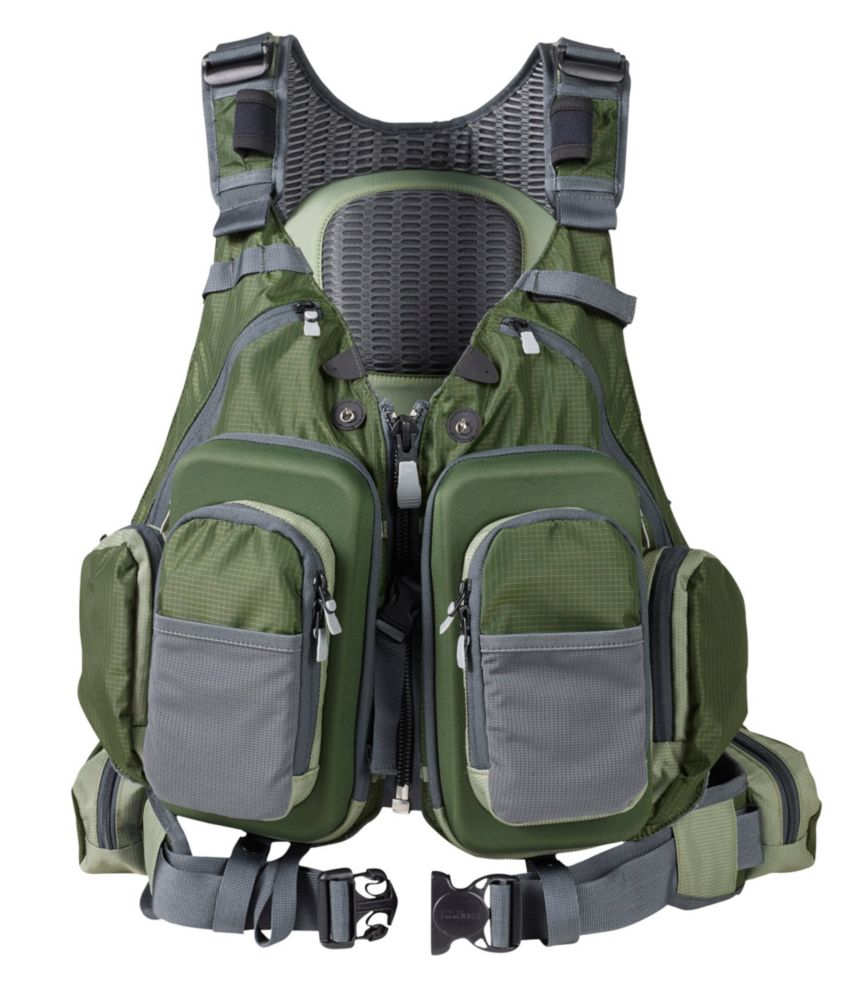 If you think your fly fisher might appreciate a fresh take on the old-school fishing vest, the L.L.Bean Rapid River Vest Pack is that vest. It combines all the best attributes of a vest with the best attributes of a fishing backpack — namely extra storage space. If your fly fishing fanatic likes to get off the beaten path and walk more than a few hundred yards from the pickup, there is something to be said for the ability to pack along a sandwich, rain jacket, a beer, and a waterproof camera. And yet, there is more built into the Rapid River Vest Pack: There are plenty of pockets for your fly boxes, two waist-best pockets, a floatant holder and two replaceable zinger tools on each shoulder for forceps and nippers. Plus there is a hydration bladder pocket, a waterproof compartment for a cell phone — and/or a set of today's fancypants electronic car keys. It also boasts five points of adjustment for the perfect fit . . . and it comes in a regular version for most fishers and a long version for tall guys. Last of all, it's a damn fine looking vest pack — about the opposite of your grandpa's slouchy old tan vest.
15. Hoppers, Hoppers, More Hoppers — and Streamers
There are not many types of flies that you can safely buy for most any trout-focused fly fisherman, but one of the safest is a set of hopper patterns. Most every fly fisherman uses hoppers for summer fly fishing at some point during the year. Not only do they bring big trout up from the bottom, they are particularly effective when used with smaller dropper flies tied to the end of the hook — the hopper attracts attention but a small nymph dropper fly seals the deal. The point is, because hoppers are versatile and get used, they make great fly fishing gifts.
As for streamers, if your fly fisher likes going after big fish, especially in the spring, streamers are always welcome, too. Because a good streamer fisher goes deep, streamers get lost on the bottom of the river, which makes replacing them an ongoing fly fishing gift. Of course, if you toss just one in a stocking, say a hot crayfish pattern like the Rainy's Whitlock's Near 'Nuff Crayfish, that's a good move, too.
16. Fly Tying Tool Kit
A fly tying tool kit is a good way to get a fly fisher into tying their own flies. For some, fly tying becomes a life-long passion. The trouble with fly tying kits is that they generally aren't made from the highest quality tools or materials . . . but they are good enough to give a fisher a taste of what it takes to tie flies. If they catch the fly tying bug, they'll begin to learn what tools and materials they will want to invest in — better hackle, a better vice, etc. If you wanted to get a lot of high-quality fly tying gear right away, you could drop several hundred dollars in the blink of an eye. So fly tying tool kits make excellent fly fishing gifts for any fly fisher who wants to learn a little about fly tying . . . but has hesitated to make the leap.
Bonus: NRS Pike Fishing Inflatable Kayak!
Fishing from a kayak is on the rise, no doubt due to the ubiquity of inexpensive hard-shell kayaks and the introduction of super cool pedal-powered kayaks like the Perception Pescador Pilot Pedal-Drive Fishing Kayak. If you're looking for an extremely portable fishing kayak that can handle some rivers, the NRS Pike Fishing Inflatable Kayak should make your shortlist. Need a family-friendly excuse to get one? NRS makes incredibly durable gear so the kids can play around on the Pike at the beach, too, and they won't hurt it. Everyone wins here.
Need More Fly Fishing Gifts?
Check out the post that started it all:
How About Fly Fishing Stocking Stuffers? 
There are a lot of small fly fishing accessories and gadgets that make good stocking stuffers for fly fishermen. A good set of pliers, a fancy nipper, strike indicators, or fly floating are all accessories that will get used and make good fly fishing stocking stuffers. Browse the fly fishing accessories and tools sections of these online stores below:
Plus, if you think a new fly rod is in order, check out "The Best Fly Fishing Rod and Reel Combo for the Money."