Disclosure: Man Makes Fire is reader-supported. When you buy gear using retail links on our site, we may earn an affiliate commission that helps pay for our work. Learn more.
Leupold RX-1400i TBR/W Rangefinder is a feature-packed midrange rangefinder for bow and rifle hunters. It's designed to overdeliver for its price point.
To get us a closer look, Leupold sent Man Makes Fire a review unit. After elk and deer hunting with the Leupold RX-1400i TBR/W Rangefinder, this is what we learned:
Leupold RX-1400i Review
Leupold's new RX-1400i is the company's entry-level rangefinder, but it's really a midlevel rangefinder that's packed with features.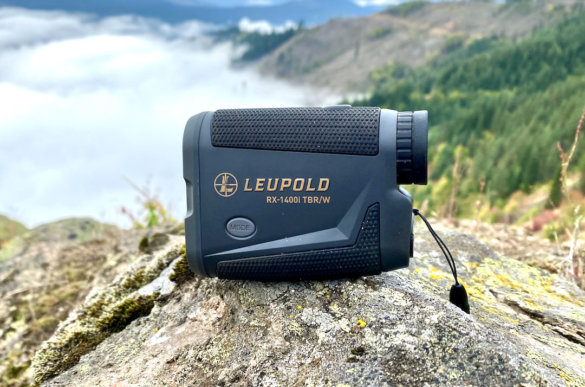 For me, the most important feature is the built-in "Bow Mode" that uses the distance and angle of your shot to calculate a ballistic equivalent to the target. Bow Mode is basically angle-compensated ranging, which gives you a distance measurement that takes into account the lesser effect of gravity on very steep shots up or down. Gravity only affects arrow flight over the true horizontal distance traveled — not the longer steep-angled distances your arrow will travel (which, if you care about the geometry, would be the longest side of a right triangle, the hypotenuse).
For rifles, Leupold calls this True Ballistic Range (TBR) — but other manufacturers use other terms. Vortex calls it Horizontal Component Distance (HCD) and Bushnell calls it Angle Range Compensation (ARC).
Because I hunt on steep ground in Idaho, I want to make sure that I can make an accurate shot in steep conditions. If your archery Line of Sight to a target is 45 yards but you're on very steep ground, you might need to aim as if the target is 35 yards away. The ten yard difference could result in a significant difference at the target, so angle-compensating ranging is critical for many bowhunters.
Even if you hunt flat ground, you can get very steep angles if you're hunting from tree stands.
Steep angles can also make a difference for rifles and bullets . . . but usually it's most important for hunters shooting beyond 300 yards. At that point, bullet drop in many big game cartridges starts to become critically important. Just like it is for archers at much shorter distances.
In any event, Leupold lets you choose "Bow Mode" which gives you angle-compensated ranging for archery. It's dirt simple. Choose Bow Mode and you're good to go. It works up to 175 yards, after which the RX-1400i switches to Line of Sight (LOS) mode.
RX-1400i Fantastic for Bowhunters
I used the Leupold RX-1400i TBR/W Rangefinder during the archery elk hunt in September in Idaho. (Ultimately, I harvested a nice satellite bull late in the season, but that's a different story — you can catch a bit of the hunt story in this UA hunting pant review if you're interested.)
During my testing process, which extended into the start of rifle season, I used the RX-1400i in low-light, bright sun, rain, fog, and light snow. It ranges fast. Leupold rates it to range reflective targets up to 1,400 yards, trees up to 1,200 yards, and deer up to 950 yards.
I particularly like to hold the Power button while ranging tough subjects in thick terrain to initiate the Scan Mode. This tells the rangefinder to continuously range an object. It's great if an animal is on the move, of course, but it also works when you're trying to range an elk that's behind bits of grass or branches — you want the laser pulses of light to hit the elk and not the branch. The RX-1400i also has a "Last Range" feature that reports the farthest distance ranged. Last Range works fine, but I don't use it because sometimes I'm ranging a tree trunk and I don't want to accidentally range the trunk behind it. The continuous scan mode lets me see what's happening while I'm trying to hold the rangefinder on target.
Very Lightweight
Leupold's RX-1400i TBR/W Rangefinder is a lightweight marvel. Leupold says the RX-1400i weighs in at 5.1 ounces, but my scale pegged it at 4.9 (not including the lanyard). It's 4″ long, 3″ high, and 1.4″ wide. The top and bottom have a rubber overlay that's super grippy.
When I'm bowhunting, I like having a lightweight rangefinder that's easily stowable. I use the AGC Classic Max Pack Bino Harness and the fit in the rangefinder pocket is great.
The Fog Factor
The Leupold RX-1400i TBR/W Rangefinder is waterproof and fog proof, which means it shouldn't fog up on you. However, if it's foggy outside — misty — you might have some trouble. I was able to range objects in the rain and in light snow, but an early morning mist gave the RX-1400i fits. Obviously the lasers are getting refraction issues on water particles floating in the air so the rangefinder can't do its job.
Is this a problem? It's super annoying, yes, but to be fair, I haven't yet used a rangefinder that didn't have trouble ranging in misty/foggy conditions. It's usually more of a problem for bowhunters than rifle hunters because foggy conditions tend to force shorter distance rifle shots where aim adjustments aren't as critical. In my experience, you can sometimes get rangefinders to range correctly in lightly foggy conditions by using the Scan Mode.
The Red Display
The Leupold RX-1400i TBR/W Rangefinder uses a TOLED display with red lettering that is easy to see in low-light conditions. Entry-level rangefinders that have black displays can be too hard to see at dawn and dusk.
In fact, in low-light conditions, the RX-1400i's display is darn near too bright. What do I mean? The RX-1400i has three brightness settings. I tend to keep it on high because it works best in bright sunlight on high. But first thing in the morning, wow, it's so bright it takes my eye a second or two to adjust when I'm ranging.
In overcast conditions, the red display is super crisp — it looks great, actually, partially because Leupold's optical quality is so good.
In bright sun, the display isn't particularly bright. It's bright enough to read, but you have to pay more attention.
What does this mean in practice? The red display is a benefit overall for most hunters for the most critical times of day, but it's not a slam dunk if you do most of your ranging in bright sunlight.
TBR/W Explained
Leupold says the RX-1400i TBR/W is the most feature-rich rangefinder in its class. What's this mean? It means it has a lot of power features packed into a sub-$200 price point.
We already talked about Bow Mode, which shows up on your screen simply as BOW when you use the rangefinder. So far so good.
For rifle use, the RX-1400i gets quite a bit more complicated — at least it might seem that way for archery guys.
To use TBR, Leupold gives you several choices under the TBR mode: BAS, HOLD, MIL, MOA, and TRIG. In addition to choosing one of these modes, you need to know what factory round of ammunition you're using for your rifle (or your bullet drop at 600 yards).
This information helps you choose one of 25 cartridge load groups to set up your RX-1400i. Whoa. Slow down, Maxcer. This isn't something most hunters tend to do with entry-level rangefinders!
What do I mean by cartridge load groups?
By entering some very basic ballistics information about the cartridges you're using, Leupold can more accurately calculate the angle-compensated distance for rifles. As near as I can tell, when it comes to rifle ballistics, the simple math for true horizontal distance doesn't quite translate perfectly because the bullet travels in an arc. Your bullet doesn't travel straight from the end of your barrel to the target — it's curving down due to gravity along the way.
At longer distances where a couple inches might matter to longer-distance shots, Leupold can extrapolate better math if you plug in your cartridge information. This, of course, doesn't mean you can shoot animals at 600 yards because your rangefinder is smarter than average. You still need to practice and confirm if you're going to shoot long distances.
The key point here is that Leupold is bringing a boost of precision to a rangefinder in the $200 price range. That's cool.
What's Your Load Group?
After you choose BAS, HOLD, MIL, MOA, or TRIG, the RX-1400i will prompt you for one of Leupold's 25 TBR performance groups. What's BAS, HOLD, etc? Hang tight. We'll get to it. Back to Load Groups: Basically, Leupold takes the ballistics information from dozens of common factory cartridges and places them in one of 25 groups depending on a 200 yard zero or a 300 yard zero.
So if, for example, you're shooting a .30-06 with a 150 gr Federal Fusion round that is dead on at 200 yards, you're going to be in "Group 9." A 270 Winchester with a 150 gr Federal Fusion round with a 200 yard zero ends up in Group 8 . . . but if you're shooting at a 300 yard zero, you'd be in Group 22 (because groups 17-25 are reserved for 300 yard zero shooters).
So yeah, the RX-1400i is doing more accurate math.
Meanwhile to make this easy, Leupold publishes dozens of common cartridges in the RX-1400i manual, but it also lists hundreds of options on its RX-1400i product page under the Product Downloads page. All you have to do is look at your box of ammunition and find the ammunition listed in Leupold's charts — and note the group. Here's a couple of direct links to the .pdfs: 200-yard zero cartridges and 300-yard zero cartridges.
It all sounds way harder than it is.
TBR Modes: BAS, HOLD, MIL, MOA & TRIG
The BAS mode basically shows you the True Ballistic Range when you range an object. This is based on your bullet's performance group. Use BAS if you want to range something and know how "far" you need to shoot. You would aim according to your judgement and skill based on what you understand of your bullet's ballistics. For example, if you're shooting at something on a steep angle with a line-of-sight range of 400 yards, you might need to aim as if the target is, say, 350 yards away — and the BAS setting would display 350 yards for you. That's it.
The HOLD mode does the math according to your performance group, just like the BAS mode, but then it displays the Line of Sight range in the reticle instead. Then, at the top, it shows you a Holdover number, which should be the number of inches (or centimeters if you're using metric) you should aim above your intended target.
The MIL and MOA modes are similar to HOLD, but you're working in milliradians or minute-of-angles, which gives you the holdover information and how to dial your scope, if appropriate to your optics.
The TRIG mode gives you the true line of sight but also gives you the height of the object as well. You might use the TRIG mode to get the height of a tree, pole, or building.
In case you're curious about the mathematical differences, the TRIG mode also briefly displays the true horizontal distance at the top before it displays the true vertical (height) calculation. You could use this feature to check and see how the rangefinder tweaks the math when you compare a steep range with your TBR load group.
What's the 'W' for?
The W in the rangefinder's name is for wind. The RX-1400i can calculate wind hold values based on a 10 mph crosswind. If the wind is at a different speed and angle, you'll have to do some math on the fly — but it's doable if you're willing to learn the system and practice.
Shop RANGEFINDERS at Cabela's and get FREE Shipping on orders over $50!
Competitive Options & Alternatives
There are several good entry-to-midlevel rangefinders available these days, and most now include some form of true horizontal distance reporting modes — in addition to standard line of sight modes. For the best versatility, we recommend that hunters always choose a rangefinder that has a true horizontal distance mode. (Remember, some manufactures have their own special name for the feature.) If you're considering the affordable Leupold RX-1400i TBR/W Rangefinder, these alternative options might also work for you:
Cabela's Intensity 1600R Laser Rangefinder — The Cabela's Intensity 1600R is a lightweight no-frills rangefinder that comes in at a very competitive price point. It ranges fast, has a red OLED display, a scan mode, and it also has a True Horizontal Distance mode to help you with angled shots. The biggest benefit to the Cabela's Intensity 1600R is its excellent price point — particularly if you happen to nab it on sale.
Vortex Impact 1000 Laser Rangefinder — The Vortex Impact 1000 is also a no-frills entry-level rangefinder. It's particularly good for treestand hunters and shorter-range rifle shooters. The primary benefit is that it's simple to use, but it also comes with an enviable lifetime repair/replacement warranty in case you break it on accident. The most important drawback compared to the RX-1400i is its shorter ranging distances — up to 500 yards for deer vs. 950 yards with the RX-1400i.
Sig Sauer KILO 1400BDX Rangefinder — The Sig Sauer KILO 1400BDX Rangefinder costs a bit more than the Leupold RX-1400i, but it also works in tandem with the SIERRA3 BDX rifle scope (available in a kit here) in case you're in the market for a new scope, too. Either way, you can use the rangefinder on its own — and you can pair it to a free SIG Ballistic App to set up your ballistic profile for the rangefinder. Sig Sauer's maximum reported range on deer is 750 yards.
Shop all Rangefinders at BlackOvis and get FREE Shipping!
The Verdict
If you have a high-quality rifle with a high-quality scope, the Leupold RX-1400i TBR/W Rangefinder has the potential to increase the accuracy of your long-distance, steep-angled shots by using sophisticated algorithms that account for the curving path of your bullet. Leupold has been working with variations of this technology for years — and has increased the number and refinement of load groups along the way. It's not technically a totally customizable system, but for most hunters, it's likely far more accurate than their skill/practice makes them in real life.
As for me, the Leupold RX-1400i TBR/W Rangefinder is a fast, efficient and affordable rangefinder. It's excellent for archery and for typical ranges for most big game rifle hunters. It also has the potential to help a burgeoning shooter extend their range without needing to invest in much more expensive gear first. Very highly recommended.
Get the Gear:
Check shipping/availability:  
Bass Pro Shops | Black Ovis | Cabela's | Sportsman's Warehouse
Benefits
Delivers fast ranging
Red reticle is easy to see in low-light and overcast conditions
Leupold's True Ballistic Ranging system is easier to use than it sounds -- and can help hunters make more accurate steep-angle shots
Drawbacks
The red TOLED display is sometimes hard to see in bright sunlight
Need Gift Ideas for a Hunter?